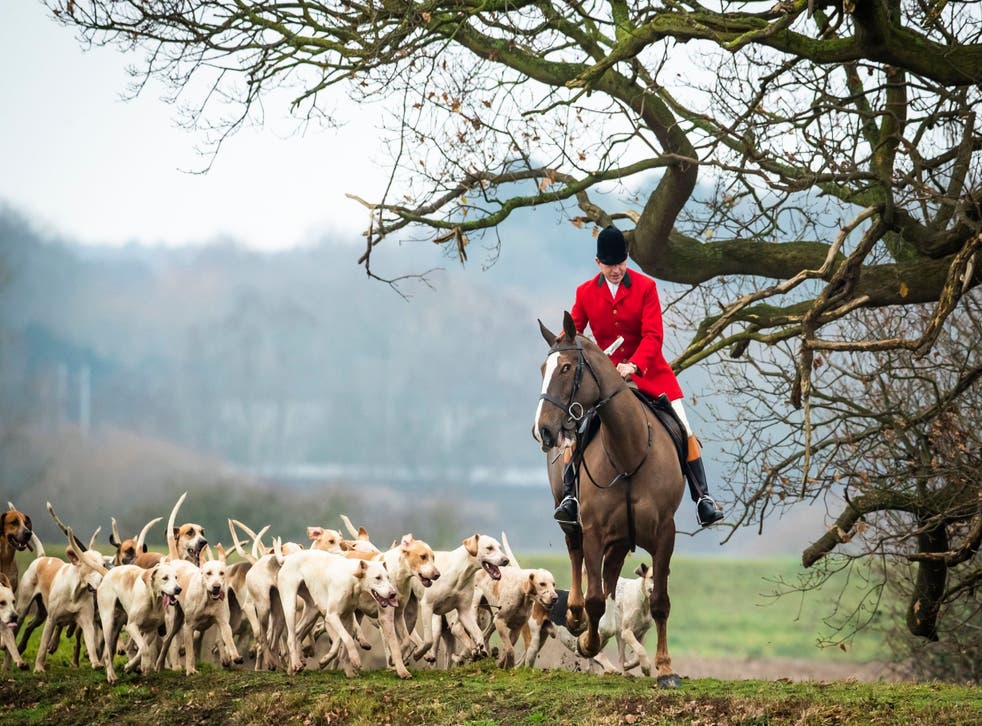 Boxing Day hunts spark clashes with animal rights activists
Fox hunting has been banned in the UK since 2005
Annual Boxing Day hunts saw clashes across the country this year as animal rights activists protested the sport.
While fox hunting has been banned in England and Wales since 2005, it continues in a legal form known as "trail hunting", whereby an artificial, animal-based scent is left somewhere for hounds to track while hunters ride alongside them on horseback.
But campaigners say that this still leads to foxes being mutilated and often killed, resulting in an illegal practice that sees animals being hurt for sport.
This year, violence broke out at meets in Sussex, Wales, Kent and Leicestershire, with video footage circulating online showing hunters riding through villages while protesters attemp to block their paths and chant anti-hunting slogans at them.
Many campaigners are also seen holding up placards, bearing phrases such as, "you have blood on your hands" and "stop the killing of animals by hunts".
It also shows anti-hunting protestors, some of whom are young women, being pushed and shoved by pro-hunting spectators.
One protestor was taken to hospital with injuries, while an advocate for hunting, who was also in attendance, was arrested for suspected assault.
Chris Luffingham, director of campaigns at the League Against Cruel Sports, told the Guardian they've had more than 100 reports of suspected illegal fox hunts since the start of the hunting season, which begins in November.
"Sadly, 14 years after fox hunting was banned in England and Wales, the hunts continue to chase and kill British wildlife," he added.
"The 'traditional' Boxing Day meets gloss over the otherwise murky world of animal cruelty in which packs of hounds still literally tear apart their quarry of British wildlife – but the tide is turning and the hunts themselves are now an increasingly isolated and out of touch minority within the countryside."
In November last year, fox hunting wreaked havoc in the Lake District, with local residents explaining how, in spite of the ban, the bloodsport was thriving and driving communities apart.
Jasmine Thomas*, a former Pharmacist, told The Independent at the time that the hunts made her feel physically ill.
"We've had hounds in the garden and running riot right through the village. It's a small hamlet, and we've seen foxes pursued through it. Quad bikes come, and men shout, blow horns, and vehicles go up and down as they try to work out where the fox has gone, then they disappear into the woodland around the houses and then the hounds get really excited.
"Then there's an awful moment where it just goes silent and you know that's the moment they make the kill. I nearly throw up every time."
*names have been changed
Register for free to continue reading
Registration is a free and easy way to support our truly independent journalism
By registering, you will also enjoy limited access to Premium articles, exclusive newsletters, commenting, and virtual events with our leading journalists
Already have an account? sign in
Register for free to continue reading
Registration is a free and easy way to support our truly independent journalism
By registering, you will also enjoy limited access to Premium articles, exclusive newsletters, commenting, and virtual events with our leading journalists
Already have an account? sign in
Join our new commenting forum
Join thought-provoking conversations, follow other Independent readers and see their replies