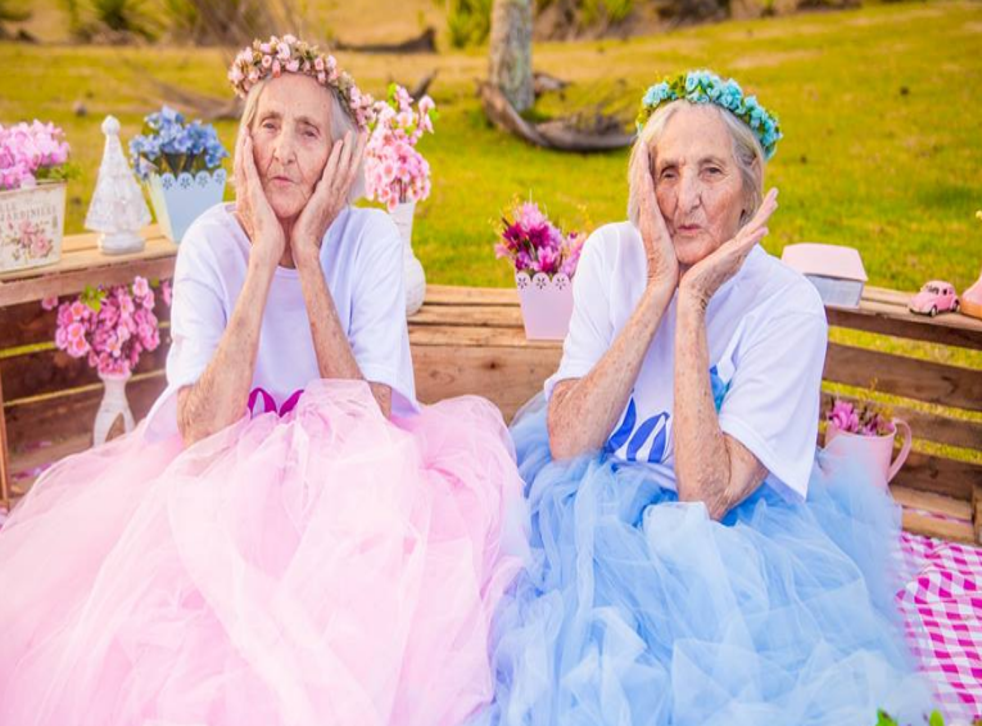 100-year-old Brazilian twins celebrate birthday with inspiring photoshoot
Goals.
Rachel Hosie
Wednesday 24 May 2017 10:44 Comments
Turning 100 is undoubtedly cause for celebration, and what better way than with your twin who's reached the milestone with you?
That's exactly what Brazilian identical twin sisters Maria Pignaton Pontin and Paulina Pignaton Pandolfi have done this week.
The pair have commemorated their 100th birthdays with a fun photoshoot, and the photos are beautiful, inspiring and heartwarming.
Shot by Camila Lima, the colourful photos show the twins sporting flower crowns, tulle skirts and floral dresses.
The strength of their bond is clear for all to see, as the sisters hug, hold hands and laugh together.
"I had never met anyone 100-years-old, let alone twins! I got in touch with their family and offered the photo shoot as a gift," Lima told Good Housekeeping.
"We were all excited, and they put on beautiful dresses, did their hair and came to the capital to take the pictures."
Both women have big families to celebrate with too: according to Lima, Paulina has six children, 19 grandchildren and 16 great-grandchildren.
Maria has five children, 12 grandchildren and seven great-grandchildren.
Paulina has also battled cancer twice and survived two heart-attacks.
The twins turn 100 today and - if these photos are anything to go by - will almost certainly be celebrating in a suitably fabulous fashion.
Register for free to continue reading
Registration is a free and easy way to support our truly independent journalism
By registering, you will also enjoy limited access to Premium articles, exclusive newsletters, commenting, and virtual events with our leading journalists
Already have an account? sign in
Join our new commenting forum
Join thought-provoking conversations, follow other Independent readers and see their replies