Breonna Taylor: People send birthday cards to Kentucky attorney general
Taylor would have turned 27 today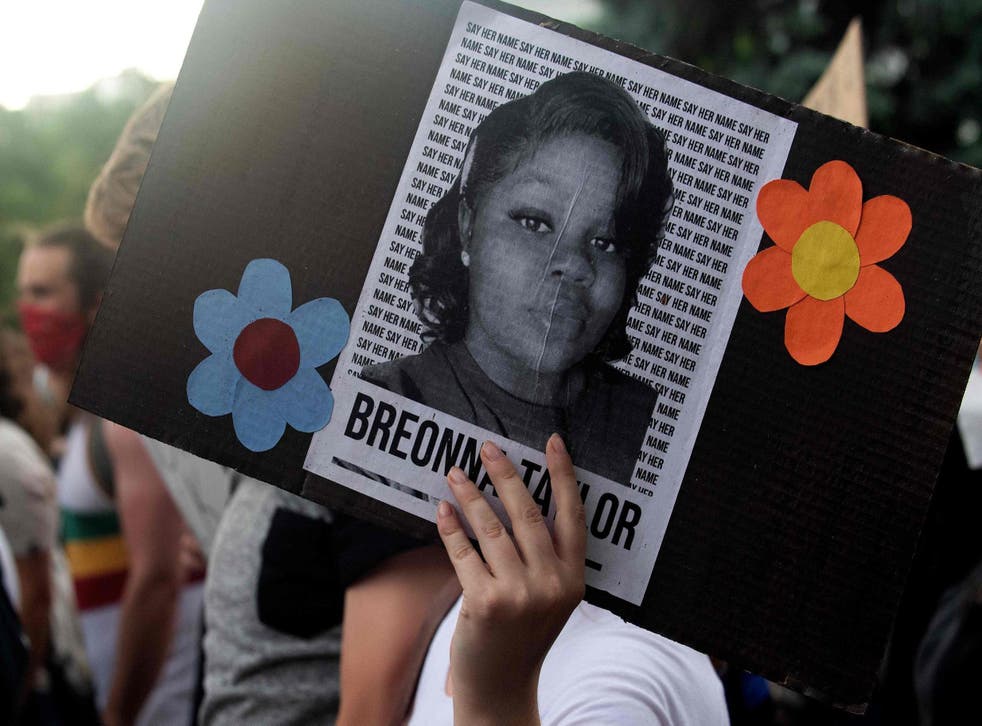 People around the country are honouring and remembering Breonna Taylor today on what would have been her 27th birthday.
Taylor, a black woman from Louisville, Kentucky, was killed on 13 March when police shot her at least eight times after entering her apartment using a "no-knock" warrant.
As protests against police brutality and racism continue following the death of George Floyd, activists and celebrities including Demi Lovato and Solange Knowles have also asked people to celebrate Taylor's life by demanding justice.
In honour of her birthday, a social media campaign started by writer Cate Young urged people to send birthday cards for Taylor to Kentucky attorney general Daniel Cameron.
On Thursday, Lovato shared her support for the #birthdayforbreonna campaign on Instagram, where she reposted an illustration of the 26-year-old with the caption: "It's Breonna Taylor's birthday this Friday. Her favourite colours were blue and purple @iamkevingates was one of her favourite artists. She was an EMT on the front lines during corona. Around midnight on March 13th police broke down her door and shot her eight times, no evidence of a crime was uncovered.
"The sole crime was the murder of Breonna Taylor. Her crime being asleep in her own home."
On social media, many people have shared photos of the handmade cards they have sent to Cameron's office demanding justice for Taylor.
"Sent out my birthday card for Breonna yesterday and donated to the GoFundMe this morning. Happy birthday Breonna, you should be here to celebrate it. #BirthdayForBreonna #SayHerName," one person tweeted.
Another said: "Breonna Taylor deserved to have her 27th birthday. This card is going to the Kentucky state attorney general but it should have been for Breonna. She deserves justice."
In addition to sending out cards for her birthday, others encouraged people to donate to a GoFundMe set up by Taylor's family.
As of Friday, the GoFundMe has raised more than $2.5m, surpassing its goal of $500,000.
On the crowdfunding page, where it states that 89,633 have just donated, people have flooded the comments with birthday wishes for Taylor.
"Happy birthday Breonna, we will make sure justice is served!" one person wrote.
The calls for justice come after the FBI's Louisville office announced it had opened an investigation into the circumstances surrounding Taylor's death.
As of now, the three officers involved in the fatal shooting are on administrative leave but have not been charged with any crimes.
You can donate to Taylor's GoFundMe here.
Register for free to continue reading
Registration is a free and easy way to support our truly independent journalism
By registering, you will also enjoy limited access to Premium articles, exclusive newsletters, commenting, and virtual events with our leading journalists
Already have an account? sign in
Register for free to continue reading
Registration is a free and easy way to support our truly independent journalism
By registering, you will also enjoy limited access to Premium articles, exclusive newsletters, commenting, and virtual events with our leading journalists
Already have an account? sign in
Join our new commenting forum
Join thought-provoking conversations, follow other Independent readers and see their replies