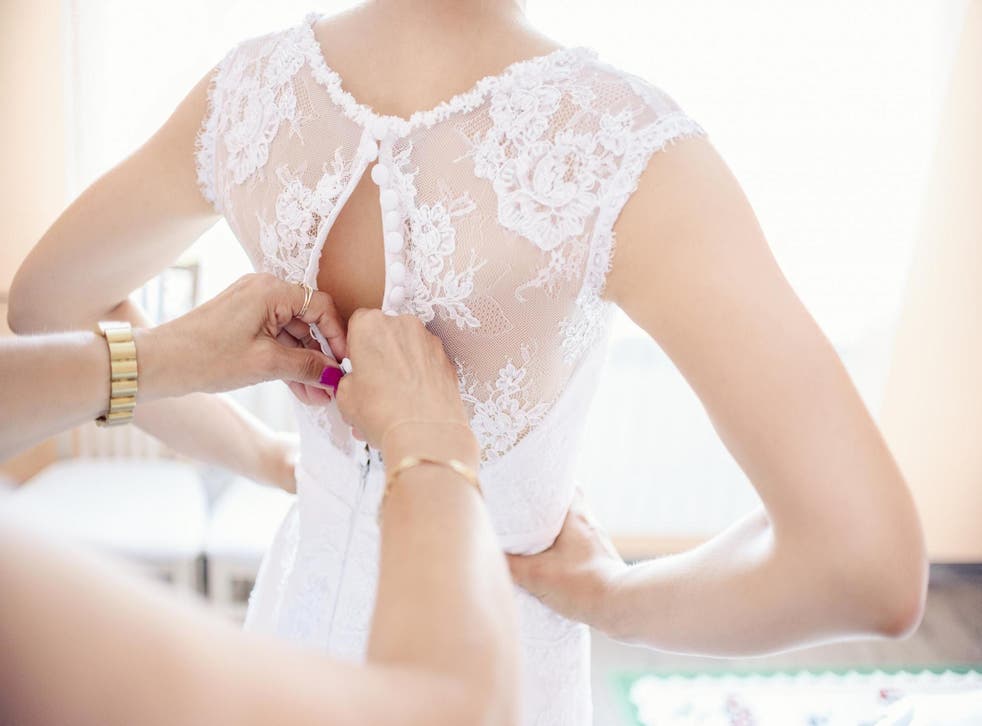 Bride wears wedding dress to fiance's grave on their wedding day
Her fiancé​ was killed by a drunk driver in 2017
A bride-to-be wore her wedding gown to visit her late fiancé​'s grave in heartbreaking photos taken on the day the couple were meant to exchange vows.
Jessica Padgett was engaged to marry Kendall James Murphy on September 29 - however, Murphy, a firefighter in Montgomery, Indiana, died before they were able to say "I do."
In November 2017, Murphy, 27, was killed when his colleague crashed into three cars while driving intoxicated.
At the time of the accident, which struck Murphy as he stood beside his car, fellow firefighter Colby Blake had a blood alcohol level of .21 per cent - more than double the legal limit.
To honour her husband-to-be's memory on the day of their wedding, Padgett visited Murphy's tombstone dressed in her gown - where the entire wedding party showed up to support her.
In one photo, captured by Loving Life Photography, Padgett kneels in front of her fiancé​'s grave, while another shows her posing with his firefighter boots and helmet.
The pictures also show Padgett's family gathered around her, as well as the moments both the maid of honour and the best man gave speeches.
The family concluded the day of mourning on what should have been the couple's wedding day by releasing paper lanterns into the night sky.
The emotional photos were posted to Facebook by the photographer, and have since been shared more than 23,000 times.
"It's hard when you miss someone. But, you know, if you miss them you were BLESSED. It means you had someone special in your life, someone worth missing," the photographer wrote alongside the photos.
Since sharing the pictures, the family has received an outpouring of support and sympathy from people who've seen the photos and learned of Padgett's story.
"What a beautiful tribute to her Kendall. I am sure his spirit was with her and his family and friends and that he felt their love and how much he was missed on that special day. My heart breaks for them," one person wrote.
Bride surprises grandmother by wearing her wedding dress

Show all 12
According to Facebook, Murphy joined the Montgomery Volunteer Fire Department in 2016 - and was following in his grandfather's and father's footsteps. He proposed to Padgett the same year.
After losing his life, he was honoured by the National Fallen Firefighters Foundation.
Groom with cerebral palsy overcome with emotion as bride walks down the aisle
In a post shared on Facebook after attending the event, Padgett wrote: "What an emotional, amazing weekend this was! This foundation not only honoured my Kendall, but also took us in as a family.
"This wasn't what we wanted in the end, but at least we know we will never be alone, we have all become one big supporting family," she concluded. "You will forever be in our hearts #616."
For his involvement in Murphy's death, Blake was charged with causing death while operating a motor vehicle and is awaiting trial.
Join our new commenting forum
Join thought-provoking conversations, follow other Independent readers and see their replies