'It's okay to be white' posters put up in Bristol city centre
'There are specific things that white people do not experience," says Dr Canning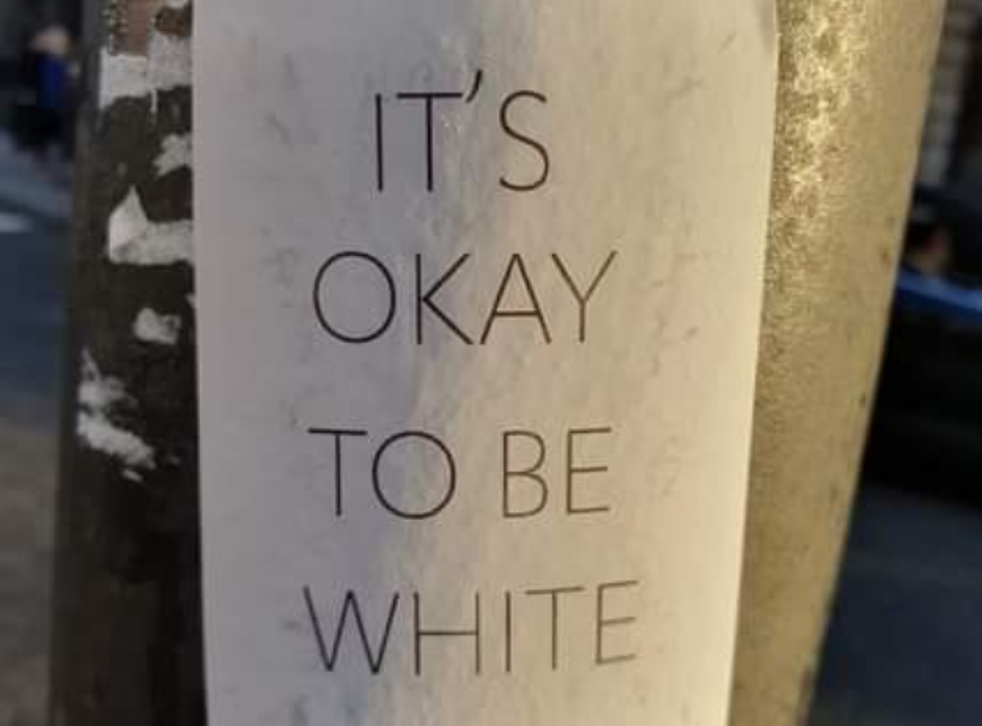 A number of posters with the phrase "it's okay to be white" have appeared around Bristol city centre since Monday.
The posters, which feature no other messaging or branding, have been criticised on social media and by residents.
Students from the University of Bristol have taken to Twitter to express their anger. One said: "These posters have been put up on campus. My university, ladies and gentlemen."
A University of Bristol spokesperson told The Independent they were asking people to take them down and contact security services if seen on university premises, although said currently they are only aware of those in the wider city.
A lecturer in criminology from the University, Dr Victoria Canning told The Independent that she first saw one of the messages on a lamppost in Park Street in central Bristol on Tuesday morning. She walks the route regularly and hadn't seen it before.
"I really don't want to give it airtime but this is obviously following on from things like the appearance of Laurence Fox on Question Time, there is a correlation," she says. Dr Canning says she heard other posters were elsewhere but were removed quickly by students.
Anti-racism demonstrations across Europe: in pictures

Show all 15
The "it's okay to be white" messaging originated on internet forum 4/Chan in 2017 and was conceived as a US poster campaign to create a "left-wing media backlash" in response to a "harmless message".
The posters appeared at universities across America, including the University of California, University of Washington and University of Regina in Canada.
They were widely supported by neo-Nazi and white supremacist groups, as well as alt-right figures including former Klu Klax Klan grand wizard David Duke.
The sightings in Bristol are the first time they have appeared in England, after a brief spate in Scotland: in Dundee in September 2019 and then Perth in December. Police Scotland confirmed they were looking into the matter. Scotland's deputy first minister John Swinney condemned them.
Dr Canning says the posters need to be criticised even if outrage does play directly into the hands of the creators.
She says: "To try and orchestrate outrage to then suppress it is a form of social silencing – the very people who point the finger and say you are hysterical are the ones creating these mechanisms to silence us because no one wants to speak out against them."
She also disagrees with the idea that the slogan is a "harmless message". "This is only a harmless message if we choose to ignore structural inequalities. We don't live in an era of equality.
"There has to be a recognition by society that although white working classes can experience problems, such as the impact of austerity, these are largely economic problems. For non-white people they experience additional problems of criminalisation and racism, like stop and search.
"Saying that is not to say that [white people] don't experience social harms but there are specific things that white people do not experience," she says.
Dr Canning says it concerns her that the white victim construct - which was previously restricted to far-right narratives - is becoming more widely accepted by disillusioned people.
"In times of austerity we aren't looking up for the people causing us problems but looking around us and those fractures grow.
"I remember years ago there were protests at the suggestion Nick Griffin would go on Question Time as a representative of the BNP. Things have shifted since then," she adds.
Dr Canning says it is also interesting that they have chosen to post them in Bristol. "It is interesting that someone has chosen to put it up in Bristol which is generally seen as a liberal, left-leaning city," she says.
The slogan was also used on t-shirts sold by British far-right political commentator Milo Yiannopoulos, and has been tied to the "All Lives Matter" campaign.
Register for free to continue reading
Registration is a free and easy way to support our truly independent journalism
By registering, you will also enjoy limited access to Premium articles, exclusive newsletters, commenting, and virtual events with our leading journalists
Already have an account? sign in
Register for free to continue reading
Registration is a free and easy way to support our truly independent journalism
By registering, you will also enjoy limited access to Premium articles, exclusive newsletters, commenting, and virtual events with our leading journalists
Already have an account? sign in
Join our new commenting forum
Join thought-provoking conversations, follow other Independent readers and see their replies