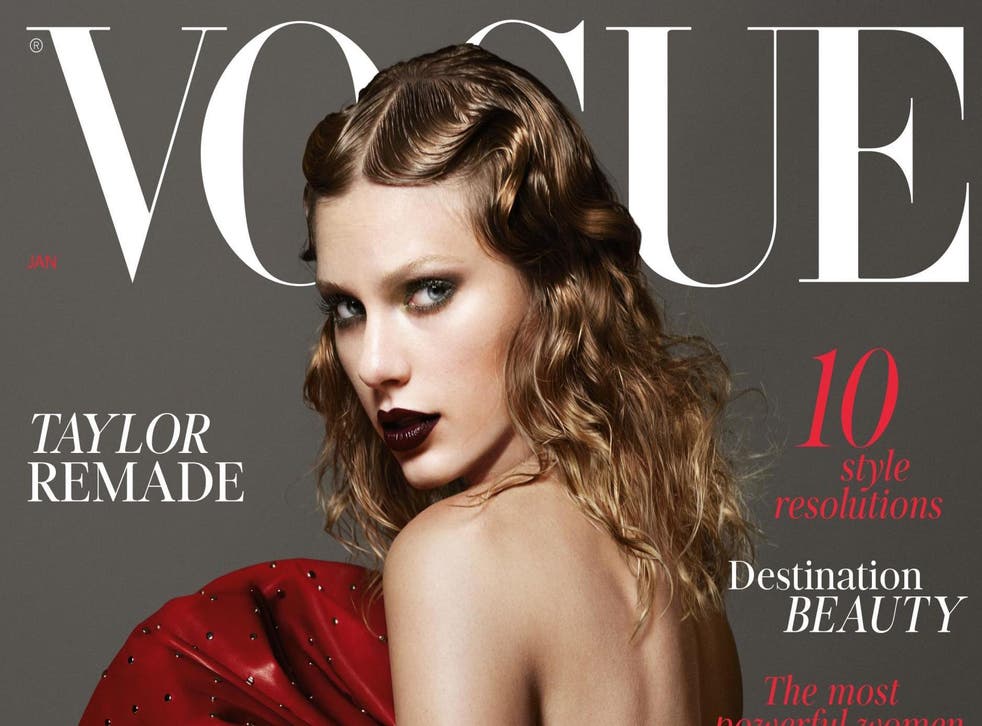 British Vogue gives Taylor Swift full editorial control as she pens poem about 'letting go' with no interview
'Suddenly you'll know the trick to holding on was all that letting go'
Olivia Petter
Wednesday 06 December 2017 16:10 Comments
Taylor Swift fronts the latest issue of British Vogue, but instead of giving an interview, the singer has penned a heartfelt poem titled "The Trick to Holding On".
The short poem has been published on Vogue's website and has raised questions surrounding the magazine's decision to hand over full editorial control to their cover star.
Is Swift's stratospheric influence such that a traditional interview would've been rendered futile?
Or is the magazine's unusual decision to amplify the artist's already amplified voice – one that is carefully controlled and reverberated via social media – a sign that even titles as prestigious as Vogue are willing to make editorial compromises in order to land high profile covers?
With a new album that has already been streamed hundreds of thousands of times on Spotify, a Taylor Swift cover is almost a guaranteed success and is bound to shift copies in the current pop culture climate.
However, to waive the conventions of a cover shoot and accompanying interview is a risky decision for new Vogue editor Edward Enninful, for whom this is only his second issue.
Commenting on the cover in his editor's letter, Enninful writes:
"For me, the chance to help transform America's most fascinating sweetheart was a joy.
"Obviously she is a world-class lyricist – and has written a stunning poem just for Vogue on the timely subject of reinvention and moving on."
However, Enninful neglects to clarify as to whether the poem was the end product of a creative pitch by a Vogue editor or an unyielding publicist who demanded copy control.
Given Swift's notorious reputation, and the fact that her every move is carefully orchestrated by an overbearing public relations team, for Enninful to land her as a cover star – interview or not – is quite the feat.
Particularly considering that all has been quiet on the Swift-ern front for quite some time now.
Her last print interview was in 2016 with American Vogue, in which she was shot by the same photographers, Mert Alas and Marcus Piggott, as this cover.
With familiarity comes a degree of mastery that Swift's team will undoubtedly favour, which may explain why Mert and Marcus were elected to shoot her again this time around.
As for promoting the album itself, the only non-poetic editorial copy Swift has offered fans is via a self-published magazine, which can be bought along with the album.
The minute precision within which the publicity has been executed has rattled critics.
"It's a coup for Edward Enninful to get the world's first (or perhaps, only) access to Taylor Swift around her new album," says music writer Laura Snapes, "but one undermined by the fact that even British Vogue apparently isn't powerful enough to convince her to give her first interview in years."
"When artists can own their own voices online every day, and publishing is still relatively in crisis, magazines need to offer something more than a platform for their unfettered self-promotion," Snapes told The Independent.
She added that while Vogue probably wouldn't have conducted the prying, salacious interview that is every celebrity publicist's worst nightmare, she insists that even a "softball interview" would have been more engaging to readers than the ambivalent poem she has penned, which has been reverenced, but mostly ridiculed, on social media.
"Lmao can't believe this poem Taylor Swift wrote for British Vogue is actually real and isn't a parody of what a Taylor Swift poem would look like," wrote journalist Bridget Minamore in a tweet that's been liked 75 times.
"This might be the most embarrassing thing anyone has ever done," added writer Kate Solomon.
Look what you made them do, Tay Tay.
See the full shoot and poem in the January issue of British Vogue, which is available on newsstands now.
Register for free to continue reading
Registration is a free and easy way to support our truly independent journalism
By registering, you will also enjoy limited access to Premium articles, exclusive newsletters, commenting, and virtual events with our leading journalists
Already have an account? sign in
Join our new commenting forum
Join thought-provoking conversations, follow other Independent readers and see their replies