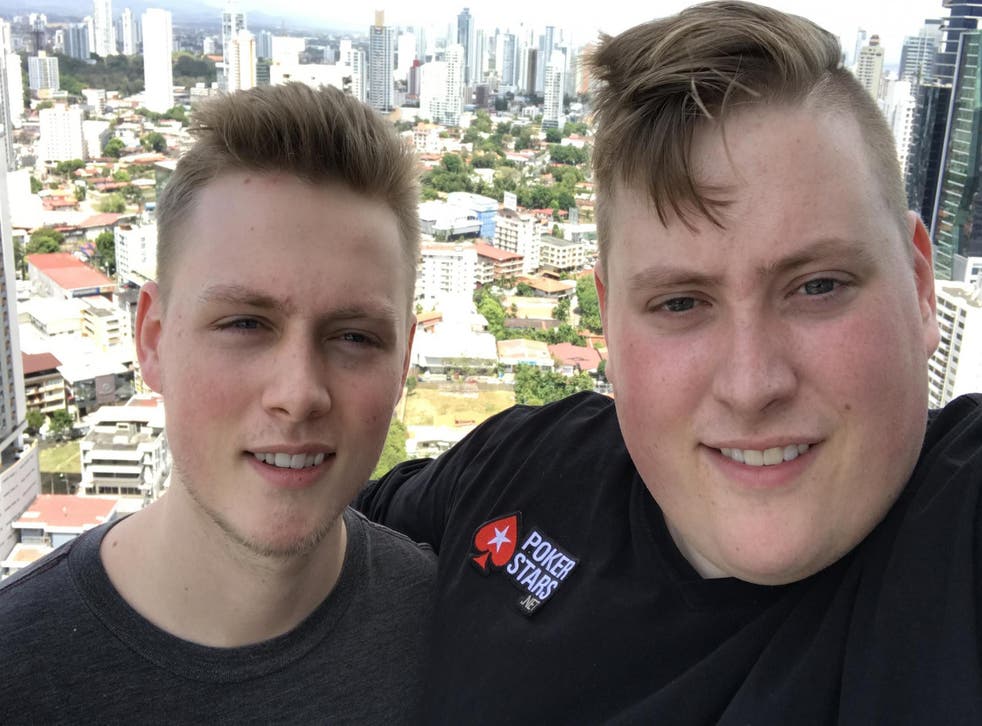 Poker playing brothers get fit together to win $150,000 prize
The stakes are high
Chelsea Ritschel
in New York
Tuesday 30 January 2018 17:48 Comments
$150,000, one year, 50-to-one odds - these are the terms of the bet Jaime and Matt Staples agreed to on March 26, 2017.
The Staples brothers, both professional poker players, are known for their high-risk, high-stakes lifestyles - but this bet had nothing to do with poker and all to do with their weights.
A year ago, PokerStars ambassador Jaime, 26, weighed 304lbs and his brother Matt, 21, weighed a mere 134lbs. But after entering into a bet with Bill Perkins, the brothers now weigh within 28 pounds of each other.
The idea for the bet was conceived when Perkins and the brothers were playing poker together during a live-streamed poker tournament called the Stream Boat - and a viewer made a comment about what it would be like if the brothers weighed the same.
Perkins thought it was an excellent idea, and offered the brothers a bet - if they could gain and lose weight respectively - and weigh within just one pound of each other, he would give them $150,000.
But if the brothers weren't able to succeed, each would have to pay Perkins $1,500.
Now - with just two months to go before their final weigh-in, which will be live-streamed, we spoke to Jaime to see how the bet was going.
Informing us that the bet has now been named the "Ultimate Sweat," it looks likely that the brothers will collect their grand prize after all on March 26 at 5 pm.
According to Jaime, as of January 24, the brothers are now within 28 pounds of each other - with Jaime currently weighing in at 209.2 and Matt weighing in at 181.2 pounds.
And Jaime is confident they'll succeed.
As for the past few months, Jaime told us it has been "very incredible but difficult."
When we asked who had it harder, Jaime said the challenge was hard for him, and his brother, but that he may be biased.
He said: "I had to make more of a lifestyle change but physically it is harder for him."
This is because "food has always been a difficult thing for me. I've relied on it when having tough times and turned to it when I'm celebrating. I've had a difficult relationship with food since grade school. I went on my first diet in grade five," he said.
Comparatively, Matt has had to spend hours in the gym lifting heavy weights.
However, both brothers have had to make changes. Enlisting the help of a personal trainer, the brothers have incorporated extreme lifestyle changes in the past year in order to win the bet.
For Jaime, this means he's "had to learn to cope with normal things and not turning to food as a crutch anymore."
And he's had to get serious about his diet and his exercise - this means "cardio every day with brisk walking, and the gym two days a week."
As for his diet, Jaime follows a strict 1250 calorie a day diet of macronutrients. Broken down, this means 40 carbs, 80 fat, and 120 protein.
For Matt, the bet has meant he is in the gym "about five or six days a week lifting really heavy weights."
But the process has worked - according to Jaime, the "results were pretty instant and the weight dropped off quite quickly."
And, surprisingly, the incentive of money hasn't had much to do with it.
According to Jaime, he "hasn't made any plans when it comes to the money. After the first two weeks, the money hasn't been a main motivator."
Rather, the "tweets every day saying you can't complete this drives me more than the money in the bank," he told The Independent.
However, Jaime is confident that he and his brother will use the money to continue travelling. Currently, the brothers reside in Malta - but they'll be packing up and moving to Victoria, Canada soon, as they never stay in one country for longer than three months.
But with just months to go, the brothers are getting serious about the bet - and keeping Perkins updated via Twitter.
When we asked whether Jaime thought Perkins would be upset when he has to shell out the $150,000, Jaime said no.
"He made this bet as something fun but we think he is rooting for us to win this thing. He is very much on our side and happy we are making positive changes in our lives," said Jaime.
And once the brothers do collect their winnings?
Jaime told us the first stop would be for a slice of greasy pepperoni pizza.
Register for free to continue reading
Registration is a free and easy way to support our truly independent journalism
By registering, you will also enjoy limited access to Premium articles, exclusive newsletters, commenting, and virtual events with our leading journalists
Already have an account? sign in
Register for free to continue reading
Registration is a free and easy way to support our truly independent journalism
By registering, you will also enjoy limited access to Premium articles, exclusive newsletters, commenting, and virtual events with our leading journalists
Already have an account? sign in
Join our new commenting forum
Join thought-provoking conversations, follow other Independent readers and see their replies