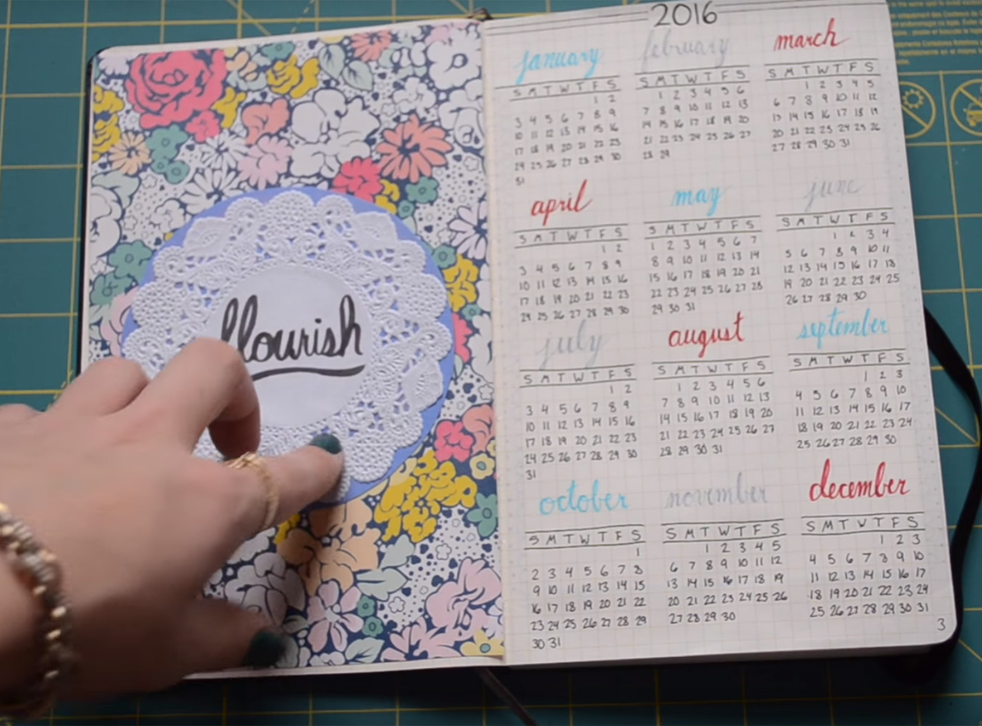 Bullet journals: New mindfulness-inspired method turns blank pages into the perfect calendar
Journalling has been linked to easing mental health problems
Kashmira Gander
Tuesday 04 October 2016 13:23 Comments
It is complex, doesn't involve a smartphone and tempts you to spend time doodling like a teenager in their bedroom.
But the phenomenon known as bullet journaling is making waves, and is being hailed as an anxiety-busting time-saver.
It involves marking the blank pages of a notepad with numbers, and creating an index in which to jot down ideas and tasks in bullet points.
Using a system of symbols, the notes are then assigned actions. These are then moved to other sections of the notebook, such as a "future log", monthly diary, short term planner, and daily checklist. The result is a bullet journal, or BuJo.
Sound complicated? It is. Watch the video below to get to grips with the idea which Vogue has described as "KonMari for your racing thoughts."
Digital product designer and New Yorker Ryder Carroll created the system which its website dubs "the analogue system for the digital age".
And devotees have been proudly sharing their BuJos online, and showcasing their unique designs.
So, what's the point? Daniel Levitin, the author of The Organised Mind, observed in a recent interview with the New York Magazine that people seem paradoxically attracted to BuJo because it is complex. In fact, some users have chosen to make their BuJos even more intricate than Carroll's original plan.
Levitin believes that is becomes the system involves "externalising your memory" and works similarly to other popular note-taking methods and mindfulness tactics by giving your mind space to process what you have to do at any given point, be that go to the post office or get milk.
Mental Health Awareness: Facts and figures

Show all 10
"In other words, don't just try to keep track of things in your head," Levitin explains. "Somehow get what's in your head out there in the world, whether that means writing it down in a journal or on little three-by-five index cards, covering your desk and your fridge and your walls with Post-its, or making voice memos."
It's no wonder that the seemingly strange trend has caught on, as experts believe that such methods can help to combat anxiety by making thoughts easier to deal with and find solutions for.
Register for free to continue reading
Registration is a free and easy way to support our truly independent journalism
By registering, you will also enjoy limited access to Premium articles, exclusive newsletters, commenting, and virtual events with our leading journalists
Already have an account? sign in
Join our new commenting forum
Join thought-provoking conversations, follow other Independent readers and see their replies