The Independent's journalism is supported by our readers. When you purchase through links on our site, we may earn commission.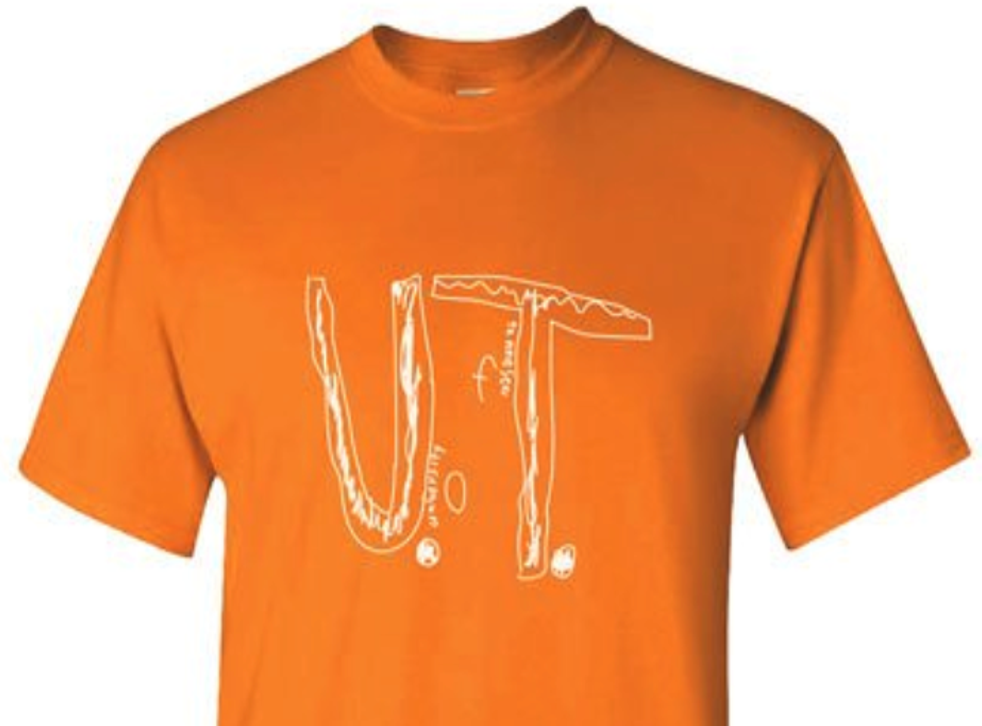 Boy bullied for his shirt has design made into official school merchandise
The University of Tennessee's website crashed due to 'overwhelming support' 
The University of Tennessee is featuring an elementary school student's design on official merchandise after the fourth grader was bullied over his homemade UT t-shirt.
For College Colours Day at Altamonte Elementary School in Altamonte Springs, Florida, students were asked to dress in the clothing of their favourite universities.
One student, who is a huge fan of the University of Tennessee, didn't have any official apparel, so he decided to create his own by pinning a piece of paper with a hand-drawn UT logo to an orange shirt.
According to the unnamed student's teacher, Laura Snyder, who shared the story on Facebook, the student was "SO EXCITED" to wear his shirt - but was bullied to tears by other students shortly after.
"When the day finally arrived, he was SO EXCITED to show me his shirt," Snyder wrote on Facebook on Wednesday. "I was impressed that he took it one step further to make his own label.
"After lunch, he came back to my room, put his head on on his desk and was crying. Some girls at the lunch table next to his (who didn't even participate in college colours day) had made fun of his sign that he had attached to his shirt. He was DEVASTATED."
In an effort to make the student feel better, Snyder wrote that she planned to buy him an official University of Tennessee t-shirt, and asked if any of her Facebook friends had connections at the school to "make it a little extra special for him".
The incident, which went viral after it was shared more than 8,000 times, caught the attention of the university, which responded by sending the student and his class a care package of University of Tennessee merchandise and apparel, including hats, notebooks, football helmets, and cups.
The university also decided to sell replicas of the boy's handmade t-shirt on its campus store online - with proceeds going to anti-bullying organisation Stomp Out Bullying. Shortly after launching a pre-sale of the shirts, the school's website crashed due to "the overwhelming support".
"Now you can share in this student's Volunteer pride by wearing his design on your shirt too," the website reads.
According to Snyder, when she told her student that his design was being made into a real UT t-shirt, his "jaw dropped".
"He had a big smile on his face, walked taller and I could tell his confidence grew," she wrote.
Support free-thinking journalism and attend Independent events
The fourth-grader's artwork also made it onto UT's campus, where it is emblazoned on an orange boulder.
Register for free to continue reading
Registration is a free and easy way to support our truly independent journalism
By registering, you will also enjoy limited access to Premium articles, exclusive newsletters, commenting, and virtual events with our leading journalists
Already have an account? sign in
Register for free to continue reading
Registration is a free and easy way to support our truly independent journalism
By registering, you will also enjoy limited access to Premium articles, exclusive newsletters, commenting, and virtual events with our leading journalists
Already have an account? sign in
Join our new commenting forum
Join thought-provoking conversations, follow other Independent readers and see their replies