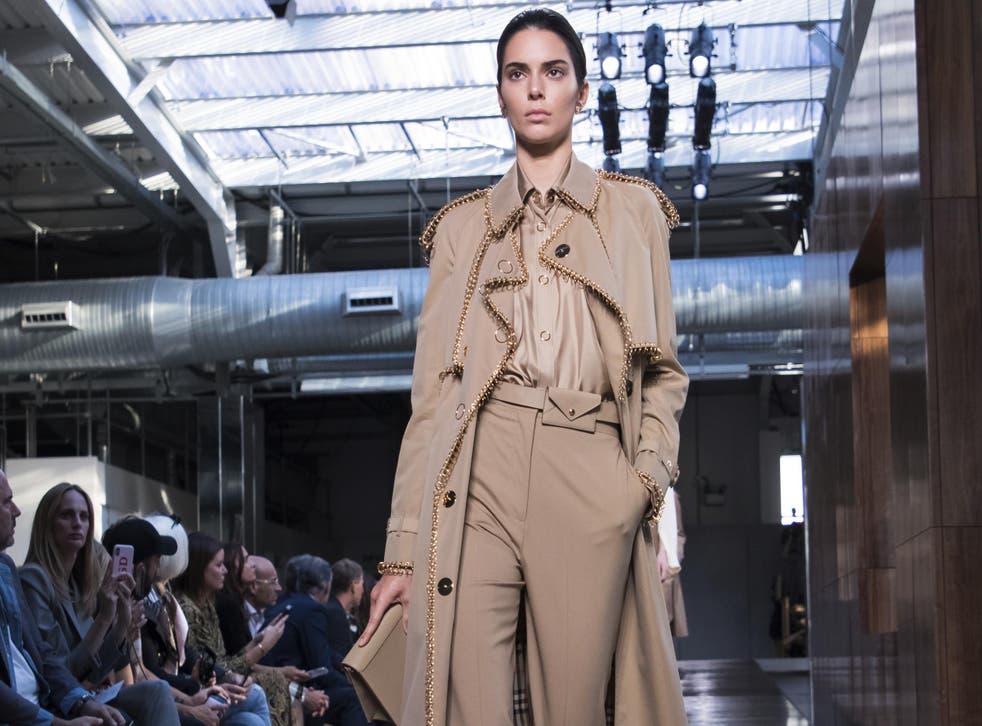 A new era for Burberry as Riccardo Tisci takes the reins
But new boss is not throwing out the rule book with vast collection referencing brand's heritage
Few brands have a history so steeped in controversy as Burberry. The British heritage fashion house has been trying to claw back its reputation ever since news broke in July this year that they had burnt £28.6m worth of unsold stock allegedly to prevent counterfeiting.
CEO Marco Gobbetti denounced the practice this month, saying this would no longer happen and swiftly adding that the brand would also no longer be using fur. The words "band aid" and "bullet wound" came to mind.
If ever there was a sure-fire way to reinvent a brand's reputation, it is with a fresh design lead and, on Monday night, London Fashion Week saw the highly anticipated debut of new creative director Riccardo Tisci. But his first collection for the British heritage brand didn't mark the stark departure from Burberry's core values that many were expecting. Instead, it toed a respectful line that embraced the brand's provenance, with a light peppering of what might be in store for future seasons.
The spring/summer 2019 collection was presented to a captive audience that, unexpectedly to many, was a largely celebrity-free-zone (except for Marina Abramovic who slipped into in the front row) in the disused South London Mail Centre. It was the catwalk that boasted the big names, no doubt as a way of keeping people's focus. Tisci sent a star-studded line-up of models including Kendall Jenner, Stella Tennant, Jourdan Dunn and Lily Donaldson down the runway.
Founded by Thomas Burberry in 1856, the fashion house has long been famed for its gabardine trench coats (a fabric Burberry himself invented in 1879) that were designed in 1912 to shield officers from the inclement conditions of the front lines. Each detail lending itself practicality, including shoulder straps that enabled soldiers to add epaulettes denoting their rank and D-rings on which to attach maps and compasses.
But more than the trench, it is the instantly recognisable nova check of camel, white and red that has become synonymous with Burberry. It became so popular in the Nineties that, in another tone-deaf move, Burberry decided to rein in its production of accessories that bore the plaid, apparently for fear of the brand being devalued by the "wrong" wearers.
Announced as creative director in March this year, 44-year-old Tisci joins the brand from Givenchy, where he led the house for 12 years. Tisci follows on from his predecessor Christopher Bailey, who joined the brand in 2001 as design director to reinvent its image and catapult it into the luxury sphere.
Over his 17-year-tenure, Bailey made the trench coat the must-have item for every fashion-loving woman (who could afford one). Showing the coats in metallic and studded versions, and casting celebrities like Emma Watson in his campaigns, Bailey dramatically increased revenue and he brought Burberry into the digital age, trialling the "see-now-buy-now" model of catwalk shows which, as it sounds, allowed viewers to purchase items straight from the catwalks, as opposed to waiting the usual six months for a drop. Unfortunately, profit targets were not met towards the end of his occupancy and shareholders docked Bailey's pay by 75 per cent. His swansong was a jubilant return to the nova check, which he plastered on hats, capes and shirts. It resulted in an immediate streetwear revival of the motif.
Kept tightly under wraps until the day of the show, Tisci teased fans with hints of his vision for the brand. First there was the complete overhaul of the classic Burberry logo for the first time in two decades, which the creative director posted on Instagram. The interlocking initials TB, designed by Peter Saville, have since dominated cities across the globe, wrapping across buildings, billboards and black taxis. In an emulation of recently revived brands like Gucci and Fendi, the emblem signals a return to 1980s logomania. Soon after, Tisci dropped the first item of his collection on Instagram and Chinese platform WeChat: a black T-shirt with the logo in white. It went on sale for just 24 hours.
Tisci's track record at Givenchy saw him transform the brand from a Breakfast at Tiffany's elegance to one that oozed sex appeal through gothic-inspired lace, leather and bondage. Subverting the expectations of the French fashion house in much a similar way that Alexander McQueen did in 1996, he offered diverse models in his shows, became the first creative director of a major house to cast a transgender model when he cast Lea T in his 2010 ad campaign and designed gender fluid clothing such as skirts over leggings for men.
Always knowing the power that the streets have upon sales, Tisci's gorilla and Bambi-print sweatshirts were an instant hit and his celebrity fan base is one other brands would kill for, including Beyoncé, Rihanna, Kanye West and Kim Kardashian West. He left the brand when umbrella owner, LVMH, had hit record annual revenues.
Today's collection, heavy on homage, marked a careful transition into a new role for Tisci. Not throwing out the rulebook, he instead presented a vast collection that saw the brand's military origins referenced in men's suits (yes, there was lots of menswear), which were worn with umbrellas fastened to their backs like rifles. The trench featured heavily, with Tisci twists like edges pierced with brass rings, one covered in silver rivets, another with pearl and feather embellishment and some in a looser, edgier cut. The men's included one yin-yang trench with a classic khaki bottom half and a black top half. And, of course, nova check made a proud appearance tweaked into stripes on pussy bow blouses worn with high-waisted trousers and inside trench linings.
There were plenty of safe items: knife-pleated midi skirts and blazers and a palette of browns and beige. But elements of Tisci's edgy predisposition shone through: fishnet, buckled Doc Martens-style shoes, slinky black evening dresses, writing scrawled on tops and sportswear stripes. There was a subtle injection of the new logo, seen in silk scarves worn tied into low buns, or hanging from belt hoops and as brass bag clasps. The gorilla and Bambi motifs from Givenchy snuck in, too, with one deer-print top reading "Did they kill Bambi?" An Italian designer in a British house, Tisci found it irresistible to sneak a few Brexit references into the collection, as several models walked the runway with red passports around their necks.
London Fashion Week 2018: Best street style

Show all 33
Following the show, a number of items from the collection were available to buy on Instagram in further 24-hour-releases, creating a frenzy not dissimilar to that surrounding cult streetwear brand Supreme.
Ultimately, it was a collection that marked a courteous transition into a new Burberry era. Tisci's debut will have left the industry eagerly anticipating what's to come, safe in the knowledge that the brand's rich history has been spared the pyre.
Join our new commenting forum
Join thought-provoking conversations, follow other Independent readers and see their replies