Burberry AW19 Review: Riccardo Tisci's streetwear throws out rulebook while sating traditionalist appetites
It is a collection which once again referenced the designer's relationship with Britain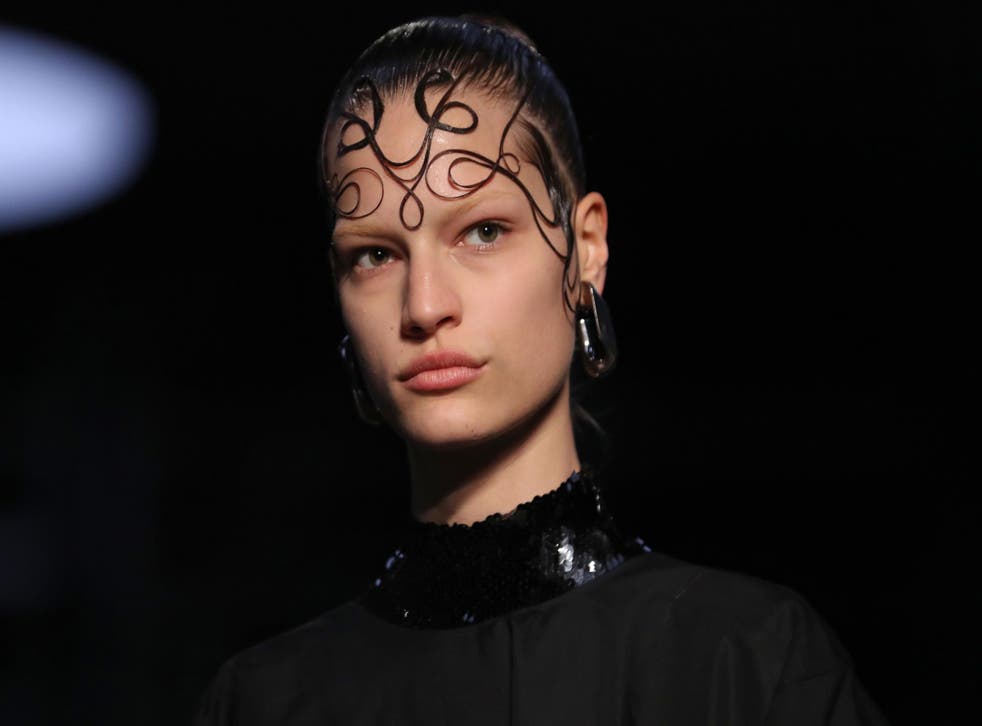 The Tate Modern's Turbine Hall has been home to numerous fashion shows over the years, the vast industrial space offering a stark setting in which to display wearable artworks. Since their opening in 2012, the Tanks – the old oil storage vessels, in the bowels of the museum, that are dedicated to performance and installation art – have become a favoured choice. This is where Riccardo Tisci chose to present his second read-to-wear collection for Burberry, having joined the ranks as creative director from Givenchy in March last year.
The designer is known for injecting new life into traditional brands, and for pioneering a streetwear revival which saw his designs for the French house on the backs of Rihanna, Kanye West and the Kardashians. So, naturally, the fashion world had been in jitters, awaiting his debut Burberry collection last September.
Brand history
But Tisci's first collection for the British heritage brand was less of the dramatic 180 for Burberry that the industry had been braced for, more a measured introduction to his tenure at the helm. Redesigning the brand's logo was enough for the first outing (the interlocking TB designed by Peter Saville dominated billboards last autumn) and the whopping 134-look collection spoke respectfully to the company's rich military history.
On Sunday evening the fashion world was finally delivered the crescendo it had been waiting for. As dancers in sportswear clambered around a scaffold that covered the walls to a club-loud soundtrack, it was difficult to know where to look. Burberry's Autumn/Winter 2019 collection was a dramatic change of pace as heritage was largely tossed aside in favour of heavily branded streetwear in another extensive collection for the house.
London Fashion Week: Burberry autumn/winter 2019

Show all 19
Gigi Hadid led the procession of models in kiss curls (expect questions of cultural appropriation to abound) and athleisure-based pieces plastered with "Burberry London". Menswear comprised shining tracksuits, cross-body belt bags and numerous puffer jackets (one, in particular saw Burberry check crisscrossed together with gaffer-style tape), and womenswear included tracksuit bottoms and off-shoulder corseted sports jackets layered over polo shirts.
Dad sneakers
Trainers played a large part – a desire to reap some of the success of the Balenciaga Triple S which have seen their third consecutive season on the feet of influencers. Tisci's iterations were rather more low-key, referencing hiking styles while retaining the chunky "dad sneaker" style. These came in tiger print, black and diamante among others. In fact, a Balenciaga influence ran throughout the collection that nodded to the current obsession with a 1980s-harking logomania. Elsewhere, hipster-favourite skull-cap wool hats were given a high fashion twist signalling the start of a much cooler, youth-oriented Burberry.
Glitter and glitz made an appearance too – something Tisci brought to Givenchy – in a fringed V-neck American football-style shift dress and on the aforementioned trainers, but it sat rather awkwardly for such a traditionalist brand. As such, there were ensembles which made this collection feel as though it wasn't Burberry at all.
But then the coin flipped. Showing a respectful offering of the nova check palette of camel, red and white, the collection made a turn into what felt like a completely different brand. Out came the classic trench coats – relatively untouched from the Christopher Bailey days – as did blazers, several skirt suits, court shoes, pussy bow blouses, straight leg trousers, smart eveningwear and capes. Menswear was also offered in classic styles.
What could have felt like a disjointed collection was actually a play in two acts: the first celebrating the future of Burberry – one proud of its streetwear following that appeals much more to a younger, largely male demographic – and one that quietly recognises a 123-year history without which the brand could not have reached this point. This was Tisci proving Burberry could be relevant to the street style set beyond tartan baseball caps (although those did appear) and for a multi-cultural clientele. Directed, in particular, at the disposable incomes of the trend-conscious male youth.
It is a collection much closer to what we were expecting from Tisci at the helm and one which once again referenced his own relationship with Britain as an Italian expat, just over a month before Brexit. The Union Jack became a symbol of progressive pride worn as capes and on shoes; reclaimed from staunch leave voters.
Traditionalists will baulk at some of the garish athleisure but the open-minded will welcome in a new age of fashion that proves both the old, the new, the British and the European can sit – if not comfortably but at least in tolerance – together.
Read all of our London Fashion Week content here. 
Register for free to continue reading
Registration is a free and easy way to support our truly independent journalism
By registering, you will also enjoy limited access to Premium articles, exclusive newsletters, commenting, and virtual events with our leading journalists
Already have an account? sign in
Register for free to continue reading
Registration is a free and easy way to support our truly independent journalism
By registering, you will also enjoy limited access to Premium articles, exclusive newsletters, commenting, and virtual events with our leading journalists
Already have an account? sign in
Join our new commenting forum
Join thought-provoking conversations, follow other Independent readers and see their replies