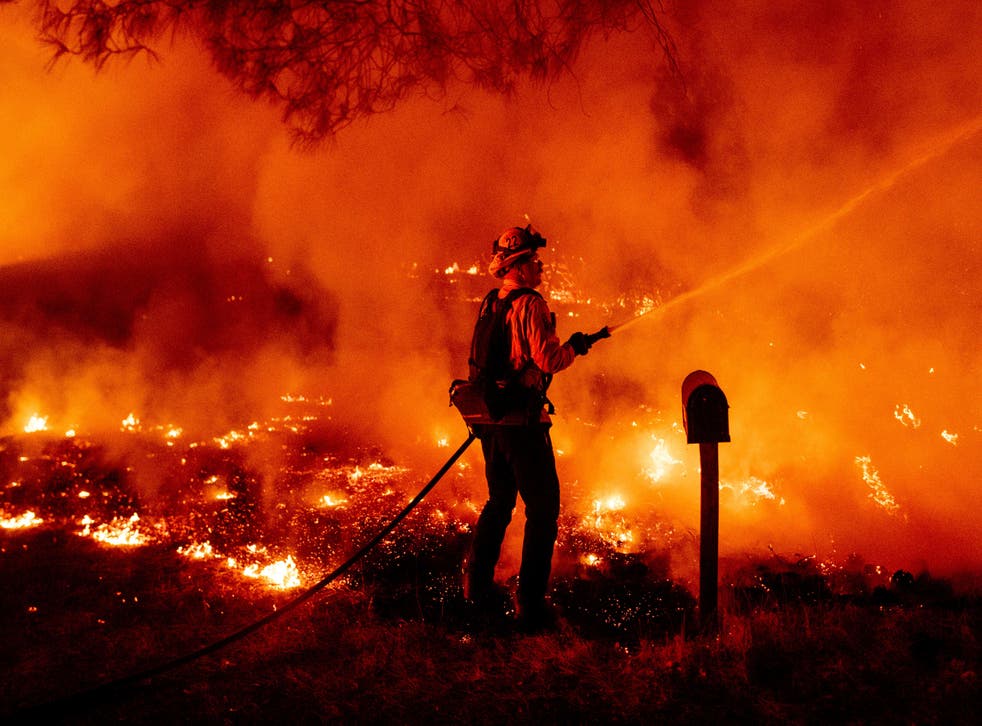 West coast wildfires: How to help those affected
Thousands of people have been evacuated from their homes as wildfires ravage the USA
Leer en Español
Over the past few weeks, historic wildfires have raged across the west coast of America, resulting in thousands of people having to be evacuated from their homes in response to the uncontrolled blaze.
It has been reported that around 35 people have died in the fires, including 24 victims in California, 10 in Oregon and one in Washington state. In many locations the sky has turned completely orange and smoke is being seen as far north as Canada.
On Tuesday 8 September, the California Fire Foundation tweeted that rescue operations were underway as the Creek Fire destroyed more than 5,000 homes.
"25 major wildfires continue throughout the state with red flag warnings in place. Don't wait for the order – evacuate early. Every second counts," the organisation stated.
Several organisations are working hard to provide support for those who are affected by the wildfires, by offering humanitarian aid, support for firefighters and protection for animals in the impacted area.
Here is how you can help those affected.
Wildlife Relief Fund
Fundraising website GoFundMe has set up a fundraiser specifically to aid those affected by the wildfires in California, Washington, Oregon and Colorado.
On the fundraiser, it says that GoFundMe will provide monetary contributions to individuals, organisations and communities who have either been affected directly by the wildfires or are supporting others.
"We'll continue to expand the Fund as needed to support wildfires that might appear in other areas as well," it states.
On 4 September, the organisers behind the fundraiser stated that donations had already helped to provide families with temporary housing and a burn victim to pay for their medical bills.
To donate, click here. 
Herd and Flock Animal Sanctuary
The Herd and Flock Animal Sanctuary, based in Vacaville, California, is a non-profit organisation that safeguards farm animals from abuse.
On a fundraiser set up on GoFundMe in support of the organisation, it states that the sanctuary "suffered considerable loss" during wildfires in April. "Luckily all the animals were evacuated, but their big barn burned," it states.
The organisers said they were "raising money to benefit their rebuild and to help provide food for their animals while they are temporarily displaced at Charlie's Acres Sanctuary", which is located in Sonoma, California.
To donate, click here. 
Direct Relief
On 13 September 2020, humanitarian aid organisation Direct Relief announced it was committing $1.5m (£1.16m) towards its response to the wildfires in California, Oregon and Washington, in addition to "making available its substantial inventory of particulate respirators, oxygen concentrators, and other medical resources" to hundreds of organisations in need.
The organisation also said it was donating Wildfire Health Kits to health centres and public health agencies, each of which is capable of treating approximately 250 people for several days.
You can help support the vital work Direct Relief does by offering a donation.
To donate, click here.
California Fire Foundation
The California Fire Foundation is dedicated to providing support to individuals affected by wildfires in the state, including victims, local communities and firefighters.
Through its Supplying Aid to Victims of Emergency (SAVE) programme, the organisation is able to offer short-term relief to those impacted by fires and other natural disasters by providing gift cards that can be used to purchase food, clothing and medicine.
To donate, click here.
American Red Cross
The American Red Cross, a humanitarian organisation that provides emergency assistance and disaster relief in the US, stresses that people can help those affected by the wildfires in various ways, whether by donating money or offering their time as a Red Cross volunteer.
In addition to donating, individuals who wish to make a positive impact can also check out volunteer positions being advertised by the organisation, in addition to donating blood.
"More than 30 blood drives have been cancelled in California and Oregon due to the wildfires, resulting in approximately 850 blood and platelet donations that have gone uncollected," American Red Cross warns.
"We stand ready to provide more blood and blood products as needed in response to this disaster."
To find out more, click here, and to donate, click here. 
Salvation Army
The Salvation Army is providing meals at evacuation centres for people who have had to flee their homes due to the wildfires across the west coast, in addition to sustenance for first responders working throughout the disaster.
The organisation states that no administrative fee is placed on disaster donations, meaning that all money donated as part of the wildfire relief effort will go towards the cause at hand.
To find out more and to donate, click here. 
United Way
Several wildfire relief funds have been set up by the various branches of non-profit organisation United Way, including in Mid-Valley, Northern California and the Bay Area.
On the website for United Way Bay Area, it says that the Greater Bay Area Central Coast Wildfire Relief Fund was launched to "provide immediate and long-term recovery assistance to Bay Area and Central Coast residents affected by the August 2020 wildfires".
Wildfires spread across California – in pictures

Show all 32
On 10 September 2020, United Way of Northern California announced it was providing $80,000 (£62,120) to eight organisations offering aid to people forced to leave their homes in Butte, Plumas and Siskiyou due to the wildfires.
"These emergency grants will put resources immediately on the ground to help people displaced by these fires," said Larry Olmstead, president and CEO of United Way of Northern California.
These organisations included the American Red Cross, Oroville Hope Center and Plumas Crisis Information and Resource Center.
To donate to United Way Northern California, click here, to donate to United Way Mid-Willamette Valley, click here, and to donate to United Way Bay Area, click here.
Center for Disaster Philanthropy
The Center for Disaster Philanthropy, an online resource that helps donors choose where to donate their money during international disasters, has set up a California Wildfires Recovery Fund.
The aim of the fund is to help communities "rebuild and recover" in the wake of wildfires, having raised millions of dollars since it was first launched three years ago.
"Since its inception, CDP has awarded more than $3m [£2.m] in grants to nonprofits and community groups in northern and southern California to help families and entire communities recover through targeted grantmaking that prioritizes medium- to long-term recovery especially among vulnerable populations," the Center for Disaster Philanthropy says.
To find out more and to donate, click here.
Food banks
On the website for the California Association of Food Banks, the organisation offers a list of food banks across California and the extent to which they have been affected by the wildfires, emphasising that the "totality of the damage caused by the fires is still being determined".
The Napa Valley Food Bank, for example, did not sustain any damage but "lost power, phone and internet service", while the Redwood Empire Food Bank stated that while it is "fully operational", some of its employees' homes were destroyed and "all are coping with profound loss among family, friends and the community".
For more information on the food banks and how you can donate, click here.
Join our new commenting forum
Join thought-provoking conversations, follow other Independent readers and see their replies