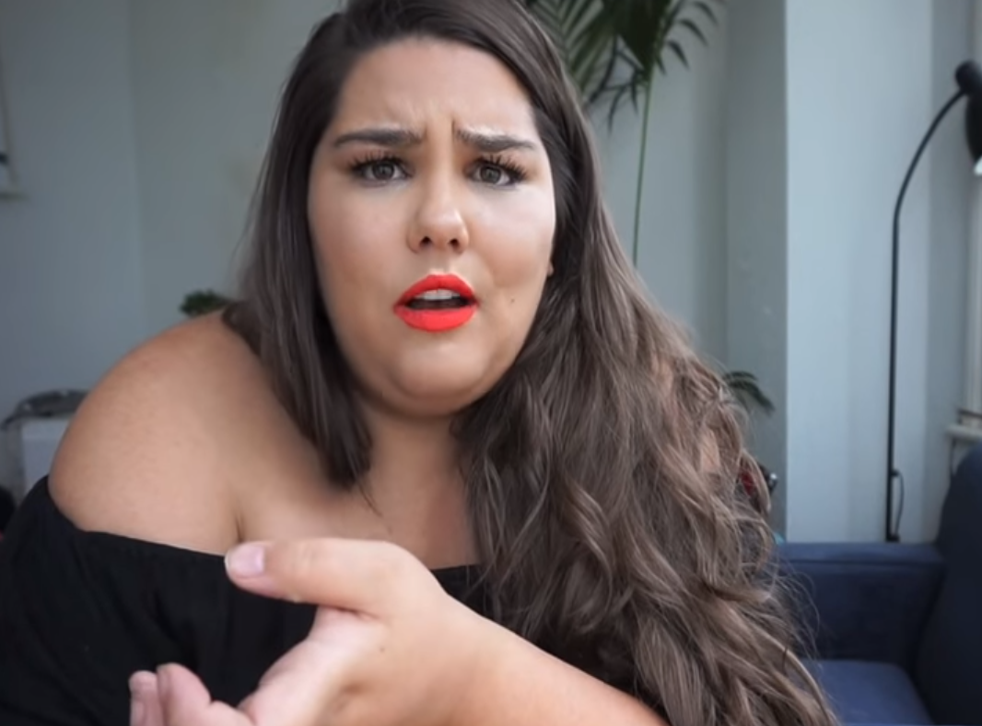 Plus-size blogger Callie Thorpe speaks out after slew of online abuse from bikini picture featured on Vogue website
'People demand that we stay quiet and don't show our bodies because we are not an acceptable version of the beauty standard'
Olivia Petter
Tuesday 25 July 2017 14:14 Comments
A size 24 fashion blogger has spoken out about the online abuse she received after she was pictured on Vogue.co.uk wearing a bikini.
Twenty-something Callie Thorpe appeared in the Miss Vogue article, titled "Why Everyone Is Wearing This Bikini Style Right Now", alongside American models Bella Hadid, Kendall Jenner and Ashley Graham.
The feedback from Thorpe's Instagram followers was mostly positive, with fans praising her and British Vogue for promoting body-positivity.
However, after proudly sharing the article on her social platforms, which led to an interview with Yahoo Style, Thorpe was met with a barrage of vitriolic, fat-shaming comments.
"To be featured in Vogue was such a huge deal," the British beauty said in an emotional video uploaded to YouTube.
"I know I shouldn't really focus on Vogue validating me but I was really proud of it and I still am proud of it," she insisted in the clip titled "Dealing with online abuse" which has now been viewed over 26,000 times..
A teary-eyed Thorpe explained what it felt like to read what users had commented on the interview.
"There were 900 comments and pretty much all of them were vile. It was just the worst thing I've ever read in the whole five years I've been blogging. I couldn't get it out of my brain at all. In the night I couldn't sleep because of some of the things I'd read about myself."
The video itself then became another target for online trolls, with Thorpe being subjected to further lashings of abuse, leading her to disable the comments.
However, even that didn't dissuade critics, with one posting vile comments on another one of the blogger's videos, labelling her "visually repulsive".
"Being fat is seen as being lazy, greedy and a waste on society," Callie told The Independent. "It is one of the last acceptable prejudices in this day and age," she said.
"Any person who dares to feel comfortable in their skin, or attempts to be happy in the body they are in, no matter what journey they are on with their health, isn't allowed to exist. If they do, for example wear fashionable clothes, or put a swimsuit on to go to the beach, they are accused of promoting obesity and unhealthy habits."
"It often comes down to not being conventionally attractive", she explained. Asked why she thinks people feel the urge to fat-shame others, she said: "so many times the abuse I receive is based around me being repulsive, unattractive or ugly."
The issue isn't exclusively an online either. Thorpe explained how she's even been mocked in public for exercising. "On my honeymoon a group of men online mocked me for cycling on a bike," she said.
Thorpe, whose interview with Yahoo Style accumulated close to 1,000 vilifying comments, believes the responsibility lies with the media moderating comments sections.
"It is often left to the victim of abuse to ignore, or stay silenced," she said. "I want to reach to people's humanity and ask people to look at how these comments affect others.
"I am a somebody's wife, daughter and friend and reading comments like this are incredibly hurtful and can effect mental wellbeing, which is just as important as physical health," she added.
Register for free to continue reading
Registration is a free and easy way to support our truly independent journalism
By registering, you will also enjoy limited access to Premium articles, exclusive newsletters, commenting, and virtual events with our leading journalists
Already have an account? sign in
Join our new commenting forum
Join thought-provoking conversations, follow other Independent readers and see their replies