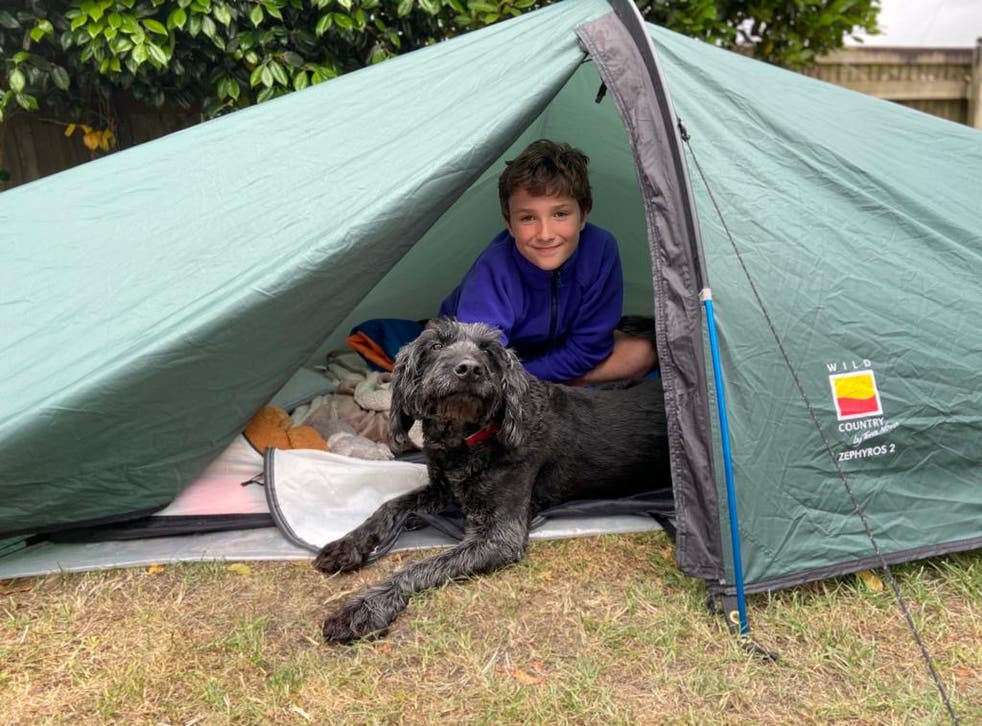 Carry on camping: 10 year old has been sleeping in a tent since March to raise money for charity
Max Woosey has slept in his garden for more than 200 nights, and plans to do a full year outside to raise money for the North Devon Hospice
A 10-year-old boy has been camping in his back garden for eight months to raise money for the North Devon Hospice.
Max Woosey, from Braunton, has already raised £87,000 for the charity that cared for his friend and neighbour Rick, 74, who died in February from cancer. The same hospice also looked after Rick's wife Sue before she passed away.
Woosey explained on his JustGiving page that his local hospice "looked after our friend and enabled him to pass peacefully at home with those closest to him, which was his final wish".
Rick gave Woosey the tent before he died and asked him to promise to have an adventure, "so that's what I'm doing", said the schoolboy.
The camper sleeps in the tent every night, but goes inside his house to have dinner, to wash and for home-schooling. "I love the outdoors, it's amazing," he said.
The schoolboy can't believe how much he's raised so far: "It feels amazing, it's unbelievable really," he said.
"It will be used for equipment and stuff like that to help other people and people who really need it."
With plans to do a whole year in his tent, Woosey will face his biggest challenge yet this winter. "It's fun but very hard, the weather, the wildlife, they prove a massive challenge."
Now on his fifth tent, Woosey had to trade up after the canvas on Rick's lost its waterproof coating. "He'll get through a few more yet," said Woosey's mum, Rachael, who explained that the tents only last around 10 weeks when in constant use. "It's absolutely incredible, it's bonkers," she said of her son's outdoor challenge, "He set the goal of £100 and we thought we'd have to top him up to that …
"The fact that Max has been able to help them at a time when all fundraising has been cut, because of Covid, is just amazing."
Woosey is planning to do 365 days outside, but the family has agreed that he should stop when he's no longer enjoying it.
"I think he's fairly feral already after 200 nights, it might be a struggle to get him back inside," his mum added.
Join our new commenting forum
Join thought-provoking conversations, follow other Independent readers and see their replies