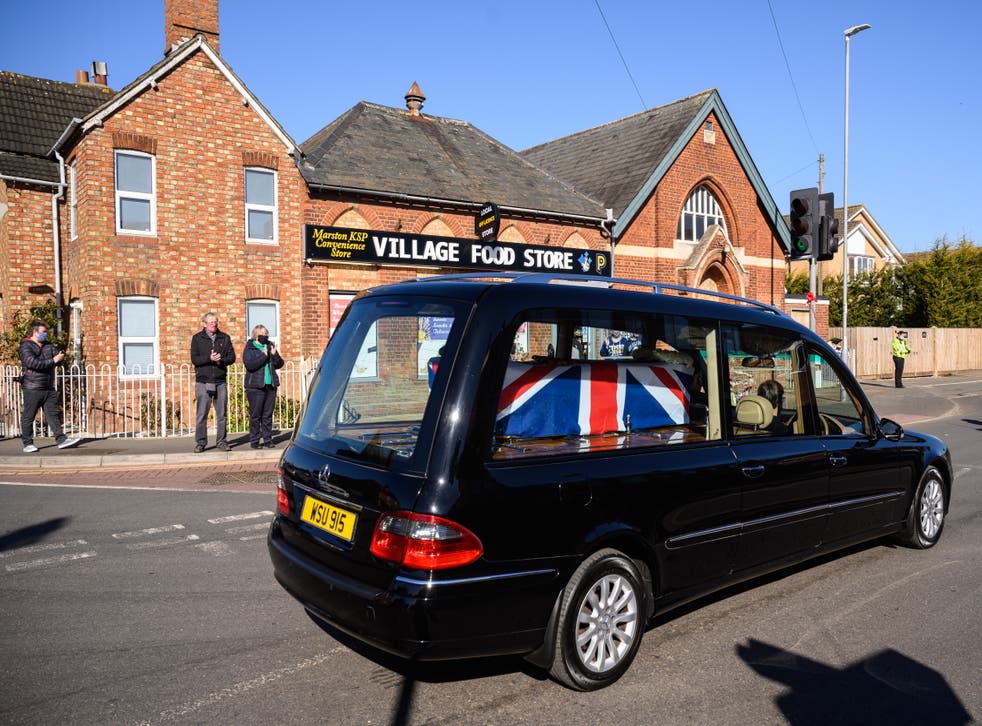 Captain Tom Moore's grandson Benjie shares what he learnt from living with him in funeral speech
'I truly do not believe I would be the person I am today without your sound guidance,' said Benjie
Natasha Preskey
Saturday 27 February 2021 15:30 Comments
Captain Sir Tom Moore's grandson Benjie has opened up about what he learnt from living with the war veteran, while speaking at his funeral.
Captain Tom's private funeral service took place on Saturday at Bedfordshire Crematorium, and was marked with a flyover from a World War Two-era plane.
Captain Tom's family paid tribute to the centenarian and members of the Yorkshire Regiment carried his coffin, which was draped in a Union Jack.
Following the death of Captain Tom's wife in 2006, he moved in with his daughter Hannah Ingram-Moore, her husband Colin and her children Benjie and Georgia in the village of Marston Moretaine in Bedfordshire.
Speaking at his grandfather's funeral, Benjie told what he had learnt from living with Captain Tom for over a decade.
Benjie said: "If there is a lesson I have learned from living with you the last 13 years, it's the power of positivity and kindness. I truly do not believe I would be the person I am today without your sound guidance.
"Our chats mid-afternoon that were only supposed to last a few minutes quickly turned into hour-long conversations, quickly delving into so many thought-provoking avenues. These are memories I will never forget and ones I am incredibly grateful to have.
"I can't imagine how many pieces of my sports equipment would have stayed broken without your ever-trusted super glue.
"I suppose the tables turned in the later years when so often it was Georgia or me fixing something on your phone."
He continued: "Growing up with you every day, the smell of porridge as I came downstairs was almost a sign to know everything was okay."
Benjie added that Captain Tom sneaking leftovers to the dogs "filled the morning with more than a bit of joy".
Captain Tom's oldest daughter Lucy Teixeira also spoke during the service, and laughed as she told how her father had spoken to her about concrete pipes to calm her wedding day jitters.
"We often talked about milestones in your life and laughed about the possibility of you reaching your 100th birthday," she added.
"You said, 'It's just a number, I don't feel any different', and right to the end you ignored the number and kept on going, urging us all to keep on going with the mantra 'tomorrow will be a good day'."
Captain Tom was knighted by the Queen in July last year, after he raised more than £32million for NHS charities by walking over 100 laps of his garden.
Register for free to continue reading
Registration is a free and easy way to support our truly independent journalism
By registering, you will also enjoy limited access to Premium articles, exclusive newsletters, commenting, and virtual events with our leading journalists
Already have an account? sign in
Join our new commenting forum
Join thought-provoking conversations, follow other Independent readers and see their replies