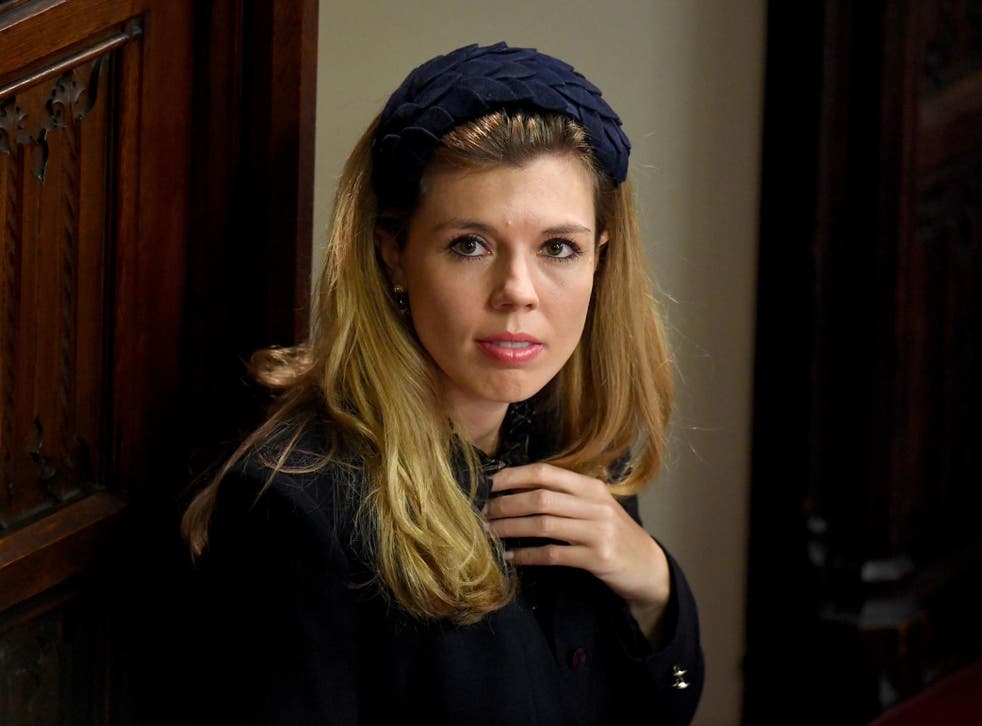 Who is Carrie Symonds? Boris Johnson's wife expecting second child
The pair reportedly tied the knot at Westminster Cathedral
Carrie Symonds, who the prime minister married earlier this year in a secret ceremony at Westminster Cathedral, has announced that she is pregnant with their second child.
In a message on Instagram, Boris Johnson's wife revealed the baby is due in December – and also that she suffered a miscarriage earlier in the year which left her "heartbroken".
"Fertility issues can be really hard for many people, particularly when on platforms like Instagram it can look like everything is only ever going well," Ms Symonds wrote. "I found it a real comfort to hear from people who had also experienced loss so I hope that in some very small way sharing this might help others too."
The announcement suggests she was pregnant at the time of her marriage to the 57-year-old prime minister on 29 May, which took place a month after the pair's first child together, son Wilfred, was born. Mr Johnson has at least five other children.
The couple tied the knot in front of fewer than 30 friends and family, with one witness telling The Sun at the time that the cathedral went into lockdown at 1:30pm for the wedding.
"It was closed for about half an hour and they all came out after. t's not often we have weddings here, and when they came out they were all bundled into a car. It looked like they didn't want anyone to know who it was," the witness said.
The wedding was reportedly planned six months prior, with friends and family being told at the "last minute", while the move made Mr Johnson the first UK prime minister in 250 years to marry while in office.
Mr Johnson and Ms Symonds announced they were engaged and expecting a baby together in February 2020.
In a post shared on her private Instagram account, Ms Symonds wrote: "Many of you already know but for my friends that still don't, we got engaged at the end of last year ... and we've got a baby hatching early summer. Feel incredibly blessed."
Mr Johnson and 31-year-old Ms Symonds have been romantically involved since 2018.
In July last year, Mr Johnson addressed the country during his first televised speech as prime minister, having assumed the position earlier that month. Ms Symonds attended the event in support of her partner, being dubbed "first girlfriend".
Within hours of her appearance, the £120 pink and red floral midi Ghost dress she had been wearing sold out from the fashion label's website.
Here is everything you need to know about Ms Symonds:
What is her background and her job?
Ms Symonds, the daughter of The Independent co-founder Matthew Symonds and lawyer Josephine Mcaffee, was born on 17 March 1988 and raised in southwest London.
Her paternal grandfather was newspaper editor John Beavan, Baron Ardwick, a Labour Party MEP.
After studying theatre studies and art history at the University of Warwick, she began her career as a press officer for the Conservative Party.
While working at the Conservative Campaign Headquarters, she campaigned for Mr Johnson during the 2010 London Conservative Party mayoral selection, which resulted in the future prime minister being selected to stand in the 2012 mayoral election.
Her career also saw her work for former culture secretary John Whittingdale, in addition to becoming a media special advisor for Sajid Javid when he was in the Department for Communities and Local Government.
In 2018 at the age of 29, Ms Symonds became the youngest-ever head of communications of the Conservative Party.
She left the position in 2018 in order to take up a public relations role at Oceana, an ocean conservation charity.
On the Oceana website, it states that Ms Symonds is "passionate about protecting the oceans and marine life, particularly by reducing plastic pollution".
On her Twitter profile, where she describes herself as a "conservationist", she frequently shares information about plastic pollution and the environment.
Ms Symonds has also used her platform to speak out about issues such as ending female genital mutilation (FGM).
How did the couple meet?
While it is unclear when the couple met, their relationship was confirmed shortly after Mr Johnson announced he would be divorcing his wife of 25 years, Marina Wheeler, in September 2018.
Mr Johnson and Ms Wheeler have four children together, ranging in age from 20 to 26.
UK news in pictures

Show all 50
The prime minister's fifth child was born in 2009 following an extra-marital affair.
Mr Johnson's child with Ms Symonds is the sixth that he has publicly acknowledged.
It is believed the politician may have fathered another child outside of marriage.
In July 2019, Ms Symonds moved to Downing Street with Mr Johnson, becoming the first unmarried partner of a prime minister to move into the residence.​
Register for free to continue reading
Registration is a free and easy way to support our truly independent journalism
By registering, you will also enjoy limited access to Premium articles, exclusive newsletters, commenting, and virtual events with our leading journalists
Already have an account? sign in
Register for free to continue reading
Registration is a free and easy way to support our truly independent journalism
By registering, you will also enjoy limited access to Premium articles, exclusive newsletters, commenting, and virtual events with our leading journalists
Already have an account? sign in
Join our new commenting forum
Join thought-provoking conversations, follow other Independent readers and see their replies