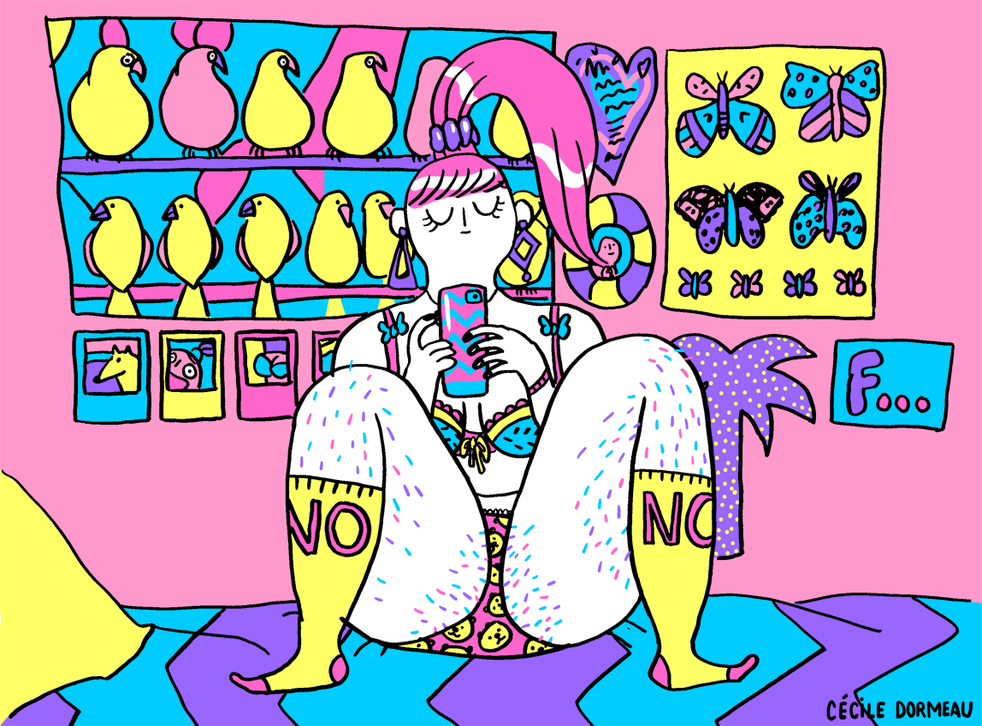 Cecile Dormeau: The illustrator whose cartoons about women break all the rules
The French artist questions what it means to be a woman with witty, eye-popping gifs and cartoons 
Kashmira Gander
Tuesday 07 March 2017 12:54 Comments
Don't be fooled by Cécile Dormeau's colourful, eye-popping illustrations. Because the sacharine colours and simple sketches don't make her take on what it means to be a woman any less cynical.
Dormeau, a 28-year-old illustrator from the outskirts of Paris, draws women breaking all the rules: whether they are flaunting their hairy legs and stretch marks, being totally comfortable with their saggy boobs, or lazing on the beach with their bellies out.
Cecile Dormeau on modern life - In pictures

Show all 4
"I just draw what is around me in my daily life," she tells The Independent. "All the observations I make in my drawings are about my feelings. The late-nights and drunk talks I have with friends, my sister's craziness, the people I happen to see on the street, or something I've read.
"I like drawing things which are not often brought out in the daylight, like hidden actions or details that we are too ashamed to share. I draw taboos. I want to celebrate imperfection."
The honesty and joy of Dormeau's work resonates with a lot of women, she says.
"I am really pleased to see that a lot of girls identify with my work and will say 'that's me' and will really laugh about it, telling me 'thank you I needed that' or 'your illustrations help me to feel better'. That makes me really happy."
And the turbulent journey she took carving out her career as an illustrator is as uplifting as her cartoons. She had always enjoyed drawing, but resigned herself to the idea that she wasn't good enough to do it full time.
"Before, I was a graphic designer and junior art director, and I realised I had way more fun doing personal work, illustrating things, especially to escape from boring jobs."
"When I was made unemployed, I was looking for graphic designer jobs without success. As I had nothing to loose, I decided to give a try to invest myself much more in illustration, especially to share my ideas about women representation. That was definitely a big step, as I never really showed to people my personal work, but I knew that sharing it will help me to throw myself into illustrating more.
She now illustrates weekly for the Sunday Times magazine, recently drew for actress Emma Watson's UN-backed He for She event in Paris.
However, as Dormeau's cartoons tackle taboos, not all the responses to her work have been positive. As a result, her vibrant drawings have a serious purpose, she says.
"I see as well comments like 'this is disgusting', 'stop to glorifying obesity', ' hairy girls are so gross '. We are so used to seeing bodies in a certain way in the media that when these bodies are showed in their normality, without Photoshop, the reaction of people will be rejection and disgust," she suggests.
"But I want to speak about diversity in body shapes and how complex we are. I want to speak about the people who try to hurt us, and judge us."
"All these little comments about our bodies can be extremely destructive," argues Dormeau, adding: "I want girls to learn to be stronger than the insults and to love themselves no matter what people say."
Register for free to continue reading
Registration is a free and easy way to support our truly independent journalism
By registering, you will also enjoy limited access to Premium articles, exclusive newsletters, commenting, and virtual events with our leading journalists
Already have an account? sign in
Join our new commenting forum
Join thought-provoking conversations, follow other Independent readers and see their replies