Woman defended after admitting she snacks on groceries before paying for them
In the video, Bauchmann can be seen opening a packet of sushi and eating it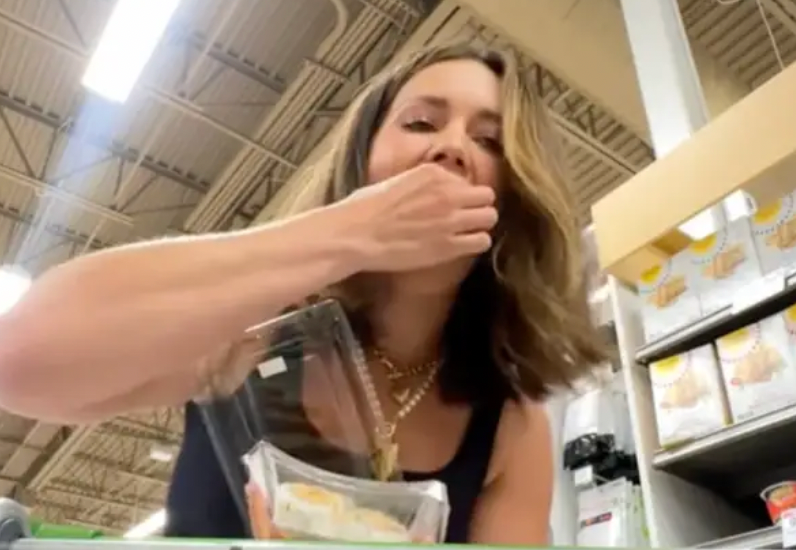 A woman has sparked an online debate after a video of herself eating a packet of food at the grocery store before paying for it went viral.
Cecily Bauchmann, who is a lifestyle influencer, posted a 12-second video of herself grocery shopping at a Publix supermarket.
In the video, Bauchmann can be seen opening a pack containing sushi and eating it.
"I also opened this in-store," Bauchmann says in the video, holding up an empty sushi container. "I'm sorry, I was so hungry."
"I can just scan it, you're good," the staff member is heard telling her in the video.
Even though the exchange about the opened food packet was short and non-confrontational for Bauchmann, many people have since questioned whether it's ok to open food packets in grocery stores before paying for them.
"[The item] isn't mine until I pay for it in my head its considered stealing," a top commenter with over 20,000 upvotes wrote on TikTok.
Another person added: "What would you do if card would not work?"
Many people also brought up the topic of privilege into the conversation, with one person commenting: "Now if a non white person opened up food and ate it before paying it wouldn't be 'cute' you are using your privilege smh."
A person claiming to be a cashier, wrote: "When I'm a cashier I get annoyed sometimes when people hand me their trash to scan lol."
"Ridiculous how she just opened that packed and started eating from it before paying," someone on Instagram commented.
The Independent has contacted Bauchmann for comment.
While many people raised questions about Bauchmann's actions, some also supported it. "Eating the sushi in the store was definitely a vibe! Haha," wrote one person.
Another person added: "I think I now need to start eating sushi while I grocery shop!"
"I think it's fine if you eat in store and then pay for it later," wrote someone else.
Join our commenting forum
Join thought-provoking conversations, follow other Independent readers and see their replies