Oscars 2021
Oscars 2021: Through the keyhole - What we've learned from a year of video snooping into celebrity homes
Ahead of the 93rd Oscars this weekend, Olivia Petter speaks to interior designers about the insight the last year has given us into celebrity homes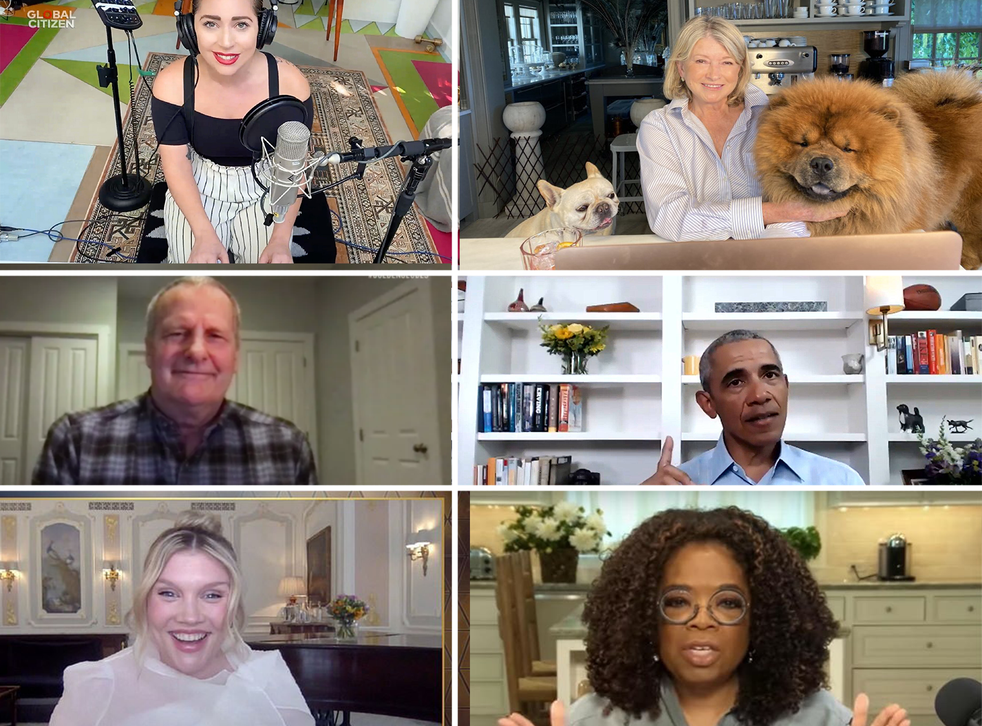 Leer en Español
Like the rest of us, celebrities have spent the last year sequestered in their homes due to the coronavirus pandemic. They've attended business meetings, auditions, and even award ceremonies all from the comfort of their living rooms. But the 93rd Academy Awards this weekend will see a break away from the hybrid remote-real-life model as attendees have been told that there is no Zoom option; they must attend. While no one expects an overnight return to all the old ways, the Oscars decision is a timely reminder that our pandemic lifestyles will not be forever and has given us an opportunity to reflect on what we've learned from being invited in.
The first thing our video snooping has taught us – as if we needed reminding – is that celebrities are not like the rest of us. Not even a little bit. Never was this more clear than at the Baftas, which took place in early April, when Emerald Fennell accepted the award for Best British Film while sat in a Regency room complete with a grand piano, gold light fittings, and Old Masters artwork. Quite the remote working setup.
Elsewhere, fans have marvelled at Jane Fonda's marble fireplace and Oprah's pristine kitchen. They've fawned over Jimmy Fallon's shabby chic storage unit and Bill Murray's immaculate garden lawn. During the One World: Together at Home charity concert, just as many people were talking about Lady Gaga's performance as they were her multi-coloured geometric flooring. The intrigue has been such that in April 2020, a Twitter account called "Room Rater" was set up to rate the Zoom backgrounds of celebrities and public figures over the course of the pandemic. To date, it has more than 395,000 followers.
"I think inherently we all love a good nosey into other people's lives and lockdown and the restrictions have given us so much more accessibility," says Lou Wolfenden, founder of House of Wolf interiors. "[We see]the home as an extension of an individual." This innate curiosity is all the more potent when it comes to celebrities; yes we love to see how other people live, but particularly when those people are notoriously private and own some of the most lavish properties in the world.
Of course on a video chat, there's only a certain amount of space that will be seen by viewers – something long acknowledged by politicians who frequently appear in front of well-curated bookshelves (see Barack Obama with a unit featuring a model of his Portuguese water dog). "A room can tell a story, have style yet still be functional and ooze the feel good factor. In the case of the Zoom backdrop, celebs only have a screen sized segment to hit the right note and show fans their story," says Wolfenden. Some celebrities have given this more thought than others. 
Consider Aaron Sorkin, who accepted an award for the Best Motion Picture Screenplay for his film, The Trial of the Chicago, at the Golden Globes earlier this year. Instead of simply accepting the award at a desk, offering viewers a small glimpse into one of the rooms in his home, the acclaimed screenwriter positioned his camera in the far corner, offering the audience a full view of his vast open-plan living area, which featured a rather unusual window-encased kitchen that, inexplicably, had two guitars inside it.
Stranger still was the home of Ryan Murphy, creator of Netflix's Ratched, nominated for Best TV series – drama. The writer was pictured clapping on camera as the award went to Peter Morgan for The Crown, but viewers couldn't help notice the bizarre background, which seemed to be an endless collection of black rails that one writer compared to "a place where John Wick would kill 20 faceless henchmen".
Some celebrities have used the opportunity on camera to reiterate their brand values. Culinary stalwart Martha Stewart, appeared in – you guessed it – her kitchen, offering an insight into her meticulous cooking space in which every last item of crockery appeared perfectly stacked and arranged. "The best designed homes should be a reflection of the people that live in them, not just a set for the latest Insta-pose or Zoom call," says interior designer Jenny Branson. 
Celebrities have also just been posting more photos on social media from their homes. Take Gigi Hadid, who, last year, went viral after she shared photographs of her newly decorated Manhattan apartment, which had been kitted out with old car parts repurposed as wall art and kitchen cabinets made from brightly coloured dried pasta pieces.
Like Stewart, this aesthetic perfectly suits Hadid's public persona, says interior designer Allison Pidgeon, accredited designer of the Society of British and international Interior Design. "It suggests a fun and active lifestyle, originality and a non-conformist vibe and gives the interior a sense of uniqueness and personality and suggests Gigi has a strong personal identity and taste."
The appeal of seeing inside celebrities' homes during the pandemic has been bolstered by the simple fact that we've all spent so much time within our own homes and have inevitably started to reconsider how we fill them. In January, a study conducted by the Checkatrade Home Price Index found that property owners spent £39bn on home improvements in 2020. "Interior designers have never been busier," says Becci Oldman of Hiltingbury Interiors in Hampshire, explaining how people have been inspired by the opulent homes they've seen online. "I think seeing so many grand celebrity homes on Zoom has encouraged many to be bolder in their choices. It's given them confidence to think bigger," she adds.
Not everyone wants to share how they live, however, which is why we've also seen a number of celebrities accepting awards or making public appearances with nothing but a white wall behind them – see Dan Levy, Jessica Chastain and Tiger King's Carole Baskin, who recently conducted a series of YouTube videos from in front of a mysterious green sheet. Other frequent white-wallers are members of the British royal family who, perhaps in a sensitive move to conceal just how grand their palaces are, often appear via Zoom in front of simple white backgrounds or windows.
There is, of course, another strategy to Zoom home-showing. And that's simply not caring about it in the slightest, or at least appearing not to. Examples of this include Glenn Close, who appeared at the Golden Globes looking relaxed in what appeared to be her dining room with her camera at a slight angle and her dog lazing on the floor behind her. Then there was Jeff Daniels, who made an appearance at the Golden Globes in what looked like an unused living room with a sofa covered in a grey sheet. "Some celebrities choose a 'take me as you find me' approach, which when done right can give a relaxed and welcoming view of the celebrity's life and create real engagement and connection," notes Pippa Paton, accredited designer of the Society of British and international Interior Design. "But get it wrong and it can end up looking very bland and boring or just plain messy."
As we approach the Oscars, it is a reminder that we might soon be waving goodbye to soaking up the minutiae of other people's homes over Zoom. This is, of course, a good thing,  because it will mean it is deemed safe for people to attend events in real life again. But there will undoubtedly be a small number of people who will look back on the last year of spying on celebrity homes with a pinch of nostalgia. After all, what's more intriguing than seeing how the one per cent live?
Join our new commenting forum
Join thought-provoking conversations, follow other Independent readers and see their replies