Bill Gates, Jennifer Lopez and Paris Hilton among celebrities with 'harmful' carbon footprints, study finds
Stars urged by scientists to set a better example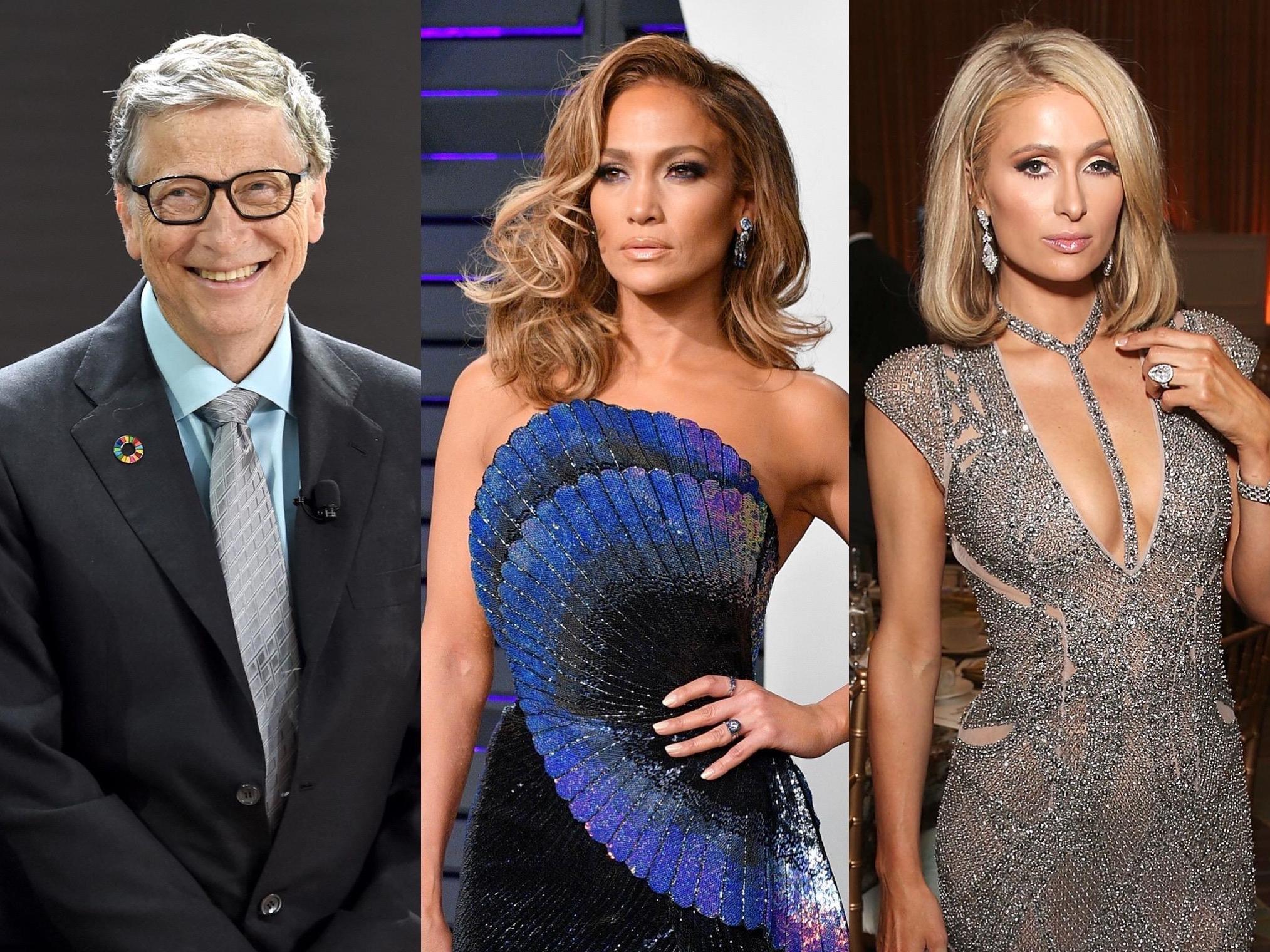 A number of high-profile celebrities have been named by researchers as "super-emitters" over their "harmful" carbon footprints.
Jennifer Lopez, Paris Hilton and Emma Watson were among the 10 stars whose flight habits were analysed for an academic study conducted by Lund University in Sweden.
The team of researchers gathered data from each of the celebrity's social media accounts throughout 2017.
Based on posts from the A-listers' online platforms, the researchers estimated their average air miles using the most direct routes possible as well as their CO2 emissions.
Bill Gates, the Microsoft billionaire, was found to have the biggest carbon footprint of the 10 celebrities whose travel habits were examined by the study.
Greta Thunberg inspires climate activists everywhere: In pictures
Show all 12
Researchers estimated that Gates took 59 flights in 2017, travelling 343,000km (213,000 miles).
The study assumed he flew in his private jet, which he has previously described as his "guilty pleasure" and "big splurge", and calculated that his flying produced 1,600 tonnes of carbon dioxide in 2017 alone.
To put that in perspective, the average person produces around 10 tonnes of CO2 every year.
However, Gates and his wife Melinda are incredibly focused on philanthropy, having donated more than $2 billion (£1.5 billion) in 2016 to causes related to global health and development and US education.
The businessman also runs The Gates Foundation, which supports programmes that reach 45 countries across Africa and to help leaders and local institutions chart their own path to reduce poverty and improve health.
Socialite-turned DJ Paris Hilton came in second on the list with a total of 68 flights in 2017, racking up 170,877 miles and more than 1,261 tonnes of CO2 that year.
Third on the list was singer and actor Jennifer Lopez who was estimated to have taken 77 flights in 2017, travelling 139,187 miles and emitting 105 tonnes of carbon dioxide.
Harry Potter actor Emma Watson came in 10th on the list and produced less CO2 than any other celebrity featured in the study.
However, at 15 tonnes of carbon dioxide, Watson still produced 1.5 times as much as a regular person.
According to the researchers, the actor flew 14 times in 2017 travelling 42,253 miles. The study states that she refrained from using private jets and only flew on commercial airlines.
Watson's publicist confirmed to The Independent that the actor "pays to offset all of her air travel carbon emissions through ClimateCare.org".
Other celebrities that featured in the study were talk show host Oprah Winfrey, Facebook founder Mark Zuckerberg, Quibi CEO Meg Whitman, late fashion designer Karl Lagerfeld, racing driver Felix von der Laden and footballer Andre Schurrle.
As a result of the findings, Stefan Gossling, lead author of the study, has called on celebrities to set a better example.
"It's increasingly looking like the climate crisis can't be addressed while a small but growing group of super-emitters continue to increase their energy consumption and portray such lifestyles as desirable through their social media channels," Gossling said.
"As Greta Thunberg affirmed early on, 'The bigger your carbon footprint, the bigger your moral duty', and flying, as a very energy-intensive activity, has been identified as particularly harmful and socially undesirable."
Earlier this month, celebrity supporters of Extinction Rebellion (XR) called themselves "hypocrites" for supporting environmental protests while living "high carbon lives".
More than 100 famous figures, including actor Benedict Cumberbatch, Sir Bob Geldof and actor Sienna Miller, signed an open letter acknowledging that their lifestyles and professions contribute to the "climate emergency" XR is campaigning to end.
Despite their admission, the celebrities, who recently supported XR's two-week long disruption in London that grounded flights and caused violent clashes, said they will not be silenced.
Join our commenting forum
Join thought-provoking conversations, follow other Independent readers and see their replies