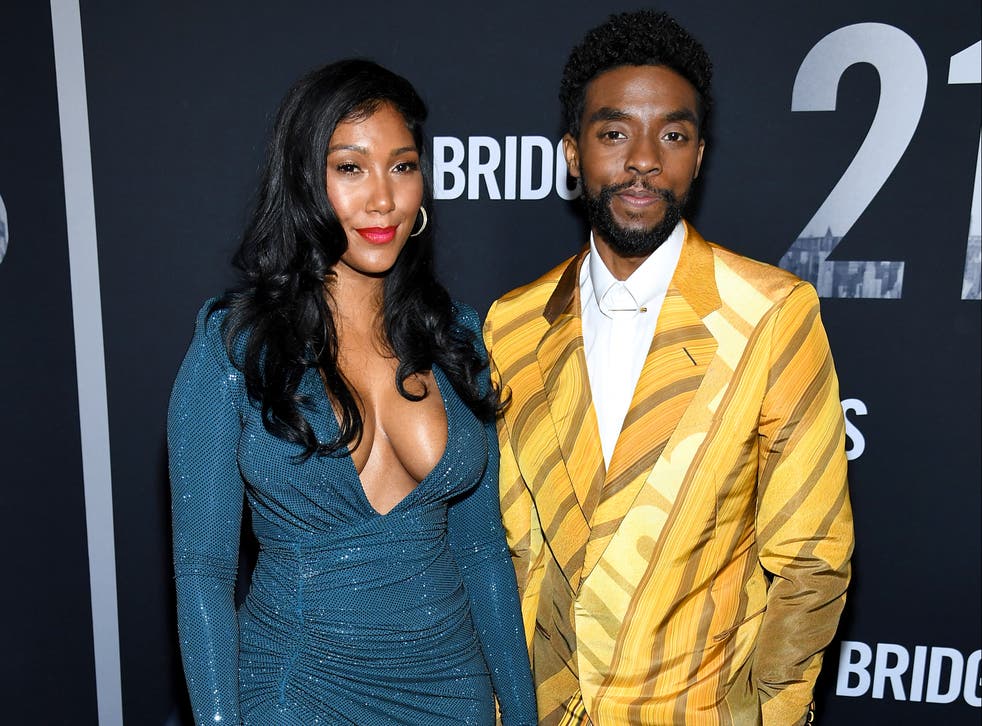 Chadwick Boseman's wife advocates for cancer awareness while accepting award for late actor: 'Please get screened'
Black Panther star died of colon cancer in August
Chadwick Boseman's wife Simone Ledward Boseman took the opportunity to raise awareness about colon cancer while accepting an award on her late husband's behalf.
On 27 March, the actor, who died in August at the age of 43, was awarded two NAACP Image Awards, for outstanding supporting actor for his role in Da 5 Bloods and outstanding actor in a motion picture for Ma Rainey's Black Bottom.
While accepting the outstanding actor award during the televised ceremony on Saturday, Ledward Boseman began by tearfully expressing the actor's gratitude, telling viewers: "As always, he would give all honor and glory to the most high God. He would thank his Mom and Dad, and he would give honour to the ancestors as we now honour him.
"Thank you NAACP Image Awards for always giving him his flowers."
Ledward Boseman then went on to advocate for cancer awareness, especially in Black communities.
Read more:
"He was an uncommon artist and an even more uncommon person, but the manner in which we lost him is not uncommon at all, not in our communities," Ledward Boseman said, before citing statistics which show that Black people are 20 per cent more likely to be diagnosed with colon cancer and 40 per cent more likely to die from the disease.
The late actor's wife also informed viewers that the age for routine screening has "recently been lowered to 45," before urging those 45 years of age or older to "please get screened".
"Don't put it off any longer, please get screened," she continued tearfully. "This disease is beatable if you catch it in its early stages so you don't have any time to waste, even if you have no family history and even if you think that nothing is wrong.
"And if you are younger than 45, please be proactive about your health. Know the signs. Know the signs and know your body. Listen to your body."
Ledward Boseman also encouraged viewers to visit Standuptocancer.org for a full list of colon cancer symptoms, before concluding: "Please, you are so needed and you are so loved. Please take your health into your own hands. Thank you."
Colorectal cancer is the third leading cause of death from cancer in the United States, according to the National Cancer Institute, which notes that the number of cancer cases in adults younger than 55 is increasing each year.
"The number of new colorectal cancers and deaths from colorectal cancer are higher in African Americans than in other races," the organisation states.
Join our new commenting forum
Join thought-provoking conversations, follow other Independent readers and see their replies