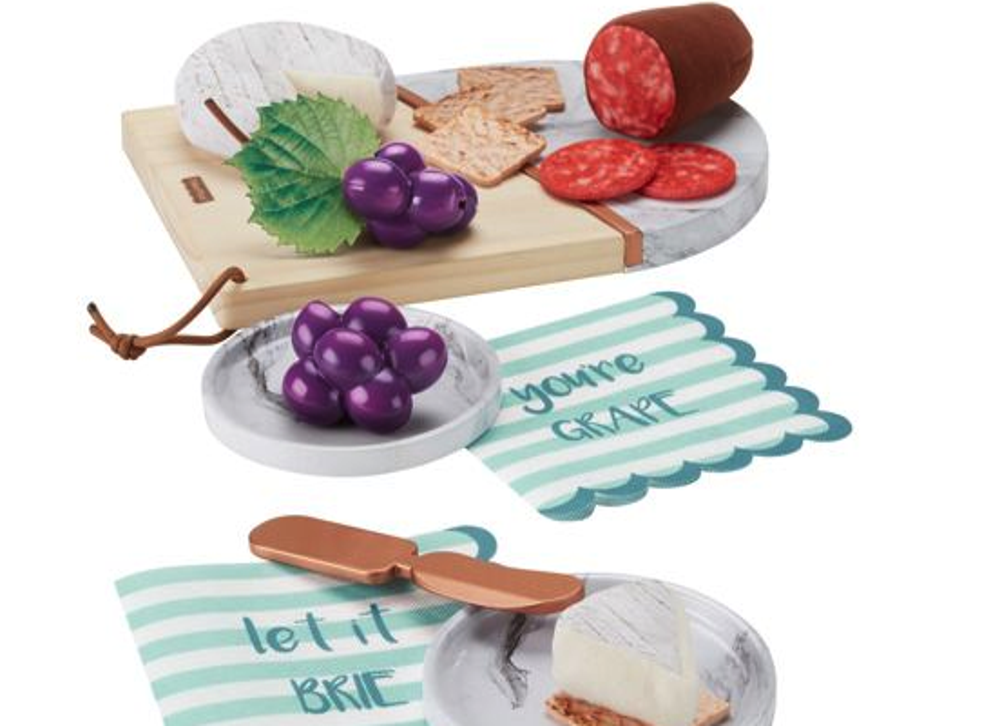 Toy charcuterie board for toddlers criticised for 'promoting privilege'
'This is the most bougie toy I've ever seen' 
Chelsea Ritschel
New York
Friday 20 December 2019 20:04 Comments
A toy charcuterie board for children has sparked controversy after some people accused the play set of being elitist and "promoting privilege".
Sold by Fisher-Price, the toy called Snacks for Two, features everything that a child could want in a pretend charcuterie board - from fake cheese, fabric salami, grapes and crackers to a cutting board, fake knife and faux-marble plates.
"The Fisher-Price Snacks for Two set lets your kiddo slice, share, and serve a delicious spread of pretend salami, cheese, crackers, and fruit… so, basically live their absolute best life," the toy description reads.
On Amazon, where the 15-piece kit is available for $13, the reviews are mostly positive, with many customers describing the set as "realistic" and unique.
"This is an adorable play set," one reviewer wrote. "My kids don't really like the very fake-looking plastic play food in a lot of kitchen sets, but they love playing with the more realistic food in this one and the beautiful play cutting board."
However, others have taken to social media to share their grievances with the sophisticated toy meant for children aged three and up.
"This is the most bougie toy I've ever seen," one person wrote on Twitter. "A f***ing toddler rocking a fedora and serving salami to another one in a beret? The persnickety rep at Fisher-Price who thought this was a good idea should be demoted."
Another said: "So Fisher-Price hit peak hipster. They have a toy charcuterie board play set…"
"Apparently Fisher-Price has a plastic snooty cheese plate," someone else tweeted.
In response to the criticism, some people have defended the toy cheese board.
"Really not sure why this charcuterie board toy is getting so much flack," one person wrote. "Making a good cheese tray is an excellent social/hosting skill. Several of my toys growing up were largely directed at me keeping house. I call this progress."
Another said: "I think it's cute and kids are never too young to learn good manners, social skills, entertaining and about different delicacies, meats, cheeses, etc."
The Independent has contacted Fisher-Price for comment.
Register for free to continue reading
Registration is a free and easy way to support our truly independent journalism
By registering, you will also enjoy limited access to Premium articles, exclusive newsletters, commenting, and virtual events with our leading journalists
Already have an account? sign in
Join our new commenting forum
Join thought-provoking conversations, follow other Independent readers and see their replies