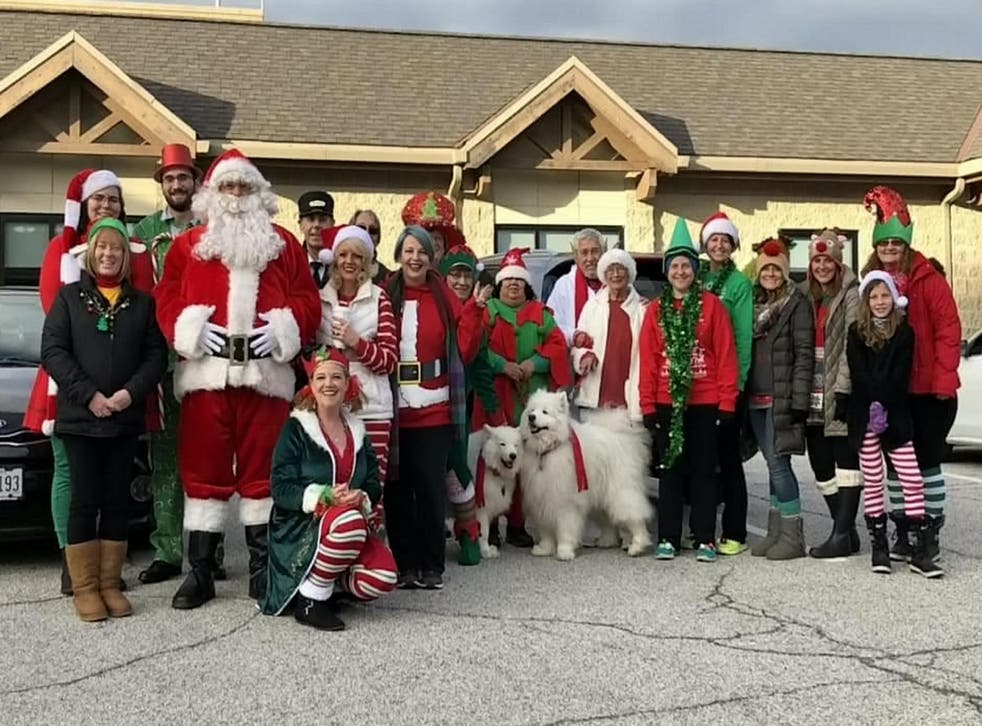 Town celebrates Christmas early so 12-year-old boy dying of cancer wouldn't miss it
Keith Burkett has a rare form of childhood cancer that has spread to his skull and spine
Chelsea Ritschel
New York
Wednesday 24 October 2018 16:11 Comments
An entire town celebrated Christmas two months early so that a terminally ill 12-year-old neighbour could enjoy what will likely be his last one.
Keith Burkett, from Stow, Ohio, has a rare form of childhood cancer in his skull, shoulder, spine and liver that doctors fear may take his life before the end of the year.
So to ensure Burkett was able to celebrate Christmas, the residents of Stow decided to hold the winter holiday slightly earlier this year - on October 21.
In addition to decorating their homes with lights and Christmas trees, Burkett's neighbours sang carols and Santa made an appearance.
The day was made even more special for Burkett with a ride in a fire truck, a procession of more than 100 cars decorated for Christmas, and a medal of bravery awarded by the Stow mayor.
"It was awesome," Burkett said. "The fire truck was my favourite part because I've never been in one before. I got to beep the horn."
According to his mum, Taylore Woodard, 32, the family's decision to celebrate early came after doctors told her they didn't know if Keith would make it to Christmas.
"He loves Christmas," she said. "His life has been taken up with cancer and medicines and I wanted my son to enjoy one last Christmas.
"So at the end of September, we made our house into a winter wonderland. We put lights up, candy canes, polar bears and santas. We had a North Pole sign and put up a banner that said: 'Merry Christmas Kourageous Keith.'"
Then neighbours caught on and began hanging their own Christmas decorations.
"We noticed our next door neighbours put up some icicle lights and garlands and soon everyone was doing it," Woodard said of the town's incredible support - and that was just the beginning.
On the morning of the October Christmas, Burkett, who fell ill at age five, was greeted at his home by friends dressed as Santa and elves from the North Pole.
From there, the 12-year-old rode a fire truck to Stow-Munroe Falls High School, where hundreds of people decked out in Christmas attire had gathered for his arrival.
To mark the special day, Stow Councilman John Pribonic read a proclamation in Burkett's honour and declared October 21 Keith Burkett Day.
On the ride back from the local high school, Burkett was entertained with carols sung by the high school choir.
"Everyone was dressed up and embraced the Christmas theme. Both Santa Claus and the Grinch were there," Burkett's mum said.
"Keith was smiling ear to ear. I haven't seen him smile like that in such a long time."
Woodward and her husband Adam, 34, who also have a seven-year-old daughter and six-year-old son, first noticed their eldest son was ill on Christmas Eve in 2010, when the then five-year-old appeared pale and didn't want to eat.
At the hospital, doctors found "that there was fluid pushing on his heart and his heart rate was down," Keith's mum recalled.
On Christmas Day, he underwent surgery to remove the fluid. Doctors also removed the left lower lobe of his lung because "it looked like hamburger meat."
Furniture for a cancer treatment centre - In pictures

Show all 17
However, it wasn't until March 2012 that Burkett was diagnosed with undifferentiated soft tissue sarcoma - at which point he underwent another surgery so doctors could remove cancerous parts of his body.
Despite four courses of radiation and chemotherapy, the cancer continued to return and in May, doctors found it had spread.
Two months ago, Burkett's condition turned severe and he was moved to a hospice - at which point his mum left her job to be with him during his remaining time.
In addition to bringing her 12-year-old son on two trips to Disney World, Woodard said they spend their time playing video games and going for walks.
"It's hard to watch your son die and know that you're not going to have another Christmas with him," she said. "No mother should outlive her child. It's one of the hardest things anyone can watch.
Support free-thinking journalism and attend Independent events
"He's such a kind boy. It doesn't seem fair. I'm so glad that we were able to give him a proper Christmas."
Register for free to continue reading
Registration is a free and easy way to support our truly independent journalism
By registering, you will also enjoy limited access to Premium articles, exclusive newsletters, commenting, and virtual events with our leading journalists
Already have an account? sign in
Join our new commenting forum
Join thought-provoking conversations, follow other Independent readers and see their replies