Six-year-old girl with 500,000 Instagram followers raises concerns for her safety
This Russian six-year-old is being called the 'most beautiful girl in the world' amid social media safety concerns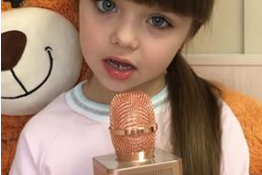 A six-year-old child model has amassed more than half a million followers on an Instagram account run by her mum - raising troubling questions from some people who are concerned for her welfare.
Scrolling through the Instagram account @anna_knyazeva_official, there are some pictures and videos of young Anna smiling for the camera against backdrops of stuffed animals, playing with her toys, and posing with her older brother, but most of the six-year-old's Instagram pictures are professionally shot, and display her uncanny resemblance to a porcelain doll.
Averaging around 100,000 likes on most of her photos, Anna's pictures receive comments like, "You are so beautiful, I have never seen such beauty in my life" and "You are a princess!"
NSPCC encourages people to say something about child abuse with 'Say Something' advert
But the popularity of Anna's account has raised some valid concerns from people online.
Some have displayed pity for the child, who, at just six-years-old, is being judged on her looks by thousands of people.
@viking_tiger stated it's "dreadful that they're even judging children's looks at that age."
Others condemned the possible effects this early attention on looks could have on the child, and other children, later in life.
@polymorph2 said, "Talk about giving children a complex about their appearance by announcing the prettiest child. This causes anorexia and bulimia in children."
There were also those who felt Anna's Instagram made her the perfect target for child predators.
@son_Of_Soong said, "500,000 followers online?! 80% of those are nonces I bet."
This fear of paedophiles was also echoed by a few others who were disturbed by the child's complete lack of privacy.
'Horrifying' number of men view child sex abuse images online, police say
@Salty-Chad said, "Totally inappropriate in today's world. Keep children safe and under wraps, instead of living vicariously through a child."
The concerns that arose regarding Anna's viral Instagram echoed fears expressed over similar accounts dedicated to children and highlights the issue of child safety on social media.
Clinical psychologist and parenting expert, Stephanie O'Leary, Psy.D, said that creating social media accounts for young children carries with it hidden risks.
She said: "Circulating pictures of your child as well as posts that may share your child's location, plans, and routines provide those who may have ill intimate details of your child's life."
She also warned about the potential emotional implications for the child: "Social media allows others to make comments and even if your child does not read or understand them now, in the future they may have negative reactions to what others said or posted about them.
"As a parent, putting your child in this line of fire has unforeseen consequences that are easily avoided by creating boundaries and only sharing information with people in your real life who are invested in your child and your family."
O'Leary also said it's up to parents to educate themselves on the long-term impact of their child's "digital footprint," because the images and posts shared do not disappear over time and can be accessed "far down the road, possibly by colleges and employers."
Overall, while it may be tempting to post pictures of your child on social media, it is important to consider the potential consequences before hitting upload.
Join our commenting forum
Join thought-provoking conversations, follow other Independent readers and see their replies