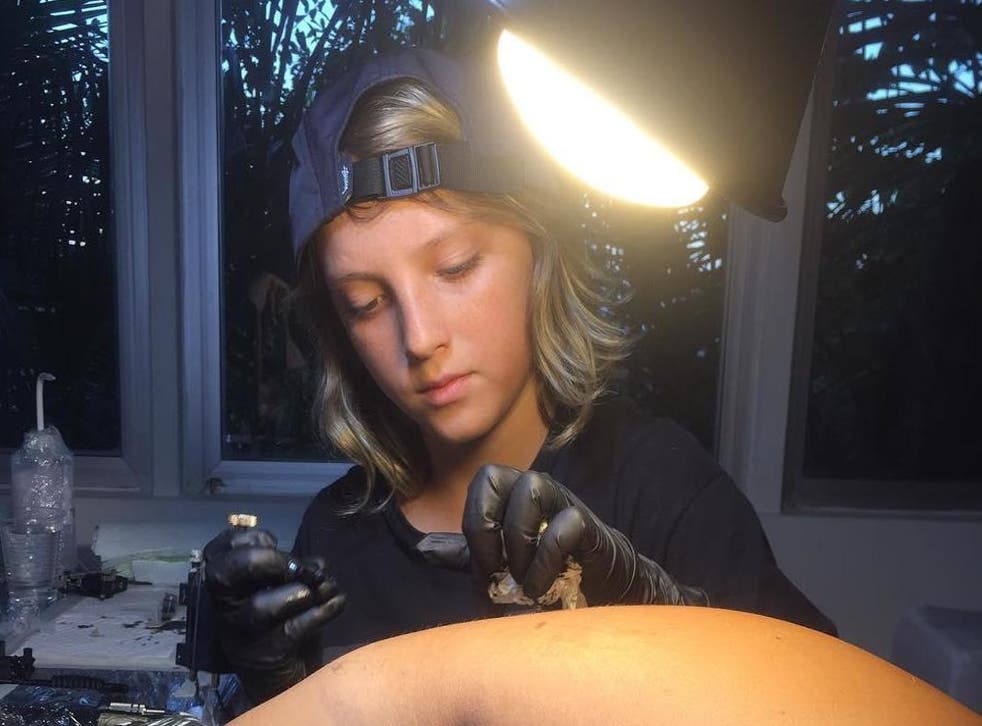 Child becomes tattoo artist at just 12-years-old
He goes by 'Ezrah the Shark'
Would you let a 12-year-old give you a tattoo?
If the answer is yes, your bravery/optimism might lead you to the services of Ezrah Dormon – one of the world's youngest tattoo artists.
The Panamanian child has already performed 20 inkings on willing customers and is learning the tricks of the trade from professional tattooist Ali Garcia at his studio in Honolulu, Hawaii.
Dormon, who goes by "Ezrah the Shark" on Instagram, began his tattoo career at the tender age of 11.
He found his calling after watching his mother get a tattoo of a red flower from Garcia.
It wasn't long until the professional artist began showing Dormon how to do one himself.
His career may be flourishing already, but Dormon is keen to stress that he is still in the early stages of his development as an artist.
"Whenever someone comes to get a tattoo they always have to know that I'm still learning, that I'm just an apprentice," Dormon said in a video posted by NowThis.
"They'll always be a little bit nervous but they're always usually excited," he added.
So far, he has learnt to draw roses, panthers, swallows and sharks and regularly practises his designs on grapefruits.
The budding artist explained that he intends to continue developing his skills and hopes to become a professional tattooist in the future.
However, it's not the only potential career path for the talented youngster.
Dormon recently modelled in a fashion show for Buenos Aires-based designer Antonio Feuillebois as part of Panama Fashion Week.
"@antoniofeuillebois THANKS for letting me be part of your runway last night. It was so fun for me," he wrote in an Instagram post following the show.
"I really love your clothes and I think you are one of the greatest. U are one of those people who will have a documentary about their life because I know you love what you do."
At this rate, he already has more then 44,000 followers on Instagram, it's only a matter of time until Dormon becomes a bonafide social media influencer, who models and tattoos people in his spare time.
Join our new commenting forum
Join thought-provoking conversations, follow other Independent readers and see their replies