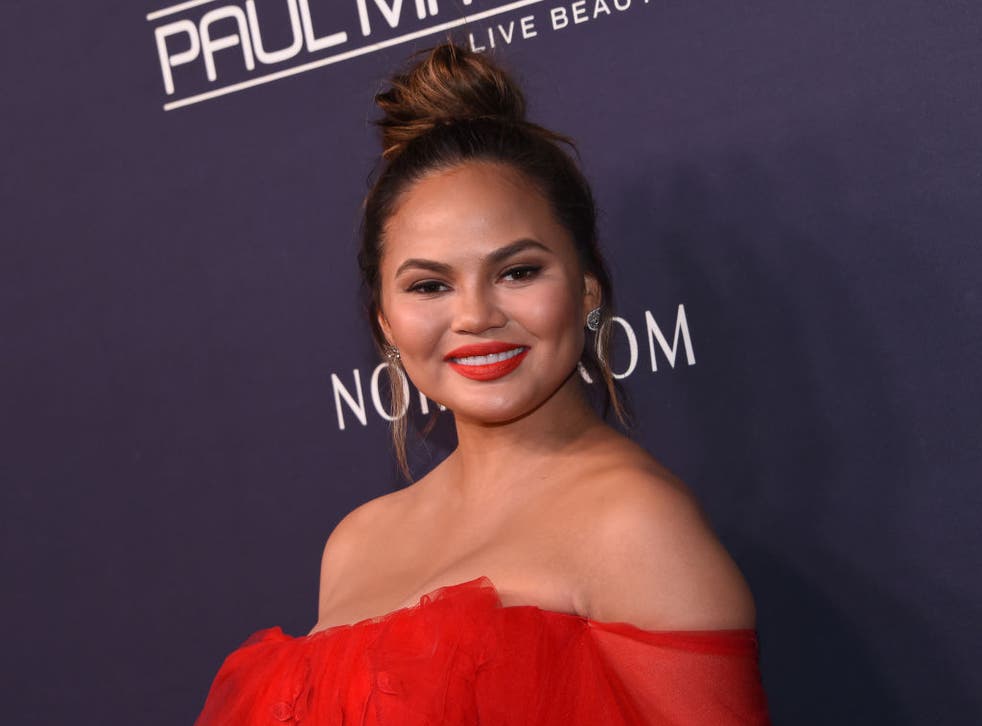 Chrissy Teigen says airbrushing scars and stretch marks is 'insane'
'Who's to say it's even a flaw?'
Chrissy Teigen has called airbrushing scars and stretch marks from photographs "insane".
The 33-year-old model stars on the cover of January's Elle UK Magazine, an issue which declares 2019 as "the year of speaking up", in which she discusses everything from social media to mum-shaming and Donald Trump in an open and honest interview.
Teigen has been known to frequently use her platform to voice her opinions on a number of topics, and one that presents itself time and again is so-called Insta-perfection.
When asked about a video she posted of herself on social media earlier this year, in which she zoomed in on her stretch marks, Teigen says: "Everyone Photoshops them out.
"It's insane. And I don't want anyone to feel like they're the only ones.
"I was on a Victoria's Secret shoot and it was a big turning point for me to see those women with scars and stretch marks and bruises. Who's to say it's even a flaw?"
The mother-of-two also expanded on her thoughts about living life on social media and the pressure it can put on women to have "killer bodies".
"People get FOMO, or they feel bad about their bodies, and I get it," Teigen says.
"If I feel bad seeing certain things, what about that girl who has no connection to this industry? It makes me sad, because that's not really how it is."
Despite her disapproval, the model does admit that things are starting to change for the better explaining that fashion is "definitely kinder to women now".
"Some brands cater to a lot of different body types, so it's obvious now who supports women and who doesn't," she says.
"And it isn't just fashion – it's across the board. I've never seen women have more fight in them than now. We're ready to stir the pot and bring issues to light."
Teigen's comments follow similar criticisms from Jameela Jamil who recently said that airbrushing should be made illegal.
The activist and actor, who's currently starring in TV series The Good Place, wrote about the dangers of airbrushing for the BBC 100 Women series, where she described it as "anti-feminist" and a "crime against our gender".
"I think it's a disgusting tool that has been weaponised, predominantly against women, and is responsible for so many more problems than we realise because we are blinded by the media, our culture and our society," she writes.
"It exists to sell a fantasy to the consumer that this 'perfection' is indeed possible.
"When you filter a woman's photo you are legitimising the patriarchy's absurd aesthetic standards, that women should be attractive to the straight, male gaze at all costs".
The January issue of Elle UK is on sale on December 12.
Support free-thinking journalism and attend Independent events
Register for free to continue reading
Registration is a free and easy way to support our truly independent journalism
By registering, you will also enjoy limited access to Premium articles, exclusive newsletters, commenting, and virtual events with our leading journalists
Already have an account? sign in
Register for free to continue reading
Registration is a free and easy way to support our truly independent journalism
By registering, you will also enjoy limited access to Premium articles, exclusive newsletters, commenting, and virtual events with our leading journalists
Already have an account? sign in
Join our new commenting forum
Join thought-provoking conversations, follow other Independent readers and see their replies