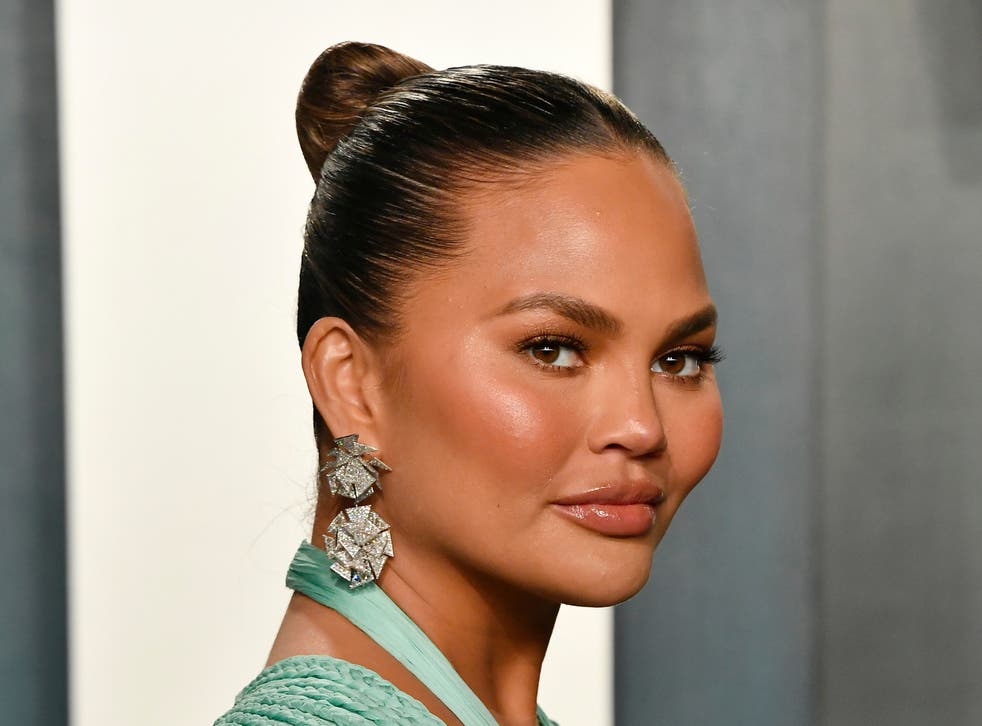 Chrissy Teigen returns to social media after pregnancy loss: 'Finally, a giggle'
Teigen commented on a tweet reposted by Betches Media
Chrissy Teigen has made a return to social media after taking time off in the wake of the loss of her third child, Jack.
Earlier this month, Teigen shared the news with her followers on Instagram, revealing that she suffered excessive bleeding during her pregnancy.
The 34-year-old wrote on Instagram that she and her husband, the musician John Legend, are "shocked and in the kind of deep pain you only hear about, the kind of pain we've never felt before", stating: "We were never able to stop the bleeding and give our baby the fluids he needed, despite bags and bags of blood transfusions. It just wasn't enough."
Teigen had not posted anything on social media since then. However, now, the former model has commented on a post shared by Betches Media on Instagram.
The account reposts comedy tweets from around the world and on Saturday shared one from Kate Morehart that read: "Just booked an eyebrow waxing appointment and I'm excited I'll be wearing a mask so I don't have to hear "mustache too?"
The post garnered more than 108,000 likes, including one from Teigen, who commented: "Finally, a giggle. Thank you."
Teigen's comment comes after ITV's Loose Women received 261 Ofcom complaints after holding a discussion on the show about Teigen's decision to share the news of her pregnancy loss on social media.
Christine Lampard began the discussion by reading Teigen's statement, before stating: "It's just heart-wrenching, isn't it?"
She then asked fellow panellist Carol McGiffin about how it felt seeing the model's post online.
"It's so sad, it's absolutely tragic what has happened to her," McGiffin responded, before saying she felt "a bit uncomfortable" looking at the pictures shared by Teigen. "I felt like I was intruding in a way," she said.
"I just felt like this is not really something I should be witnessing, and I'm not judging her and I'm not saying she's wrong to do it, but I don't know… I just think it's such a private thing. I kind of question whether there are some things that you shouldn't have to share on social media."
Fellow panellist Jane Moore also questioned whether Teigen was "in the right headspace of that moment to make that decision to put it out there".
The organisation added that it is currently assessing the complaints against its broadcasting rules, but has not yet decided whether to carry out an investigation.
You can contact the Miscarriage Association helpline on 01924 200799 or email the charity at info@miscarriageassociation.org.uk. The helpline is open from 9am to 4pm Monday to Friday.
To contact Tommy's midwives, you can call the charity's pregnancy line on 0800 014 7800, open Monday to Friday from 9am to 5pm, or email midwife@tommys.org.
To contact the helpline for Sands, the Stillbirth and Neonatal Death Charity, you can call 0808 164 3332, from 9.30am to 5.30pm Monday to Friday and from 9.30am to 9.30pm on Tuesday and Thursday evenings. You can also contact the charity's helpline team by emailing helpline@sands.org.uk.
To enquire about video counselling with baby loss counselling charity Petals, you can call 0300 688 0068 or email counselling@petalscharity.org.
Register for free to continue reading
Registration is a free and easy way to support our truly independent journalism
By registering, you will also enjoy limited access to Premium articles, exclusive newsletters, commenting, and virtual events with our leading journalists
Already have an account? sign in
Register for free to continue reading
Registration is a free and easy way to support our truly independent journalism
By registering, you will also enjoy limited access to Premium articles, exclusive newsletters, commenting, and virtual events with our leading journalists
Already have an account? sign in
Join our new commenting forum
Join thought-provoking conversations, follow other Independent readers and see their replies