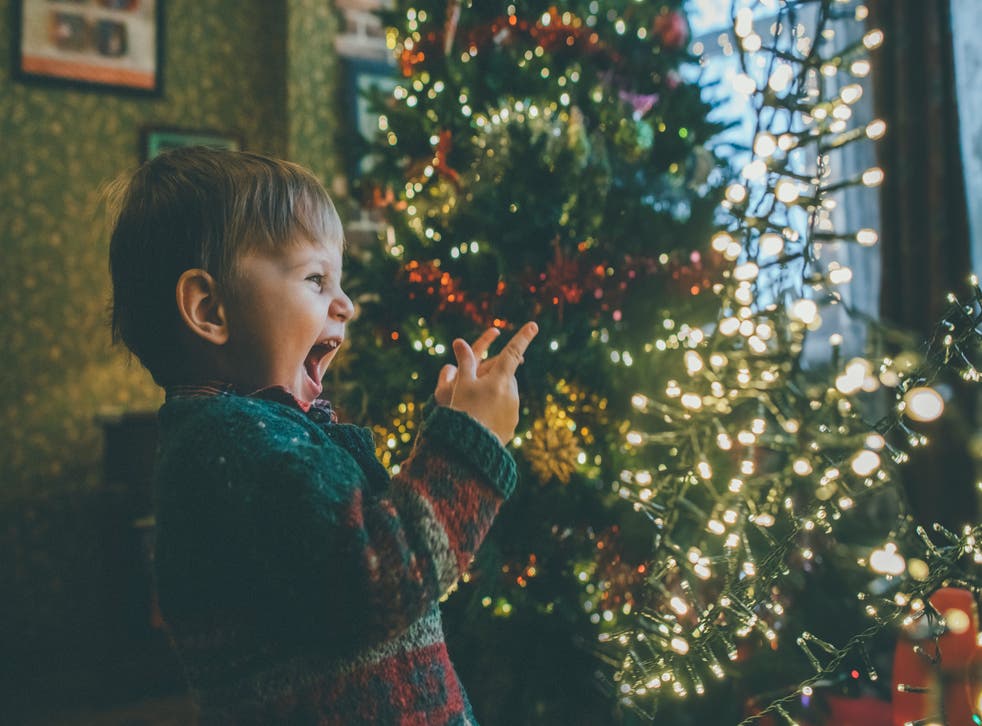 Coronavirus: How will local lockdowns impact Christmas?
'If we follow these simple rules together, we will get through this winter together,' prime minister said on Tuesday 22 September
On 12 October, Boris Johnson will unveil a new "three tier" system for dealing with the pandemic that will place different lockdown measures on local areas depending on the severity of coronavirus cases.
This long-anticipated step will take England to the next stage of the pandemic, with some "very high" areas (there is also expected to be a "medium" and "high" level) expected to see the re-closure of hospitality venues, and others putting a halt on household mixing.
Although the details are not yet confirmed, it is widely expected that the most seriously-impacted places will be in northern England, including cities like Liverpool.
The prime minister is expected to say this system will  broadly manage the next few months of the pandemic - but what does that mean for Christmas?
What has Boris Johnson said about Christmas so far?
Earlier this month, Mr Johnson told the BBC that it would be "bumpy through to Christmas and may even be bumpy beyond", which followed an earlier government warning that 10pm curfews and the rule of six would be in place across England for "perhaps six months".  
This deadline would take us through to March - meaning, in theory, that even people in the "lowest tier" of measures could not indulge in Christmas parties, or have more than six people in a house for Christmas dinner.
Those in "higher tiers" could have even more restrictions like not being able to mix in people's gardens, for example.
But in an interview with ITV News at the start of October, the PM said he was doing "everything he can" to ensure people can have festivities "as normal as possible".
When pushed on this and asked about whether he would stop a family of five inviting two grandparents over for Christmas lunch (totalling seven people), Mr Johnson said: "We're not saying that at all".
This lent further weight to the reports that Mr Johnson wants to potentially lift measures on Christmas Day to allow families to celebrate together.
Could the rule of six be eased for Christmas?
Despite reports, and Johnson's comments, this claim has still not been confirmed by the government.
When contacted by The Independent for comment, Downing Street pointed towards the address given by Mr Johnson on Tuesday 22 September.
UK news in pictures

Show all 50
Following the prime minister's address to the Commons, Mr Johnson was criticised for rescinding on his promise in July that things would be "normal" by Christmas: former party spin doctor Alastair Campbell wrote on Twitter that "Christmas is cancelled – exactly as @BorisJohnson said it wouldn't be".
Mr Johnson confirmed on Tuesday 22 September that places of worship would remain open.
On the government's website, it states that those attending services at places of worship – which would include those attending Christmas services in church this year – "must not mingle in a group of more than six", excluding people they live with or are in a support bubble with.
The guidance adds that the number of people allowed within a communal place of worship "should be decided on the basis of the capacity of the place of worship following an assessment of risk".
How have festive businesses been affected by the pandemic?
In September, it was reported that London's Hyde Park Winter Wonderland had been cancelled for the first time in 13 years.
The organisers said that they made the decision to cancel the event due to "ongoing health concerns, travel restrictions and uncertainty surrounding Covid-19", adding that they knew how "disappointing this news will be for the millions of people we usually welcome each season".
The organisers for the Frankfurt Christmas market in Birmingham also confirmed that they had decided to cancel their event.
"Under no circumstances did we want the Christmas market to become a place that promotes the pandemic," said spokesperson Kurt Stroscher.
"Therefore, the right decision could only be to not bring the market to Birmingham this year. We will now concentrate all our efforts on 2021 in order to return with an impressive Christmas market in its recognisable form."
James Lovell, director of the Ministry of Fun Santa School, which trains professional Father Christmases, told the PA news agency that the company is facing "the very real possibility that Father Christmas will be doing lots of meetings and greetings over the internet this year".
"We're not getting too panicky and thinking that Christmas is ruined, we are just having to think about how Father Christmas can meet with people this year – it may have to be on smart phones and iPads and tablets instead of face-to-face. We've done it before, with children who are abroad or in hospital," he said.
"We are still waiting for so many of our regular customers to get in touch [about grottoes] – it isn't that people have cancelled, it's that they haven't said yes yet."
However, Mr Lovell acknowledged that it is likely the "hesitation" the company has noted so far "will continue".
"We will be doing everything to make sure we don't just shut down, we want to make sure everyone gets a bit of Christmas magic," he added.
Register for free to continue reading
Registration is a free and easy way to support our truly independent journalism
By registering, you will also enjoy limited access to Premium articles, exclusive newsletters, commenting, and virtual events with our leading journalists
Already have an account? sign in
Register for free to continue reading
Registration is a free and easy way to support our truly independent journalism
By registering, you will also enjoy limited access to Premium articles, exclusive newsletters, commenting, and virtual events with our leading journalists
Already have an account? sign in
Join our new commenting forum
Join thought-provoking conversations, follow other Independent readers and see their replies