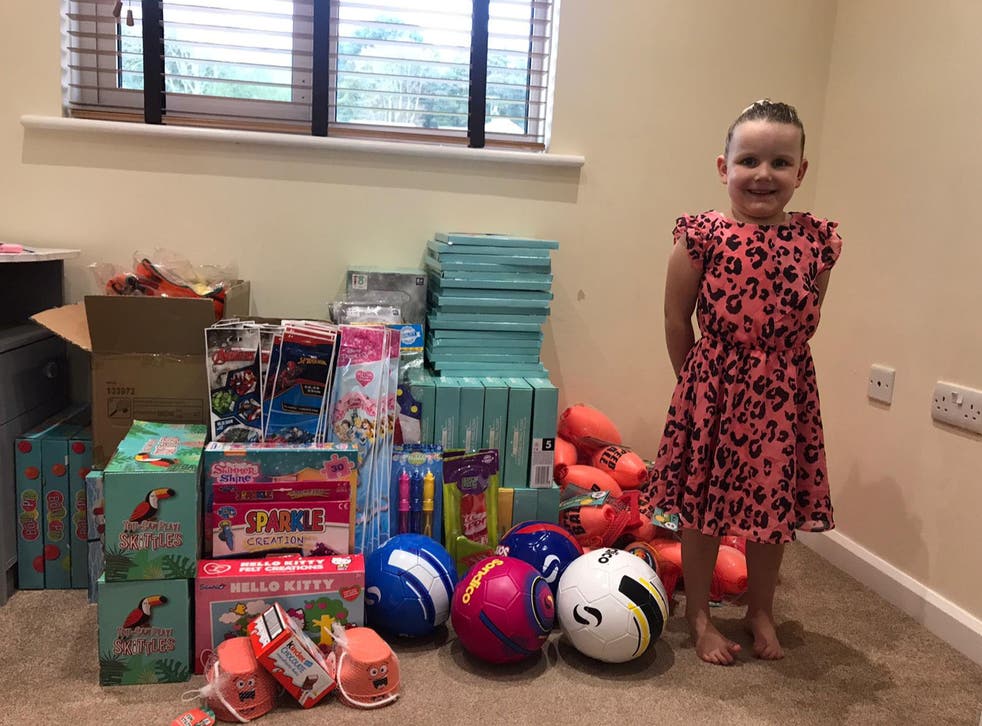 Four-year-old pledges to make 200 Christmas presents for children in need
'She had a dream that some children wouldn't be able to open presents on Christmas Day and she wanted to help,' explains child's mother
Leer en Español
A four-year-old girl has launched a scheme to send 200 Christmas presents to children in need.
Pippa Jackson is making the presents herself, which will come in the form of parcels containing various goodies, such as hats, scarves, and colouring pencils.
Pippa was inspired to launch the scheme after having a dream about children who had no presents to open on Christmas morning.
"She had a dream that some children wouldn't be able to open presents on Christmas Day and she wanted to help," explained Pippa's mother, Kadie Jackson.
"She's very kind-hearted, she has a golden heart.
"She wants to help anyone in need, we're going to go to some women's shelters, orphanages, that sort of thing – anywhere we can to find children to help."
Pippa has been accepting donations from friends and family members in order to buy items to fill the parcels.
"In the parcels there will be bits and bobs, little stocking fillers, funny bits like whoopee cushions, pens, colouring pencils, hats, scarves, and gloves – just in case they need them," explained Kadie.
"It will be separated into ages and boys and girls, we're hoping to make 200 – that's what Pippa said, I've got my work cut out for me.
"That's if we get enough donations and can buy enough toys. If we have enough we will go above and beyond.
"The donations are going well so far, I have some stuff from a few local shops and more will be coming soon – I think next week."
Register for free to continue reading
Registration is a free and easy way to support our truly independent journalism
By registering, you will also enjoy limited access to Premium articles, exclusive newsletters, commenting, and virtual events with our leading journalists
Already have an account? sign in
Register for free to continue reading
Registration is a free and easy way to support our truly independent journalism
By registering, you will also enjoy limited access to Premium articles, exclusive newsletters, commenting, and virtual events with our leading journalists
Already have an account? sign in
Join our new commenting forum
Join thought-provoking conversations, follow other Independent readers and see their replies