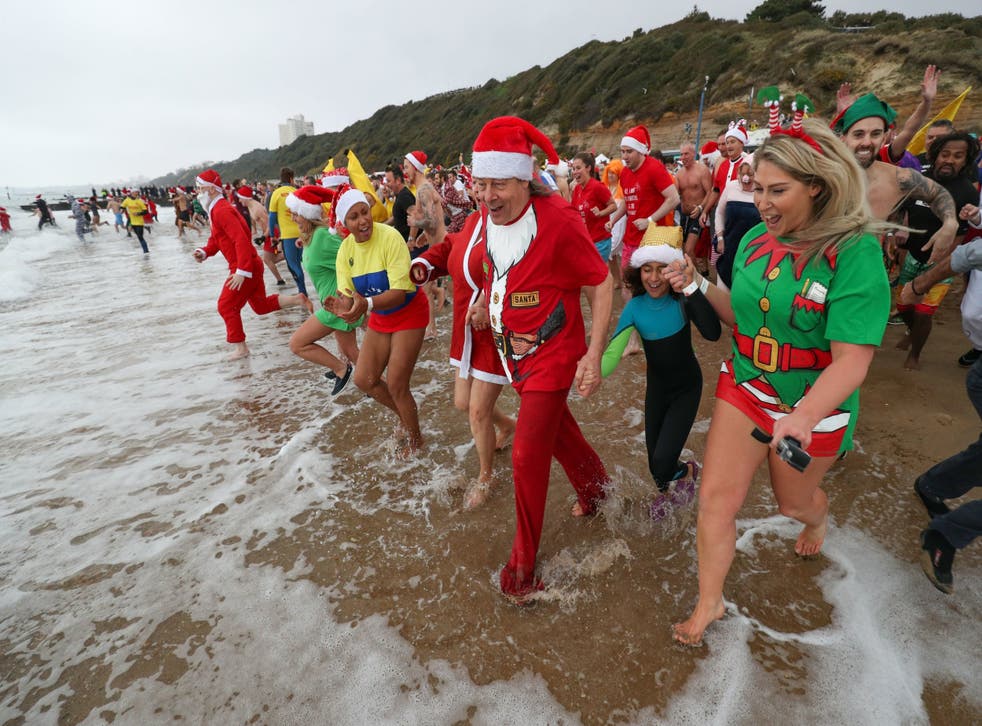 Hundreds of Brits spend Christmas Day in icy waters for traditional swims across the country
Many of the swimmers taking part raised money for local charities
While families across the country spent Christmas Day tucking into mince pies and snuggling up on sofas watching Home Alone, hundreds of people decided to do something a little less conventional by going for a festive swim instead.
Swimmers of all ages plunged into icy waters across the UK, some just for fun and others as part of annual events, such as the Peter Pan Cup that involves a 110-metre race in the Serpentine Lake in London.
Many of those who took part did so in fancy dress, wearing everything from Santa hats to reindeer ears in a futile attempt to protect them from the chills of the waters.
A group of 50 took the plunge at Blackroot Pool in Sutton Coldfield, Birmingham as part of a tradition that dates back to the 1800s.
The swim typically attracts a large crowd of spectators too, and a lot of participants raise money for their favourite charities as part of the festivities.
Meanwhile, an annual swim at Contarf Yacht and Boat Club in Dublin attracted roughly 200 people in a bid to raise funds for the Royal National Lifeboat Institution (RNLI), one of the UK's largest water safety charities.
Ian Sargent has been taking part in the swim since its advent 42 years ago, telling the Irish Times that it's now more popular than ever.
"Our annual Christmas swim has been going from the 70s and it has been getting bigger every year, with more and more participation," he said, adding that he would be refraining from actually diving into the water this year.
Over in Bournemouth, the White Christmas Dip, now in its 11th year, saw approximately 960 swimmers dive off Boscombe Pier dressed in an array of festive costumes.
They were raising money for Macmillan Caring Locally, a charity providing funding to a specialist palliative care unit at Christchurch Hospital in Dorset.
Register for free to continue reading
Registration is a free and easy way to support our truly independent journalism
By registering, you will also enjoy limited access to Premium articles, exclusive newsletters, commenting, and virtual events with our leading journalists
Already have an account? sign in
Register for free to continue reading
Registration is a free and easy way to support our truly independent journalism
By registering, you will also enjoy limited access to Premium articles, exclusive newsletters, commenting, and virtual events with our leading journalists
Already have an account? sign in
Join our new commenting forum
Join thought-provoking conversations, follow other Independent readers and see their replies