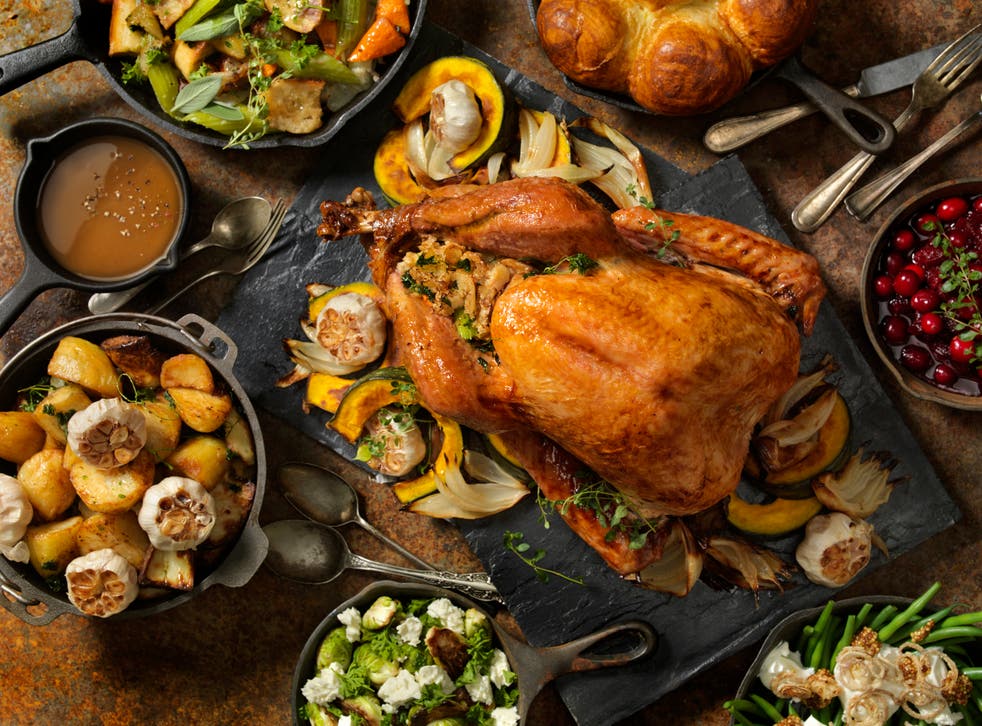 What to do with leftover Christmas dinner?
From freezing roast potatoes to donating to a food bank and making vegetable soup
Millions of people had to cancel their Christmas plans following Saturday's shock announcement about the implementation of new tier 4 restrictions across London and the South East.
The new tier, that came into force on Sunday morning, is almost as strict as the first lockdown in March with a stay at home order and the closing of all non-essential businesses. It also means a ban on festive gatherings for around 16 million people.
Others in the rest of England, as well as in Wales and Scotland, have also been told that gatherings must now be restricted to Christmas Day only - instead of the previous five-day festive window - forcing many to scrap their plans to visit relatives and loved ones.
With a large number of households having already stocked up on food or ordered their Christmas essentials online, many may be dealing with an excess of food over the Christmas period.
But it needn't go to waste. Here's what to do with any extra meat, veggies, potatoes and pudding, no matter what your circumstances
Cancel or reduce food orders
First things first, if you have ordered an online shop then you may still be able to cancel or amend it.
According to Sainsbury's website, you have up until 11pm to cancel the day before your delivery is due.
At Tesco and Ocado you can cancel or change any of your current orders up until the amendment cut-off point specified in your order confirmation, which is usually the day before the delivery is due.
If you need to cancel an order after its cut-off point Ocado advises you call them so they can deal with the query as quickly as possible.
Waitrose says it has temporarily brought forward its cut-off time for order changes on the day before delivery to 12 noon.
If you've shopped at Asda, then you can amend your order via their website on the 'Your Orders' icon. You will be able to cancel your order entirely before 10pm on the day before it is due to be delivered
Donate to food banks
Food banks across Britain offer free emergency essentials to people who are struggling to make ends meet, so they are a great way to recycle foods you won't be eating.
The Trussell Trust supports more than 1,200 food banks across the country and is always in need of food donations, especially during the pandemic.
A spokesperson told The Independent: "Food banks in our network have seen an increase in the number of food parcels given out over the last few months due to Coronavirus, so any donations are much appreciated."
Their website has an interactive map which allows you to enter your post code to find your nearest food bank, as well as the drop off location.
Local authority and council websites should also be able to direct you to your nearest food bank.
You should always check with the food bank to see what they are in need of so that they are not inundated with certain items, but suggested donations include cereals, soup, rice, tinned meat, tinned tomatoes, pasta, pasta sauce and biscuits.
Whip up a soup or a stock
With more than enough turkey and vegetables to go round, it's a great time to hone your cooking skills.
To make a broth, cook the turkey and then boil the bones, before adding chopped onions, garlic and a bay leaf. Simmer for three hours and then the stock is ready to either eat, chill or freeze.
For a warming vegetable soup, simply boil the carrots, sprouts and cabbage in water before blending together with an onion and a dash of salt.
If you do end up cooking a big turkey dinner for the family and have too many leftovers, then give this Christmas pie recipe a go.
Still have too many carrots? Then why not try your hand at a delicious carrot cake.
Enjoy plenty of cheese boards
If you've stocked up on cheese this Christmas, then you have the perfect excuse to enjoy plenty of cheese boards over the next few weeks.
Once opened hard cheese is safe to eat for six weeks, while the types of cheese that fall between the hard and soft categories - such as gruyere and gouda - can be kept in a fridge for two to three weeks after they have been opened.
However, watch out for soft cheese as once opened they must be eaten within a fortnight.
Share with your neighbours
Ask your neighbours if they need any extra food or, if you don't feel comfortable going from door to door, then sign up to NextDoor.co.uk.
The website and app allows you to chat to people in your neighbourhood virtually, where you can easily advertise your spare sprouts, potatoes or mince pies.
Food-sharing app, Olio, works on a similar premise and is gaining popularity across the country, with more than 2.6 million users.
Olio allows users to upload photos of excess food to the app, which nearby neighbours and businesses can then claim and collect -. though please do remember to stay socially-distanced.
Freeze what you've already got
If you're isolating, struggling yourself, or unable to get to a food bank, then freezing may be the best option - and you'd be surprised how much food can be salvaged in the freezer.
To freeze the turkey, wrap in a couple of layers of cling film, then two of foil and freeze for up to one month.
Stuffing, roast potatoes, cranberry sauce and even Christmas pudding can also be frozen for up to one month, as well as sprouts and carrots.
Remember, it's best to freeze vegetables as soon as possible when fresh, and after cooking it's key to let them cool to room temperature before sealing in a freezer bag and storing.
Too much cheese? Then simply grate it and pop into a freezer bag. Once frozen it can be kept for two to three months - though do make sure to defrost everything thoroughly before eating.
Register for free to continue reading
Registration is a free and easy way to support our truly independent journalism
By registering, you will also enjoy limited access to Premium articles, exclusive newsletters, commenting, and virtual events with our leading journalists
Already have an account? sign in
Register for free to continue reading
Registration is a free and easy way to support our truly independent journalism
By registering, you will also enjoy limited access to Premium articles, exclusive newsletters, commenting, and virtual events with our leading journalists
Already have an account? sign in
Join our new commenting forum
Join thought-provoking conversations, follow other Independent readers and see their replies