Christmas: Brits will throw away 108m rolls of wrapping paper this year, waste study finds
Festive period will also see 54m platefuls of unwanted food thrown away and over 189m toy batteries used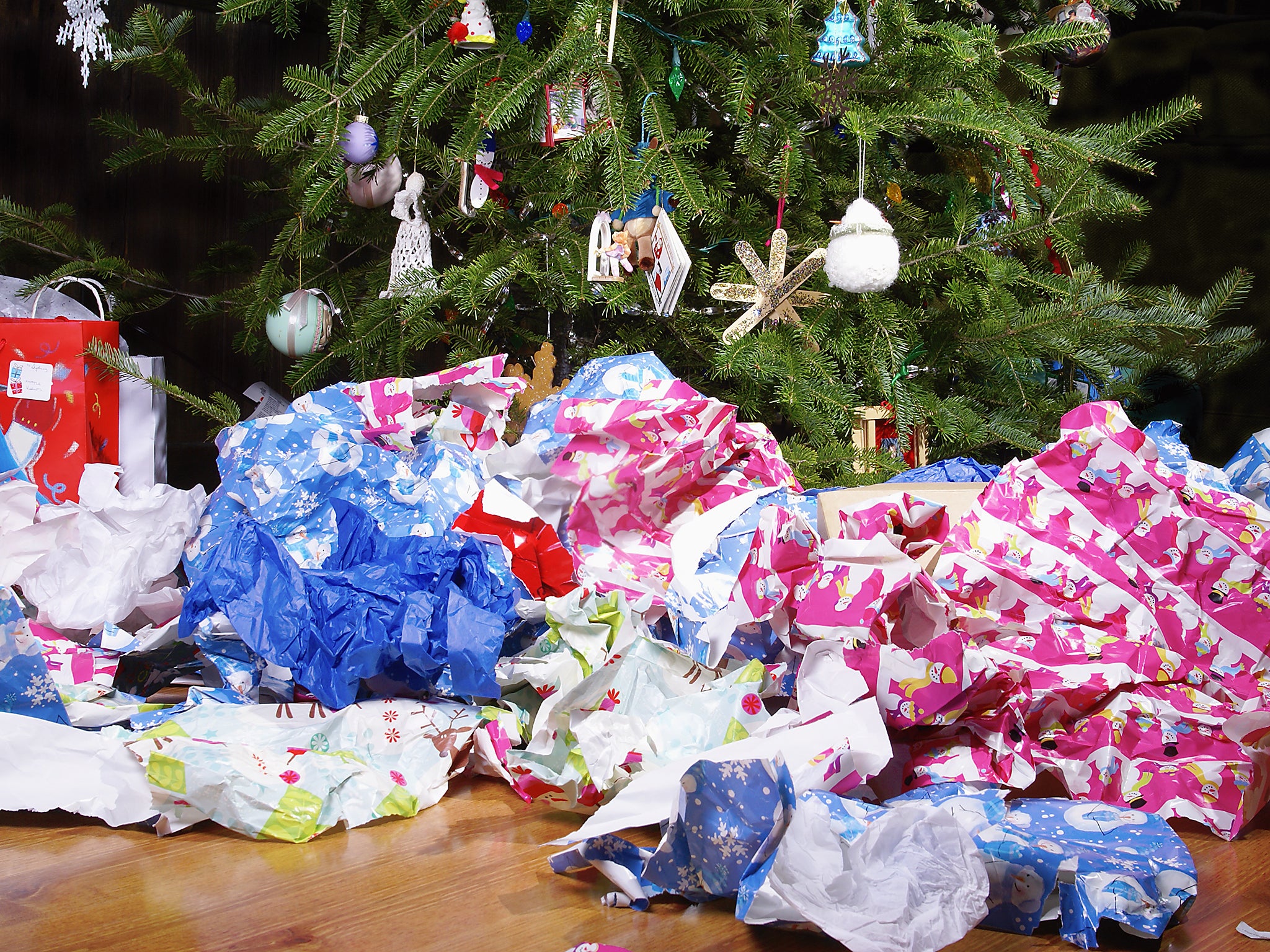 Brits will bin the equivalent of 108 million rolls of wrapping paper, 54 million platefuls of food – and use 189 million batteries over Christmas, a study has found.
A poll of 2,000 adults found the nation will also get through more than 40 million rolls of sticky tape and bin almost 100 million black bags full of packaging from toys and gifts.
Seven in 10 admit to buying far more food than they need, with two thirds saying at least some of the turkey usually ends up in the bin.
And rather than recycling where possible, many simply throw their wrapping paper, packaging and old Christmas cards out with the rubbish.
But eight in 10 admit they don't bother to try and justify the huge amount of waste they produce, with six in 10 saying they don't feel at all guilty about what they throw away over the festive period.
A spokesman for GP Batteries, which commissioned the research, said: "Christmas is a time of great celebration, but this can result in a huge amount of waste – many of which we don't always do the right things with.
"And it seems many don't worry about the amount of their Christmas produce that ends up in the bin, despite the nation as a whole trying to do all we can to cut down on waste at other times of the year.
"Reusing things, such as Christmas Cards or wrapping paper, or using rechargeable batteries are small things to most people but will drastically reduce the amount you end up throwing away."
The study of 2,000 adults found the average household will get through four rolls of wrapping paper and throw away seven batteries over the Christmas period.
A roll-and-a-half of sticky tape will be used per household, while three-and-a-half black bags full of packaging will be thrown out.
The equivalent of a whole plateful of food will end up going to waste on Christmas Day, along with another plateful in the following days.
An average of 24 Christmas cards will also be discarded once the festive period is over, while 14 per cent will even be binning their fake Christmas tree this year.
But researchers, from OnePoll.com, found many aren't recycling or reusing their waste with one in five admitting to throwing their used wrapping paper into the bin.
More than one in four throw batteries into the bin, despite knowing they shouldn't, while three in 10 still use disposables instead of rechargeables.
Others admit to throwing out leftover food rather than trying to use it in other meals and binning cards and packaging instead of recycling or reusing.
But one in six often try to justify the amount of waste they produce, with 34 per cent of those believing it's just part of Christmas.
One in five think it's OK as everyone else does it while 43 per cent believe it is impossible to avoid waste over the festive period.
It also emerged one in ten have even had rows with their family because of the amount of waste they produce.
As a result, many are trying to cut down on the waste they produce, with 48 per cent turning their Christmas dinner leftovers into other meals in the following days.
Forty-two per cent buy a fake tree instead of having to dispose of a real tree every year while a third simply buy less food than usual.
Others reuse Christmas cards as gift tags the following year, buy rechargeable batteries and even avoid wrapping presents at all.
Tate Britain's 'Home for Christmas' display
Show all 7
A spokesman for GP Batteries added: "These days a battery is for life, not just for Christmas.
"A modern rechargeable battery can be used up to 1,500 times and over its lifetime - saving a fortune in cash and waste. Once you go rechargeable you never go back."
Top ten things people have done to try and reduce their waste at Christmas
Turn leftovers into other meals
Buy a fake tree to reuse every year
Buy less food
Reuse Christmas cards as gift tags the following year
Use rechargeable batteries
Order online but in one order to reduce the amount of packaging
Send e-cards
Buy fewer toys
Order less online to cut down on packaging
Don't wrap presents at all
SWNS
Join our commenting forum
Join thought-provoking conversations, follow other Independent readers and see their replies