The Independent's journalism is supported by our readers. When you purchase through links on our site, we may earn commission.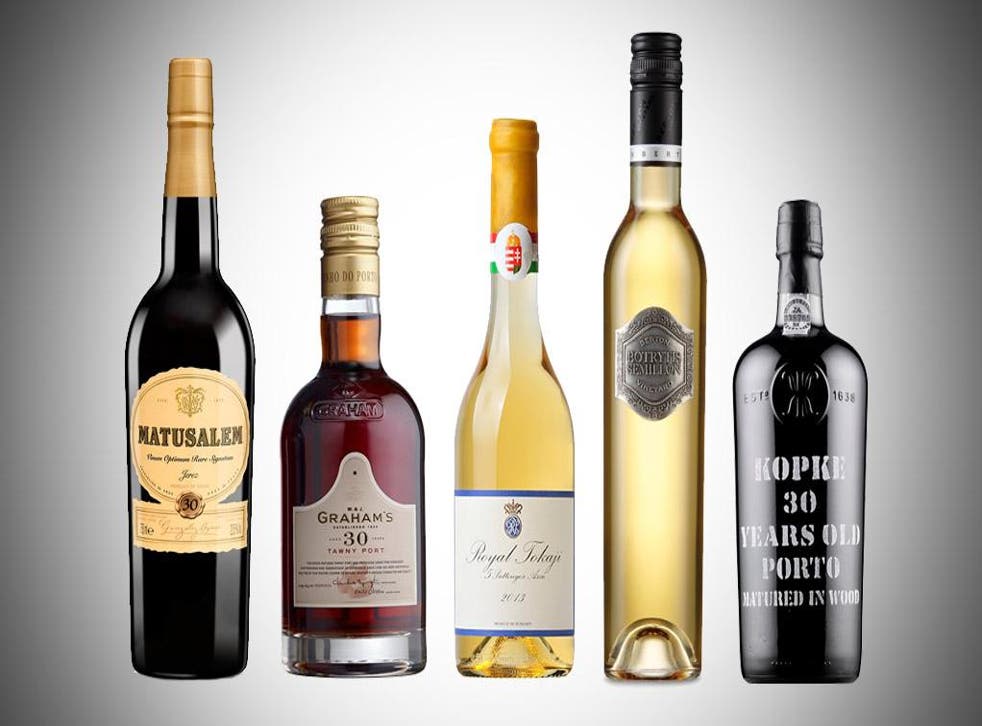 Christmas wine and spirit guide 2017: What white, red and sparkling bottles should you stock
The Independent's wine and spirits expert puts together his favourite wines from 2017
In light of spreading the festive love, our wine and spirits expert, Adrian Smith, has put together a comprehensive list of his favourite wines from 2017. If you're looking for gift inspiration or some well-deserved indulgence, you've come to the right place.
I've always been a strong believer of complimenting people, places and products when they've gone above and beyond. It's that ethos that led me to creating this piece. From indulgent English sparkling wine discoveries to an increasing number of sensational Californian wines at our fingertips, it's a good time to be exploring wine in the UK.
On my journey over the past year I've met some wonderful people and tasted some dazzlingly good wines. It's my ongoing mission to help people discover the best of the best, so it's here you'll find a selection of my key discoveries, which I hope you'll fall in love with too! From sparkles and turkey whites to both smooth and incredibly bold reds, join me on a vino journey and discover some true delights that have struck an emotional chord with my vine tangled heart strings.
Merry Christmas my friends and cheers to 2018!
Festive Sparkles (Perfect For Celebrating)
Molmenti & Celot Extra Dry Prosecco - Elegant, crisp and bone dry with pear, apple and white floral notes.
£10.65 from Wanderlust Wine
Majella Sparkling Shiraz 2008 (Australia) - Stunningly rich, dark black cherries, velvety tannins, brown sugar, and it's a sparkling! Wowza!
£26 from Vivino
Wiston Estate Cuvée 2013 (England) - Caramel, peaches, apricots, nectarines and a distinct toastiness.
£32.95 from Wiston Online
Gusbourne Blanc de Blanc 2013 (England) - Creamy lemon yogurt, toasted brioche with butter and lemon curd tart.
£45 from Laithwaite's
Champagne Laurent-Perrier Cuvée Rosé Brut (France) - Beautifully fresh and fragrant, bursting with strawberries and red meadow fruits.
£48 from Sainbury's
Champagne Palmes D'Or Brut Vintage 2006 (France) - Elegant, floral, fruity and zingy with lemon sorbet and fresh zest.
£190 from John Lewis
Armand De Brignac Demi-Sec (France) - Citrus and creamy toffee yogurt with peach, apricot, toasted almonds and sweet baked spices.
£360 from Harvey Nichols
The Perfect Winter White's And Rosé's (GREAT for Turkey!)
Chateau Amanieu D'albret Sauvignon 2015 (France) - Crisp, bright, refreshing with apple, pear, tropical fruits and lemon zest.
£10.48 from Wanderlust Wine
Mirabeau Etoile (Provençal Rosé – France) - Voluptuously refreshing with ripe apricot, nectarine and peach, light pineapple and kiwi.
£16 from Sainsbury's
Freemark Abbey Chardonnay 2012 (California) - Ripe banana, peach, lime and tropical fruits with a distinct nutmeg and creamy richness.
£18 from Exel Wines
Domaines Schlumberger 'Saering' Riesling 2014 (France) - Lime, chamomile, peach, apricot, minerality, freshness and a kick of white pepper.
£18 from Vivino
Cote de Roses 2016 Magnum Rosé (France) - Fresh strawberries and red berries with cassis, meadow flowers and a refreshing acidity.
£20 from Majestic
Châteauneuf-du-Pape Blanc 2015 Clos de L'Oratoire (France) - Ripening pear, elderflower and vanilla beans with plum, orange rind and lemon rind freshness.
£28 from Majestic
Qué Bonito Cacareaba 2016 (White Rioja – Spain) - Fresh apples and citrus with cinnamon, vanilla, white pepper and oaky cloves.
£35 from Vinissimus
Satisfyingly Smooth & Soothing Reds (Relax, It's Christmas)
Toro Loco Edicion Memoria 2015 (Spain) - Stewed red and black meadow fruits, vanilla, light caramel, smooth tannins and spice.
£11 from ALDI
Beronia Rioja Reserva 2013 (Spain) - Plump black cherry, dark chocolate cocoa, cassis, red currants and tobacco leaves.
£14 from Majestic
Jackson Estate Homestead Pinot Noir (New Zealand) - Soft, juicy red fruits, earthy and smoky with Burgundian elements.
£15 from Waitrose
Château Haut Serre Grand Vin Seigneur 2014 (France) – Juicy ripened black cherries, blackcurrant and warm spice with silky smooth tannins.
£20 from Oddbins
Château La Garde 2010 Pessac-Leognan Red (France) - Steeped in violet, fresh redcurrants, red cherries, fresh mocha and light tropical notes.
£29 from D&D
Chateau Coutet Grand Cru, St Emilion 2014 (France) - Oozing with cassis, minerality and fresh red and dark plums. Very juicy, fresh and ripe.
£31.50 from Berry Bros & Rudd
Big, Beautiful Christmas Reds (Maximum Flavour, For Those Who Likes It Big)
Zalze Shiraz Mourvedre Viognier 2016 (South Africa) - Big blackberries, a spicy earthy kick and perfumed red fruits.
£9.65 from Asda
Errazuriz Max Reserva Cabernet Sauvignon (Chile) 2015 - Vanilla oak, big red berries, warm cinnamon and cloves.
£12 from Sainsbury's
Wirra Wirra Church Block Blend (Australia) - Oozing with raspberry, chocolate, oak and dark plum with great tannins.
£13.49 from Waitrose
Ghost Pines Cabernet Sauvignon 2014 (California) - Plum and raspberry jam, mocha, dark toasty oak and dark chocolate.
£14 from Tesco
Louis M. Martini Sonoma County Cabernet Sauvignon 2014 (California) - Graceful and elegant with blackberries, espresso, tobacco, herbs, fresh cocoa and liquorice.
£15 from Vivino
KWV Mentors Petit Verdot 2014 (South Africa) - Chocolate blackberries, thick pepper spice, velvet tannins and stewed plums.
£15 from Vivino
Slingshot Cabernet Sauvignon (California) - Stunningly fruit-forward, with black cherry, blackberries and sugar spice.
£15 from Roberson
Oliver's Taranga HJ Shiraz (Australia) - Black cherries, stewed plums, dark chocolate, vanilla spice and stewed peppered meadow fruits.
£26.42 from Wanderlust Wine
Sonoma County Seghesio Zinfandel (California) - Spicy, stewed black fruits with sweet raspberry, cocoa and a warm dry earthiness.
£27 from M&S
Manso De Velasco (Chile) - Dark black cherry, plum and liquorice with stewed brambles, espresso and tobacco.
£30 from Soho Wine Supply
Te Wahi Cloudy Bay (New Zealand) - Ripe red/black cherries with fresh plum, nutmeg, cinnamon and a distinct smokiness.
£60 from Clos19
Sumptuous Sweets (As If You Weren't Sweet Enough, Already)
Berton Vineyards Botrytis Semillon 2016 (Australia) - Rich, silky, smooth, honey blossom, apricots and orange rind with a sweet glazing.
£6 from ALDI
Royal Tokaji Blue Label 5 Puttonyos Aszú 2013 (Hungary) - Fresh honey, white pepper, candied pineapples and stewed nectarines/apricots.
£12.99 from Waitrose
Gonzalez-Byass Matusalem (Spain) - Sweet, rich figs, marmalade, dark cocoa, almonds and walnuts with dried dark fruits.
£21 from Vivino
Grahams 20 Year Port (Portugal) - Toffee, caramel, baked raisins and figs with sautéed pear, cinnamon and Christmas spice.
£36 from Amazon
Kopke White Port 30 Year (Portugal) - Almonds, toffee apples, caramel and clementine peel with sweet spices and marmalade.
£56 from Xikixi
Something To Get Excited About (The Reds I Happily Pay More For)
Zuccardi Altamira Alluvional 2011 (Argentina) - Strawberry and cherry jam, stewed plums and clove with silky and complex tannins.
£49 from Waitrose
Penfolds Bin 150 2015 (Australia) - Sweet brambles with espresso beans, blackberry and raspberry compote and vanilla oak.
£60 from Harrods
Cheval Des Andes 2013 (Argentina) - Toasty dry earth with tobacco, espresso, 60% dark chocolate and ripe blackberries/plums.
£70 from Roberson Wine
Termanthia 2011 (Spain) - Sticky blackberries and brambles with plum jam, brown sugar, white pepper, chocolate and vanilla.
£162 from Vivino
Viña Cobos Cobos Chañares Vineyard Malbec (Argentina) - Sumptuous plums, dark chocolate raspberries, grainy tannins and a sweet brown sugar glaze.
£176 from Fine+Rare
Wine Retailer of the Year: Wanderlust Wine
We're extremely lucky in the UK to have such a diverse number of wine retailers of all different shapes, sizes, styles and specialities. My choice this year goes to a retailer who has grown substantially in the past 2 years, with a solid focus on getting smaller producers with sustainable and high quality wines in front of consumers. Through a tireless selection process, Richard Ellison (the owner) has developed a sensational list of wines that focus on new regions, new styles and new winemaking methods – all the while keeping them at an affordable price point.
Continuing to bridge the gap between wine and consumer, Wanderlust Wine introduced it's "Wine on Demand" to the London market in late 2017. This convenience service allows any wine within their available stock to be delivered within a 7-mile radius in just one hour. It's this way of thinking that allows Wanderlust to continue to break down the barriers of wine pretentiousness on a colossal level, all the while allowing everyday consumers to peak their curiosity, discover more about wine and elevate their confidence. Bravo.
Embark on a wine discovery journey with Wanderlust Wine unique wine club, explore new favourites through their stunning selection and if ever in a bind, rest assured some sensational wine is only an hour away.
Wine Investment of the Year: Termanthia 2012
Bodega Numanthia is one of the most iconic wineries in the world, producing what in my mind are some of the most character-driven and full bodied wines in existence. When the phyloxera plagues ripped through Europe in the late 19th century, they destroyed just about every vine in their path. But hidden in the depths of a no-man's land in Northern Spain where barely anything could live, sat a collection of vines determined to survive - and that they did.
To this day, the plots of land upon which Termanthia's grapes grow, remain one of the few ungrafted vine areas in Europe, reaching ages of 120 years. These sensationally deep, rich and bold wines are the result of such a harsh environment, with every last ounce of energy being placed into the grapes survival. The result is an incredibly concentrated berry which when harvested and exposed to unique winemaking under the careful eye of Lucas Löwi, produce a gleaming vino gem. In my mind, this is the best wine investment you will make this year.
Wine: Termanthia 2012
£185 from Clos19
Serve: Decant for 3 hours prior to serving
Temp: Serve between 15-18 Celsius
Time Period: Now until 2032
A deep rich hue of sticky blackberries and brambles with a wonderful glazing of thick plum jam and brown sugar. There's a light tobacco and cocoa dusting that graces the nose, continuously evolving with every minute that passes. The palate gives you a plethora of deliciously ripe brambles, black cherry and blackberries enhanced by subtle white pepper and a dash of vanilla before developing into climatic finale once the tannins come into play. Sweet, sophisticated and stunningly complex.
Something A Little Different
Alas, I couldn't finish without offering something a little different and there's a selection of whimsical treats, both new and old that I've continued to fall in love with over the past year.
Black Cow Vodka - Creamy and indulgent with no burn, this vodka made from milk is one of the best you'll ever try.
£26 from M&S
Jägermeister Manifest - The premium version packed full of medicinal and herbaceous flavours. Sip, don't slam.
£45 from Gerry's
Seedlip - The world's first non-alcoholic spirit, in an assortment of festive flavours.
£26 from Tesco/Waitrose/Harvey Nichols
Hennessy XO Half Bottle - The staple after dinner glass, rich dried frigs, chocolate, black pepper and cinnamon cloves.
£86 from Clos19
And here Are A Few Of My Favourite Drams
You can't do Christmas without a cheeky dram or two, so I teamed up with the Independent's Lifestyle Editor, Dave MacLean, to put together this beautiful list of whiskies, highlighting some of our personal favourites of 2017!
Bulleit Bourbon 10 Year (£40 from Master of Malt)
(A warm orange hue in the bottle gives way to rich toasted vanilla oak, dried figs and prunes and dry spice with a toffee-caramel finish.)
Ardbeg An Oa (£49.98 from Master of Malt)
(A spicy delight with layers of smoky malt – ideal for those who like a bit of oomph in the glass!)
Glenmorangie A Midwinter Night's Dram, (£40 From Morrison's)
(Warm treacle, marmalade and an indulgent spice that reminds you of the Scottish Winter)
Hudson Baby Bourbon (£52.49 From The Whisky Exchange)
(Deep amber in colour, you can expect this bourbon to emit notes of roasted corn, marzipan and dried figs.)
Raasay While We Wait: 3rd Release (£56.95 from R&B Distillers)
(Full bodied fruity delight with a smoky backbone. If there's a cheeseboard site, you just found your tipple answer.)
Woodford Reserve Rye (£65.95 from the Whisky Exchange)
(Black pepper, marzipan and a little pear. Upon sipping your taste buds will discover fresh honey, clove, mint and sweet vanilla spices.)
Glendalough 13 Year (£67 from The Drinks Shop)
(Layers of vanilla, sandalwood and coconut bound together with marmalade, peach, cinnamon and a long spicy dark chocolate finish.)
Balvenie 17 Year Double Wood (£72 from Sainsbury's)
(Rich and sumptuous notes of caramel, toffee and vanilla flow from the bottle, with the palate giving you cinnamon, dried figs, apricots and more of that delicious toffee pecan caramel sauce.)
Yamazaki 12 Year (£106 from Dekanta)
(Peaches, grapefruits, vanilla and Japanese mizunara oak. The palate combines a creamy butter with coconut and redcurrants before entering a long, luscious finish of sweet ginger and cinnamon.)
Collectivum XXVIII (£145 from Master of Malt)
(A vibrant assortment of hazelnuts and walnuts alongside rich chocolate cocoa, zestiness and a coffee-caramel blend.)
Royal Salute 21 Year Festive Gift Pack (£150 From Harrods)
(Indulgent floral notes, alongside sweet pears, apples and a vibrant vanilla with honeyed orange marmalade, toffee apples and warm spices)
Tweeddale: The Evolution 28 –Year (£175 from R&B Distillers)
(Cassis and dark black cherries with layers of Christmas cake, blackcurrant and orange zest)
Hibiki 12 Year (£182 from Dekanta)
(Chunky marmalade, stewed apples dusted with cinnamon and a plum honey with baked orange rind and citrus.)
Johnnie Walker Limited Edition Tom Dixon (£195 from 31Dover)
(A rounded complexity of smoky vanilla oak, honey spice and dried figs/raisins is what you'll find hidden in the bottle.)
The Serious Stuff
Glen Scotia 25 Year (£275 From Flavourly)
(It starts with a fresh ocean see breeze before fresh marmalade, juicy red apples and an indulgent honeyed caramel enter the story, offering a long, glamorous finish.)
Glenlivet 25 Year XXV (£350 from The Whisky Shop)
(A sumptuous nose lends way to plump, rich and sweet sultanas, figs and raisins with an overarching dark bittersweet chocolate that lingers long into an incredibly long finish. Rich, balanced and full of flavour.)
The Last Drop 1971 (£3,000 from Berry Bro & Rudd)
(Sweet honey and vanilla give way to tangy orange and lemon followed by warmer notes of stewed apple and toasted almonds. On the palate, there is a fruity sweetness, crisp orange and lemon tang, and just a hint of freshly cut oak.)
Register for free to continue reading
Registration is a free and easy way to support our truly independent journalism
By registering, you will also enjoy limited access to Premium articles, exclusive newsletters, commenting, and virtual events with our leading journalists
Already have an account? sign in
Register for free to continue reading
Registration is a free and easy way to support our truly independent journalism
By registering, you will also enjoy limited access to Premium articles, exclusive newsletters, commenting, and virtual events with our leading journalists
Already have an account? sign in
Join our new commenting forum
Join thought-provoking conversations, follow other Independent readers and see their replies