The Independent's journalism is supported by our readers. When you purchase through links on our site, we may earn commission.
Baking experts reveal their top tips for making perfect mince pies
Whether you've been naughty or nice, everyone can enjoy a tasty mince pie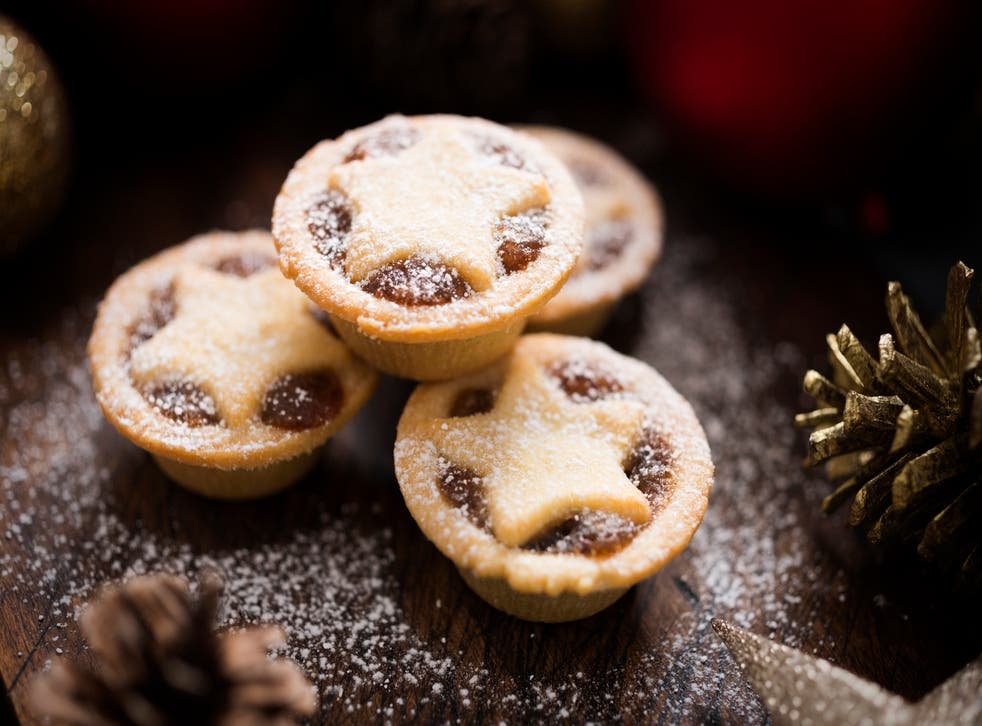 Is it ever too early to start thinking about Christmas?
With the news that consumers have already starting buying seasonal foods from supermarkets in the lead up to the festive occasion, apparently that answer would be no.
The mince pie is a staple of the traditional Christmas table, having been served during the festive period for centuries.
While you could buy packaged, pre-made mince pies for all the family to share, perhaps this year you could go the extra mile for your loved ones by demonstrating your skills in the kitchen and making your own.
The Independent has spoken to several culinary experts, who've provided their top tips for making perfectly flavoursome mince pies.
Here's how you can delight your friends, family and colleagues with homemade mince pies:
The pastry
Anyone who's ever eaten a mince pie will know that the pastry that encases the mincemeat is typically very soft and crumbly.
According to Ian Cumming, 2015 runner up of The Great British Bake Off, achieving the ideal level of softness in the pastry is down to absolute precision.
"For a mince pie, you want to aim for a soft, crumbly pastry," he says.
"To achieve this, I use 30 per cent more butter than a traditional shortcrust pastry.
"So, where a traditional shortcrust requires one-part butter to two-parts flour, I use 1.3 parts butter instead."
In 2016, Cumming demonstrated his mince-pie-making prowess by serving mince pies at England's quietest railway station in Cambridgeshire in an effort to increase passenger numbers.
Howard Middleton, who took part in Bake Off in 2013 and hosts regular baking masterclasses at Bake With A Legend alongside several other former Bake Off contestants, also suggests using different types of flour for variations of flavour.
"I always incorporate a little chestnut flour in the pastry for a subtle seasonal flavour and a little coconut flour to keep the pastry crisp and light," he says.
The mincemeat
As the majority of people will probably know, mincemeat doesn't always contain meat.
While the combination of dried fruits and spices may contain beef suet, often mince pies are made using vegetable suet.
Jean-Didier Gouges, head chef of The Petersham Restaurant, recommends poaching the ingredients being used for the mincemeat beforehand in order ensure that the flavour of the mince pies is as potent as possible.
"To give your mincemeat depth of flavour, ensure the ingredients are poached slowly until sticky. Use sugar and water to do this," he says.
Christmas 2016 around the world: in pictures

Show all 14
Gouges suggests using orange and lemon peel, cranberries, currants, star anise and cinnamon .sticks when poaching the ingredients for a delicious final flavour.
If you'd rather not use any suet at all, there are alternative fats that you can use when creating the mixture, as Iceland head chef Neil Nugent explains.
"Mincemeat contains vegetable suet which contains palm oil too, but this can be replaced with a drop of rapeseed oil and a little rice flour," he says.
"My tip for the best homemade mincemeat would be to add a little brandy and cider or apple juice for a rich flavour, and don't over spice."
The process
According to Mary Berry's recipe, which was featured on BBC's Mary Berry's Absolute Christmas Favourite, you should use 175g of flour and 75g of cold, cubed butter when making 12 mince pies.
When making your pastry, you can either combine the flour and butter in a food processor until the mixture is soft and crumbly or rub the flour and butter together using your fingertips.
Next, stir 25g of icing sugar and orange zest from one large orange into the mixture, before wrapping the dough in greaseproof paper and chilling in the fridge for around 10 to 15 minutes.
Support free-thinking journalism and attend Independent events
Once the dough has been removed from the fridge and rolled out to a thickness of around one to two millimetres, cut out 12 circles that are eight centimetres in diameter and place each circle in the holes of a muffin tray, pricking the base of each pastry circle with a fork.
Before filling the pastry with mincemeat, Middleton recommends placing the tray with the pastry back in the freezer for a short while so that the pastry can firm up as much as possible.
When filling the pastry with the mincemeat, 2016 Bake Off runner up Jane Beedle swears by the addition of one particular ingredient that makes her mince pies taste especially delectable: mascarpone.
"I love to put a spoonful of mascarpone mixed with some added orange zest tucked into the middle of my mince pie," she says.
"When you're making the filling, you press down with a spoon and add the pre-mix of mascarpone and orange zest into the middle and then cover with the pastry lid.
"When the mince pies are warm, and you bite into the pastry - it oozes out and tastes delicious!"
Once the pastry has been filled with the mincemeat, Berry suggests topping each mince pie with some grated marzipan.
Next, bake the mince pies in the oven for around 15 minutes, or until they've browned nicely.
Then, once the mince pies have been taken out of the oven, dust with icing sugar and enjoy!
Register for free to continue reading
Registration is a free and easy way to support our truly independent journalism
By registering, you will also enjoy limited access to Premium articles, exclusive newsletters, commenting, and virtual events with our leading journalists
Already have an account? sign in
Register for free to continue reading
Registration is a free and easy way to support our truly independent journalism
By registering, you will also enjoy limited access to Premium articles, exclusive newsletters, commenting, and virtual events with our leading journalists
Already have an account? sign in
Join our new commenting forum
Join thought-provoking conversations, follow other Independent readers and see their replies