New rosé promises to be hangover-free, but will get you high
Cheers to hangover-free wine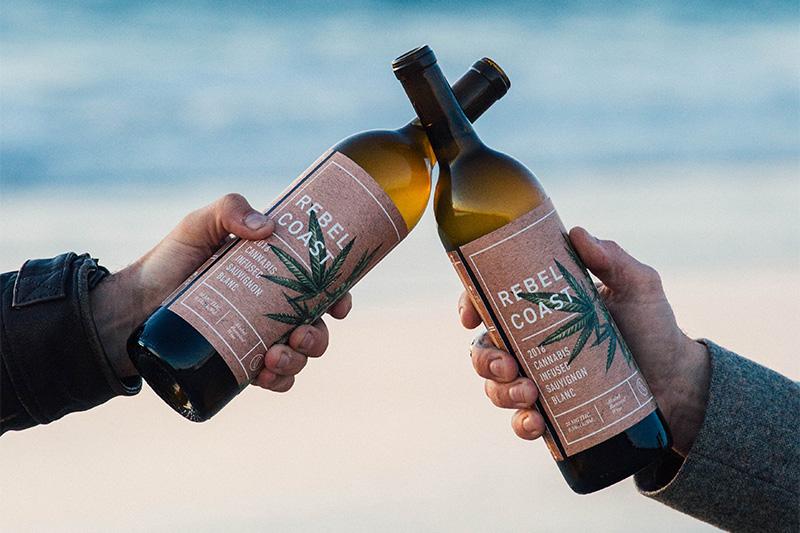 Brunch is about to get a whole lot more fun.
Come January - once the state's new cannabis industry regulations go into effect - California's Rebel Coast Winery will officially release its new line of wine that promises to be 100 percent hangover-free, "because hangovers suck."
The world's first cannabis-infused, alcohol-removed wine, the new line of marijuana sauvignon blanc means you can finally pour yourself a few glasses of wine after work and wake up without an earsplitting headache.
Rebel Coast Winery has successfully removed the alcohol from their wine and replaced it with 16 milligrams of THC. Rather than getting drunk, you'll just get high instead.
Using grapes grown in Sonoma County and fermenting them using a traditional winemaking process, Rebel Coast's new line of wines will be pretty similar to your favourite sparkling white. Except for the lack of alcohol, of course.
According to the winery's press release, "Winemakers have been making infused wine for years, but no one developed a reliable method to remove the alcohol and infuse it with cannabis' active ingredients in a way that wasn't impacting the quality of the wine" - until now that is.
Achieving the goal with their new line, the winery's website says, "We set out to mimic the experience you'd find with traditional wine; a couple glasses will put most people in a great place."
And according to the winery, this great feeling will set in about 15 minutes after drinking a glass of their newest rosé.
While four milligrams of THC may sound like a lot, after passing Proposition 64, which makes marijuana legal for recreational adult use from January, the state of California permits up to 10 milligrams per serving.
Essentially, this means one glass of THC-infused wine probably won't knock you over - or kill you, according to Rebel Coast.
"Our goal is not to kill you after you've had a few glasses," Rebel Coast says. Rather, "The goal is to get giggly and naked with someone." Sounds fun.
As for taste, according to the winery, the sauvignon blanc will have the bright citrus flavours and crisp taste you would expect from a traditional sauvignon blanc. But the wine will smell like marijuana "with notes of lemongrass, lavender, and citrus."
If hangover-free wine sounds like an answer to your prayers, and you're over 21 and live in California, you can pre-order a bottle of sauvignon blanc on the Rebel Coast Winery site.
Although a tad pricey - the THC-infused rosé costs a bit more than your average bottle of wine at $59.99 (£44.67) - for no hangovers, it sounds like a bargain.
Join our commenting forum
Join thought-provoking conversations, follow other Independent readers and see their replies