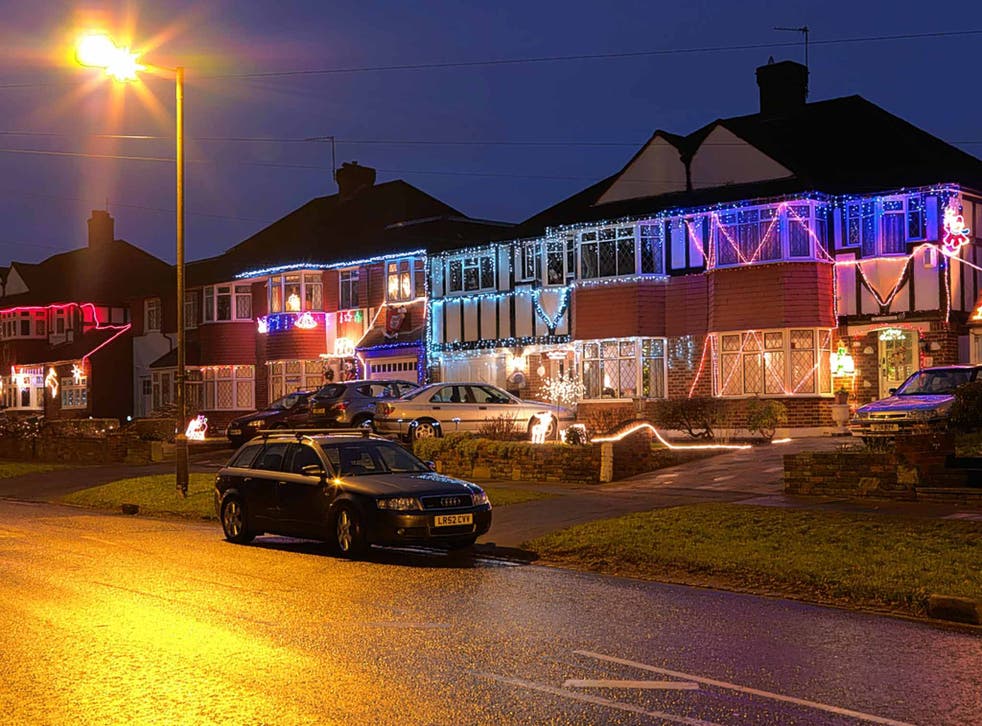 The perfect Christmas: Bizarre presents, drunken uncles, collapsing sofa beds and dodgy duvets
As many people prepare to visit friends and family, what awaits is unlikely to be the 'perfect' day peddled on TV - a traditional Christmas isn't supposed to feature beds squeezed up against washing machines
It has become something of a soap opera cliché. As the turkey remains stubbornly uncooked, a pile of presents catches fire, life savings get blown on a seasonal poker game or a jealous former lover turns up in a Santa hat wielding an axe, a central character will wail, forlornly: "But… but I wanted this Christmas to be perfect!" Which begs the question of what constitutes the perfect Christmas... Is it something that's actually achievable by mere mortals, or just an idealised construct that Charles Dickens neatly laid out for us in A Christmas Carol and has been perpetuated ever since by companies trying to sell us stuff?
This year's crop of Christmas adverts – as with those of last year, the year before and every year before that – feature scenes that we recognise to be set at Christmas time but are strangely dissimilar to our own experiences. They depict tastefully lit family gatherings free from any conflict or argument, presents that don't need returning to the shop on Boxing Day, armchairs miraculously devoid of wine stains, living rooms decorated at eye-watering expense and, for some reason, Myleene Klass playing a grand piano in the garden. None of this chimes very much with most of us – and yet this is what Christmas supposedly means.
It's pretty obvious why we buy so enthusiastically into this highly idealised seasonal utopia, something that the academic Sheila Whiteley once referred to as an "emphasis on harmony, hearth and home versus the bleakness of the outside world". In theory, a traditional Christmas offers us a joyful respite from the stresses of everyday life. But the chasm between Coca-Cola's version of Christmas and our own is so yawning as to be vaguely surreal – and, when you start to think about it, incredibly funny. Over the past few years, the loose-knit communities and brutal honesties of social media have begun to make this disparity very clear; we're suddenly offered a window into the Christmas experiences of our peers, and we quickly discover that their attempts to approximate the "perfect Christmas" are as wonderfully half-arsed and ridiculous as our own.
In 2011 I tweeted a picture of the duvet that was sitting on top of a single bed that had been prepared for me by my parents at the family home: a slightly unpleasant floral number, trimmed with brown and with several ageing soft toys from my and my sister's childhood perched on top. Its appearance on Twitter seemed to act as some kind of cathartic catalyst; suddenly, there was an outpouring of people's own Christmas sleeping arrangements that ranged from the claustrophobic to the cheerless. The White Company ideal of pristine sheets and graceful Yuletide embellishment was nowhere to be seen; my floral sheets looked positively tasteful when lined up against some of this stuff, including a bedspread that looked like Delft pottery gone badly awry and another like an unlovable curtain. Childhood duvet covers, fetched from the bottoms of drawers and shaken out flat, had been deployed by parents either as an exercise in childhood nostalgia or, more likely, a mischievous attempt at low-level humiliation; in the morning, grown men and women would find themselves lying hungover beneath duvets featuring Formula One vehicles, pirates and fairy princesses. They described these things on Twitter as "horrific" and "unsleepable under" – but only because of the hilarious lack of similarity to the "perfect" Christmas. It's funny. It's what Christmas is about.
Ferociously offensive curtains, swirls of brown and orange, held together with bulldog clips. Rapidly deflating airbeds, barely the width of the average human body, draped with fitted sheets that don't fit. Sleeping bags dating from the mid-1980s, patterned with motifs that look like plummeting sales graphs. And all shoved in rooms that at one time may have been the visitors' childhood bedrooms, but have since become storage units crammed with tat or "home offices" (i.e. austere rooms containing a computer and a printer). Rather than baubles and bells greeting us on Christmas morning, it's stepladders, ironing boards, plastic crates and several hundredweight of car-boot sale fodder: well-thumbed crime fiction, Sanyo cassette players, Ladybird books, broken remotes, upturned furniture partially hidden by tartan throws and a gently snoring uncle on a mattress. According to the script, a traditional Christmas isn't supposed to feature beds squeezed up against washing machines, doors that don't quite close and the smell of dog farts drifting in from the hallway. But we weren't consulted when the script was written. This is how Christmas actually is, and it's the way we'll always remember.
Alcohol tends to play a major role in the Christmas experience, but while it's the season "to be jolly", it's also the season, according to confessions on social media, to become drunkenly disorientated and pull a bookcase on top of yourself trying to get out of a room at 3am; to get hammered, watch the movie Ratatouille and find it so deeply offensive that you attempt to phone the President of France; to watch your father fall asleep in his food and sing a rousing version of Nessun Dorma to try to wake him up; and to make completely inedible scrambled eggs while still drunk in the morning using brandy butter. Dickens never wrote about these things, and they don't appear in the Vision Direct Christmas advert, but that doesn't mean they don't happen. They're happening right now, uncelebrated by the mainstream media, unremarked upon by the government of the day, vigorous, exciting, true.
When Chris Rea wrote the song "Driving Home For Christmas", he told us of his excitement, while sitting in heavy traffic, of getting home to see the faces of his nearest and dearest. He didn't mention the inevitability of receiving presents that had been bought in panic over the previous days by family members who have no real idea what his interests are.
Examples of puzzling gifts I've seen posted by gobsmacked recipients on social media include a four-pack of tuna with the price still on, a slotted spoon, anti-ageing cream (for an 18-year-old girl), a rubber shower mat, suction hooks for towels, an epilator, an extension cable, three cans of super-strength lager wrapped in a copy of The Jewish Chronicle, 24 packets of pork scratchings, an umbrella with a hole in it, a talking monkey (as an in-joke about the length of the recipient's arms), 100 cotton buds and a second-hand rotary grater (for a 12-year-old boy).
You won't find any of these things in Christmas gift guides published by this or any other newspaper, but they're as much a part of Christmas as Kindles and candles. We are erratic humans who frequently don't know what we're doing, and as a consequence we upturn the traditional Christmas and make it our own. We argue over whether to watch Ghostbusters or The Sound Of Music, stab our brother with a butter knife for eating the last lump of brie and set Grandpa alight by firing a party popper across the table through a candle. This is our right, and, quite properly, we seize it. We pour a tureen of peas into our great aunt's lap (possibly on purpose), go for a walk in the woods and forget where we parked the car, and then faint during Christmas dinner after winning £1 on a scratchcard. The heightened emotions of Yuletide lead us to make rash decisions; one chap on Twitter recalled being on the receiving end of this in the late 1990s when his girlfriend dumped him "during the present handover, then asked me to leave so my replacement could come in". He would never have seen that coming; as tinsel appears in the shops and Tesco's automated checkouts are switched to the "Ho Ho Ho" setting, we imagine the imminent Christmas holidays as a time when all interpersonal conflicts will be magically resolved – but it doesn't really work like that. We all carry on being just as annoying, brilliant and unusual as we were in November. And that's OK. It's Christmas, after all.
Bad Duvets: Home for Christmas

Show all 6
My own Christmas will be spent with my parents and my sister. I will perform some wireless router servicing and other light IT duties, hide in the other room when there are profound disagreements over when the potatoes should go in the oven and express mock anger when my sister flicks the switch on the back of her musical Christmas tree that sings "Jingle Bell Rock" every year without fail. I will receive a couple of presents that I specifically requested, and a couple of random guesses that may or may not hit the mark. I will say "Well, this is nice" when the Marsdens sit around the table with paper hats on having run out of conversation. I will indulge my father's insistence on reading out every joke contained within every Christmas cracker, regardless of its comedic quality. And I will sleep under a floral duvet, on a single bed, with a phalanx of battered soft toys within an arm's reach. It bears virtually no relation to anything I've ever seen or read about Christmas – and that might be why I look forward to it as much as I do. Why yearn for the perfect Christmas, when imperfect Christmases are so much more interesting?
All I want is a room somewhere: Rebecca Armstrong on filling a seasonal suitcase
For the past two years my constant companion has been a small wheelie suitcase. Ever since my husband was hit by a car and suffered a traumatic brain injury, I've seldom spent seven nights in the same place. For months I stayed every weekend with friends who lived near the hospital where Nick was being treated, then, when he moved to a residential care home, my case and I followed.
I'm no international woman of mystery or globe-trotting travel expert, but I sure am used to packing. If you're set to spend some time in a spare room or (unlucky) on a sofa bed over the next week, here's my advice on what to take.
Painkillers. Always bring your own, especially at Christmas, because there are people out there who can't even rustle up an out-of-date soluble aspirin when you're dying after too many festive spirits. Likewise indigestion tablets, if they're your poison, are worth their weight in gold. Take at least one phone charger, if not two, and headphones, or the lo-fi, noise-cancelling alternative: wax ear plugs (my favourites are Boots' Muffles). If you're likely to encounter curtains that could double as tissue paper, an eye mask is invaluable, and if you're worried about being burst in on by early bird toddlers or late night-loo searchers, a doorstop is a great, makeshift way to lock yourself away.
I rely on the fact that most people have towels and toothpaste, but a really big cotton scarf acts as a towel/dressing gown/extra bedsheet if need be. I always take more pants than I think I'll need in case of prolonged stays, and while it won't leave long hair silky smooth, shower gel makes an adequate shampoo (or pant detergent if you come up short). I also use body lotion to take my make-up off when I'm on the road.
My desert island luxuries are chilli sauce, to pep up meals, and Olbas Oil, a decongestant that I love the smell of and which will amply cover the scent of disused rooms or even the doggiest of farts.
Join our new commenting forum
Join thought-provoking conversations, follow other Independent readers and see their replies