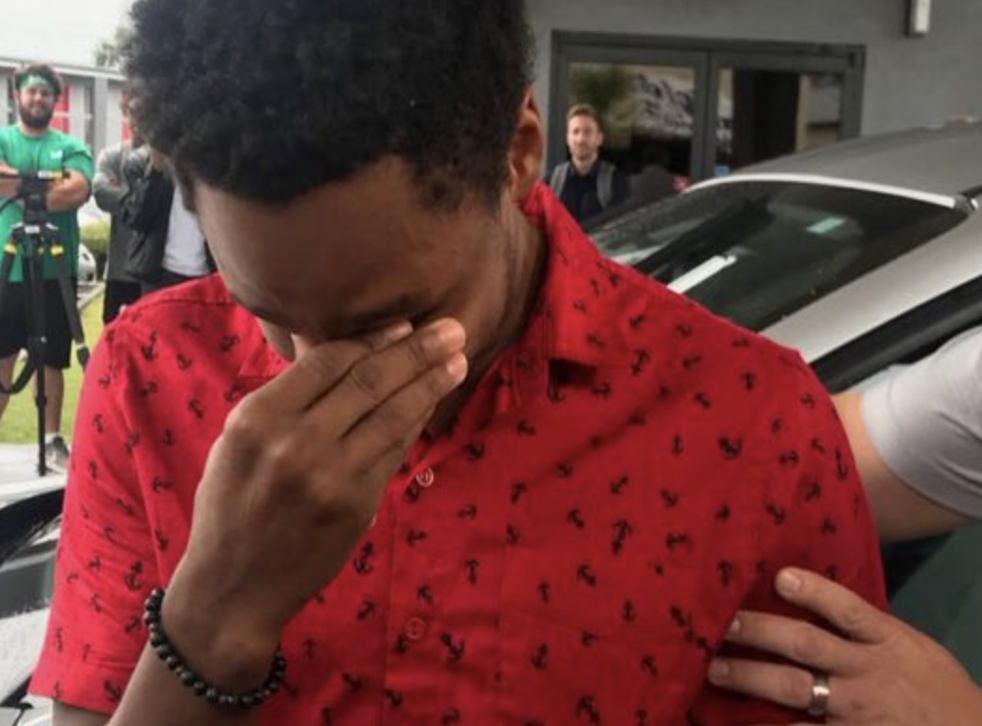 College student given a car by his boss after walking 14 miles so he wouldn't miss work
He didn't want to miss his first day after his car broke down
A college student who lost his home in Hurricane Katrina was given a free car by his new boss - after he walked all night to make it to his first day of work.
Walter Carr, from New Orleans, Louisiana, was set to start his new job at Bellhops moving company in Alabama when his car broke down the night before.
Rather than calling out of the job, Carr decided to walk instead - leaving his house at 12am so he would make it to work on time.
After walking for four hours and more than 14 miles, Pelham police picked Carr up and brought him to breakfast before giving him a ride to work - at the house of Jenny Lamey.
Arriving early for the job, Lamey asked if Carr wanted to sleep for a few hours but he declined and suggested he start helping the family move.
Upon hearing Carr's story, and seeing his dedication to the job, Lamey shared the story on Facebook, where she praised Carr's commitment and perseverance.
"I just can't tell you how touched I was by Walter and his journey," she wrote. "He is humble and kind and cheerful and he has big dreams! He is hardworking and tough."
She also added shared details of Carr's background, including his family's move to Birmingham after losing their house in the hurricane and his desire to be a marine.
Lamey's post went viral, receiving more than 1,000 likes and capturing the attention of Bellhops CEO Luke Marklin.
Responding to Lamey's post on Twitter, Marklin wrote: "This is an incredible story. The grit and heart Walter showed defines Bellhops' culture precisely.
"I'm really proud to be on the same team as Walter… we set a high bar on service and he just raised it. Look forward to thanking him in person this week."
But Marklin decided to do more than just thank Carr - in an emotional meeting, the CEO gifted Carr a Ford Escape for his dedication.
Of the incredible gift, Carr told Alabama Advance Local that he was thankful for everyone who stepped in and "This was the first job in a long time to give me an opportunity to get hired.
"I wanted to show them I have the dedication," he said of his decision to walk.
Hurricane Katrina - in pictures

Show all 20
"I want people to know this - no matter what the challenge is, you can break through the challenge. Nothing is impossible unless you make it impossible," Carr told the newspaper.
A GoFundMe page has been set up for Walter Carr here.
Join our new commenting forum
Join thought-provoking conversations, follow other Independent readers and see their replies