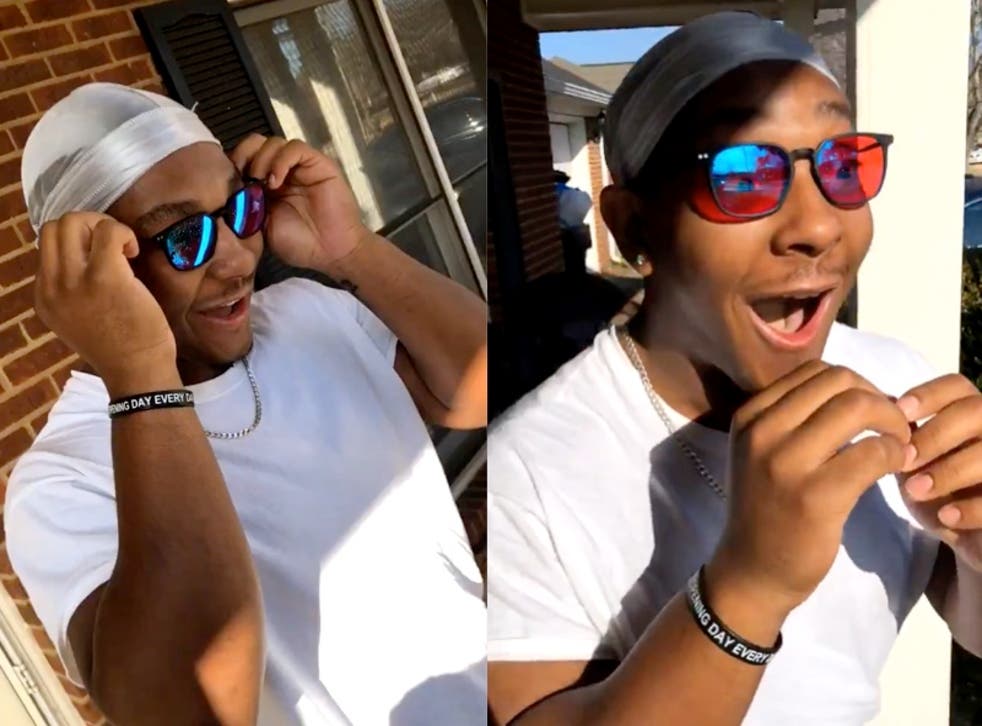 Colourblind 22-year-old sees colour for the first time in emotional video: 'This is so precious'
College student McKinley 'Mac' Erves was bought colourblind glasses by his friends
A colourblind 22-year-old has gone viral after his friends captured the emotional moment he saw colours for the first time.
On Monday, McKinley "Mac" Erves, a college student living in LaGrange, Georgia, uploaded the video to Twitter.
He wrote: "The fact that I hardly ever mentioned my want for colourblind glasses and my friends literally went out of their way to get me a pair for my birthday just tells me how much they love my ass and I couldn't have asked for better people to call my brothers!!!"
In the clip, which has since been viewed more than 1.8m times, Erves is prompted to put the glasses on while standing outside.
After putting them on, the 22-year-old appears at a loss for words, before quietly whispering: "Wow."
"Bro, there's no way you all see that sh**," Erves can be heard saying as he walks closer to a red car parked on the street.
The excitement of the moment then seemingly sets in, with Erves turning around excitedly while gasping into his hands.
"This is what you all see?!" he says. "Bro, what?"
In a second video, Erves is filmed expressing his joy at seeing the colour of the grass, as well as a red truck in his driveway.
"This is so crazy," he yells at one point before appearing to become emotional.
The heartwarming clip, which has been liked more than 174,000 times, has been met with hundreds of supportive comments.
"Stuff like this makes me so happy because we sometimes take for granted what someone else appreciates to the fullest," one person commented.
Another said: "Loved how you got close up on the bushes!
It's crazy how much we take for granted. I've never taken a close look at bushes to appreciate its colour."
According to Erves, it was the colour of the bush that he was most surprised by, with the video showing him kneeling down to get a better look.
As for his reaction to the gift, Erves told Today that he was "at a loss for words".
"For them to actually go out of their way and remember and do something for me like that when I never expressed how badly I wanted the glasses, it made me feel really good," he said, adding that he has not taken the glasses off during the daytime since he received them.
According to the Colour Blind Awareness organisation, colourblindness affects approximately one in 12 men (8 per cent) and 1 in 200 women in the world.
The most common form of colourblindness is red/green colourblindness, with those affected often unable to tell the difference between colours, how bright colours are, and different shades of colours.
Join our new commenting forum
Join thought-provoking conversations, follow other Independent readers and see their replies