The Independent's journalism is supported by our readers. When you purchase through links on our site, we may earn commission.
Combine the past and present for a cool Sixties look in your home
Mica Soellner brings you the best furniture to take you back in time to a colourful decade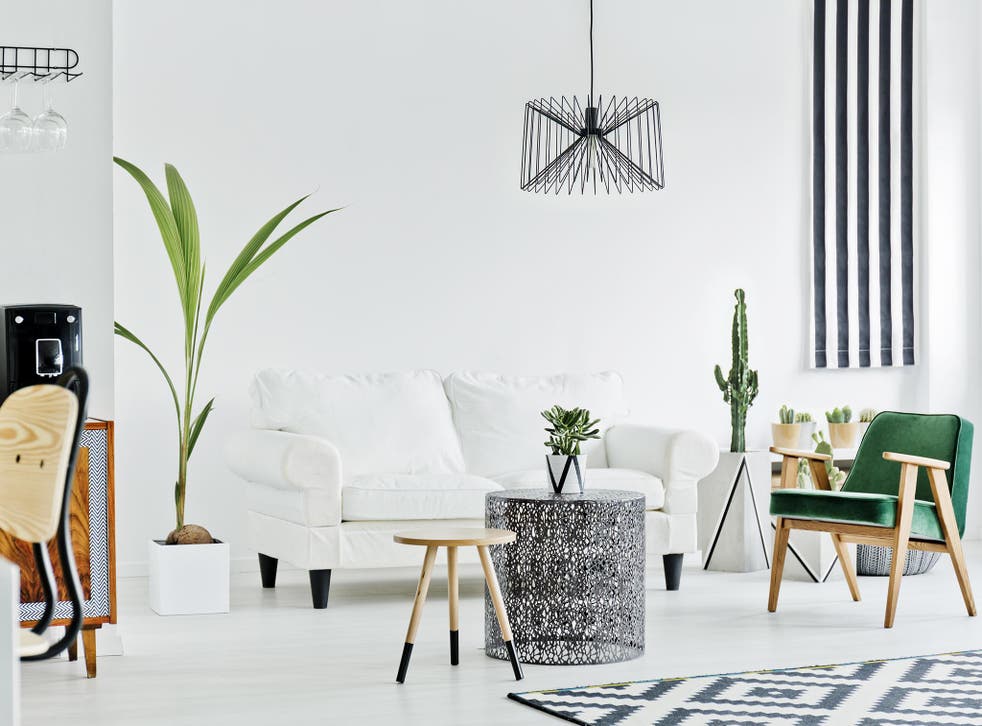 The Swinging Sixties have inspired many decades of fashion and design with its unique and colourful sense of style. This year, you can bring the groovy times back in your own home with new pieces of interior design to spark a fun atmosphere. There's no better way to welcome spring than a change of scenery with one of the most culturally exciting times in history.
Robert Cavalli Gold Flowers Silk Cushion, £279
Robert Cavalli's gold flower silk cushion is an instant magnet to the eye with its intricate designs and colour schemes. This cushion makes a simple decorative asset and is really comfortable to lie on and unwind. This cushion is 100 per cent polyester and at 40 x 40 cm is a great size for travel. You can find this intricate cushion at Amara for £279.
Iridescent-Effect Glass Vase from Zara Home, £29.99
When it comes to home decor, it's not enough to have the basics, it's the extras that set the room apart. This multi-coloured vase from Zara provides a fun atmosphere that can make the environment pop. For just under £30, you can fill the room with a multitude of colours without taking up a lot of space.
Trouva Pols Potten Green Metal Birdcage Candle Holder, £109
This cool candle holder takes the shape of a bird-cage in a spirited green colour. You can easily decorate the holder to your own style to make it perfect for your space. Find this creative piece for £109 from Trouva.
Paisley Bloom Duvet Cover, £58.80
A bedroom isn't complete without the perfect duvet. It should be comfortable but also nice to look at. Desigual is bringing you this brightly coloured floral print that can make any room a little more fun. The Paisley Bloom duvet cover is available for £58.80 through Desigual.
Rectangle-patterned and multicoloured rug, from £39.95
If you really want to make a statement, this multicoloured rug from www.modern-rugs.co.uk will brighten up your room. This rug can turn your space into a total dance floor. Available in three sizes, you can get this rug as an 80 x 150 cm for £39.95, 120 x 170 cm for £69.95 or 160 x 230cm for £119.95.
Colour Hippy Plates, Amara, £36
Your kitchen shouldn't be left behind when trying out a new look. This set of four plates embodies the Sixties image with unique print and popping colours. Appropriately named Colour Hippy Plates, hand painted ceramic and with handmade elements, these plates cost only £36 from Pols Potten available through Amara. Matching bowls are also available.
Fandago Velvet Armchair from Myakka, £699.00
With a real vintage feel, Myakka is bringing you this multi-coloured pin-striped armchair to bring your home to life. This chair is ethically produced to the highest standards with a full sprung seat, sheltering back and padded armrests. Myakka features fair trade furniture from Thailand and India and you can get this chair for £699.00 from their website.
5 Light Modern Floor Lamp from Ocean Lighting
Complete your Swinging Sixties look with this five light lamp that'll finish off the cool vibes. This lamp comes with a black base and multiple colours of different bulbs ranging from red, blue, black, purple and more. This lamp is available for purchase from Ocean Lighting for £199.99 with free UK delivery.​
Register for free to continue reading
Registration is a free and easy way to support our truly independent journalism
By registering, you will also enjoy limited access to Premium articles, exclusive newsletters, commenting, and virtual events with our leading journalists
Already have an account? sign in
Register for free to continue reading
Registration is a free and easy way to support our truly independent journalism
By registering, you will also enjoy limited access to Premium articles, exclusive newsletters, commenting, and virtual events with our leading journalists
Already have an account? sign in
Join our new commenting forum
Join thought-provoking conversations, follow other Independent readers and see their replies