'It's a way of differentiating the working day and the evening': How coronavirus is affecting the way we drink
As the world continues to adjust to living in lockdown, Olivia Petter examines how coronavirus has impacted our relationship with alcohol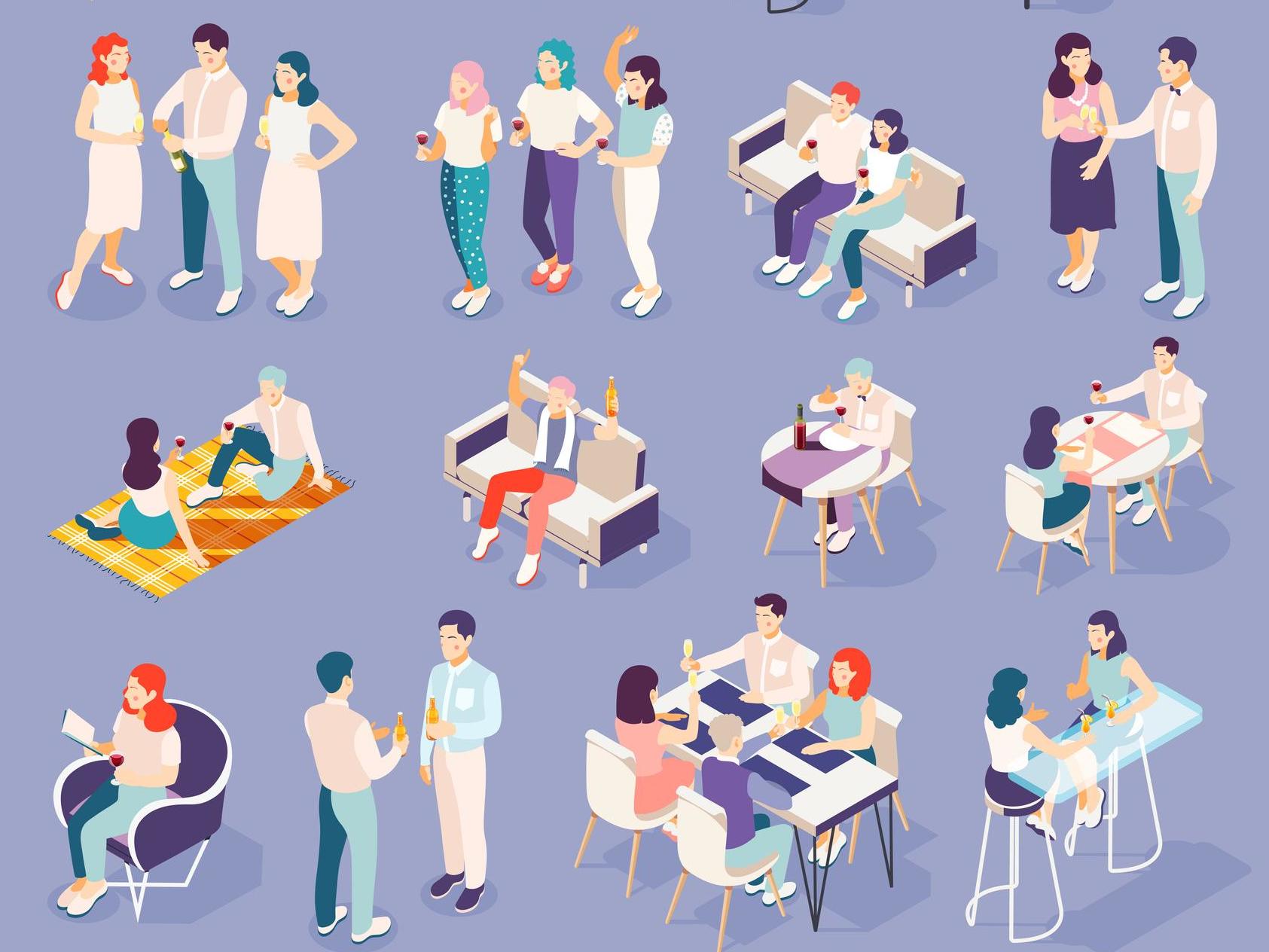 Rebekah, 22, was never a big drinker. "I'm a fitness enthusiast, and would normally go to the gym five times a week, play football with a ladies team and have regular sessions with my personal trainer," she says. "Since moving to London and embarking on my fitness journey, I'd cut down a lot of my drinking and seen major improvements to my mental and physical health – it made me feel great. Then the lockdown happened."
On Monday 23 March Boris Johnson bound Britons to their homes to combat the coronavirus outbreak. People are now only permitted to leave home to buy food or medicine, do exercise or travel to work as a key worker. Needless to say, this has radically changed the way many people live, not least how our social lives work. "It has thrown me completely off my routine," says Rebekah, who suffers from anxiety. "I can't do any of the things I would normally do to calm myself down, such as going to the gym or playing sports with friends."
Instead Rebekah says, being at home all the time where alcohol is readily available, she has started drinking almost every evening of the week. And she is far from alone.
Since the lockdown began alcohol consumption has surged in the UK, with one study finding that 61 per cent of Britons had increased their alcohol intake since social distancing measures were introduced. The law around off licenses even had to be reviewed as they were initially classified as non-essential shops. But reports of supermarkets struggling to keep up with alcohol demand meant they were re-opened.
Meanwhile, Google searches for "wine delivery UK" had increased by 2,250 per cent in the last month while "alcohol delivery" searches have increased by 250 per cent in the same time span. Demand has also spiked for online alcohol retailers, such as Wineapp, which delivers fine wines to London residents and has seen a 1,500 per cent boost in sales, while The Whisky World reported an 82 per cent increase in revenue since the lockdown was imposed. Virtual wine and beer tastings are on the rise, too, with The Wine List telling The Independent it has seen a "huge demand" for remote tastings among colleagues.
Dynamo tells Instagram followers he has tested positive for coronavirus
"Normally, I would only drink when socialising with friends, but now I find that rummaging through my drinks cupboard and creating cocktails is a new source of creativity," says Alex, 26, who has also become "hooked" on virtual cocktail-making classes and IGTV wine tastings. Jess, 27, concurs: "I'm definitely drinking more alcohol now. I see it as a 'treat', something to differentiate working during the day and relaxing in the evening."
Chartered clinical psychologist Dr Claudia Herbert says it's no surprise that being in lockdown has changed so many people's relationships with alcohol. "Whatever, the individual circumstances, from a psychological perspective, this is a time that poses a lot of strain and challenges for many people and many may experience the effects of this lockdown as totally overwhelming and even traumatic. And one of the effects of lockdown has been that almost all previous sources of entertainment and distraction have stopped abruptly."
Herbert points out that people like Rebekah also can no longer rely on their usual methods of unwinding. "So without the usual external distractors, people may feel even more drawn into trying to numb their uncomfortable feelings, and the consumption of alcohol is one way of doing so." Herbert adds that if people have other addictive behaviours, such as excessive exercise, which may be less easily available to them at the moment, it makes sense they could transfer to drinking.
But health officials and charities have issued warnings about increasing one's alcohol intake at this time.
The World Health Organisation, for example, urges people to abstain from drinking alcohol while on lockdown, describing it as an "unhelpful coping strategy". Meanwhile, organisations such as The Priory are encouraging people to stick to alcohol unit guidelines (no more than 14 units a week) while alcohol education charity Drinkaware is keen to warn people that the more they drink, the more they increase their tolerance, which over time could lead to a dependency.
Coronavirus: London on lockdown
Show all 29
"Having alcohol available in homes, for many people, can be a source of temptation and lead to drinking without thinking," says Elaine Hindal, CEO at Drinkaware. "Small things can quickly turn into habits, like opening a bottle of wine in the afternoon when you normally wouldn't, sitting with a beer while you work, or drinking out of boredom."
But Hindal explains that those reaching for the bottle to soothe anxious thoughts could actually be exacerbating their mental states. "Our research tells us about four in ten UK drinkers say they have had a drink to help when they're feeling anxious, depressed, particularly stressed or nervous," she says. "But alcohol is best avoided when you are anxious. It's actually a depressant, and it can interfere with processes in the brain that are important for good mental health as well as contribute to symptoms of severe depression."
Signs that isolation could be having a negative impact on your drinking habits include opening a bottle or can earlier in the day than you usually would, finding it hard to stop at just one or two drinks, drinking out of boredom, drinking to calm your anxiety, or perhaps feeling the need to drink more each time to get the same feeling, Hindal says.
For those who think they might be drinking more than they should, Hindal suggests advises keeping track of your alcohol consumption using apps such as Leaf or Drink Tracker, and switching to smaller glasses when consuming wine. "Plan at least three days of the week to go drink-free," she adds. "And challenge yourself to come up with other activities at home instead of drinking alcohol, for example, having a games night, taking a long bath or trying a new recipe."
"Plan at least three days of the week to go drink-free"
But just as isolation has prompted a surge in alcohol consumption, it has also catalyzed a wave of sobriety, with many people taking the lockdown as an opportunity to take a break from drinking. Tales of undertaking a "Dry Covid" have emerged on social media while non and low-alcoholic brands, such as The Clean Liquor Company, have seen a major boost in sales in the last two weeks.
Model Victoria Clay, 25, is one of the people to have quit drinking entirely while in lockdown. "Before the pandemic, my schedule was photoshoots by day, events and premieres by night, which meant fast-flowing champagne receptions, and guzzling down five glasses without noticing. But now that's gone, I've realised I was only drinking because of the environment I was in," she says. 
"Without the social pressures, I feel no desire to drink. Even though I have a full drinks cabinet at home, I'm only reaching for the teabags."
Travel blogger Tom Bourlet, 32, has also given up drinking since the lockdown. "I originally thought myself and my girlfriend would end up drinking a bit more, as work was more relaxed and we didn't have much to do," he says. "But we visited our local Morrisons in Brighton and the queue was around 40 minutes long. We then went to Co-op and they were also out of alcohol. Eventually we decided not to drink and spent our weekend writing blog posts, working out and cleaning the house."
Many people have also given up alcohol for health reasons, both mental and physical. "I used to drink quite a bit at weekends," says Ben, 24. "I would head out on Friday, Saturday and during the day on Sunday too. But since the lockdown, I have decided to cut it a lot as I feel alcohol increases my anxiety, and at a time where the world is in flux and bad news emanates on the daily, I want to try and limit things my anxiety latches onto."
 Jasmine, 25, was similarly indulgent in her alcohol consumption prior to the pandemic. "I live for long dinners with friends drinking multiple bottles of wine together, or a cold gin and tonic in the summer. But I have decided to go booze-free for lockdown, mostly because I want to keep as fit and healthy as I can, and because I live alone and would never drink alone. I associate drinking with socialising (Zoom doesn't count) and since that has come to an end, so has my drinking."
Herbert explains that for some people, the lockdown could inspire people to discover new habits and coping mechanisms that build resilience and strengthen the immune system. These people, she adds, are less likely to be drinking more. "There are many ways in which this can be done, such as particular breathing or meditation, or gentle exercise like yoga or QiGong, and adopting a healthy diet," she says. "People who may already have started to move down this path would be less drawn to increasing their alcohol consumption as a result of the current situation."
While our current lifestyles might be unprecedented, and necessary changes will be made, it's worth remembering that the national guidelines for alcohol consumption are one of the few things to remain the same. "It is safest not to drink more than 14 units a week on a regular basis, spread evenly over the week," Hindal clarifies. "This is equivalent to about six pints of 4 per cent larger or six medium (175ml) glasses of 13.5 per cent wine."
In these strange times, while you might be seduced into temporarily anaesthetise yourself with alcohol, it is certainly not wise. And it probably isn't doing your immune system any favours either, which, let's face it, could do without any additional strain right now.
Drinkaware has an online self-assessment that can help you identify if your relationship with alcohol is about right, or if the amount you drink is risky to your health. If you or someone you know would is worried about alcohol consumption, contact Drinkline on 0300 123 1110 or talk to a trained advisor anonymously online via Drinkchat.
Join our commenting forum
Join thought-provoking conversations, follow other Independent readers and see their replies