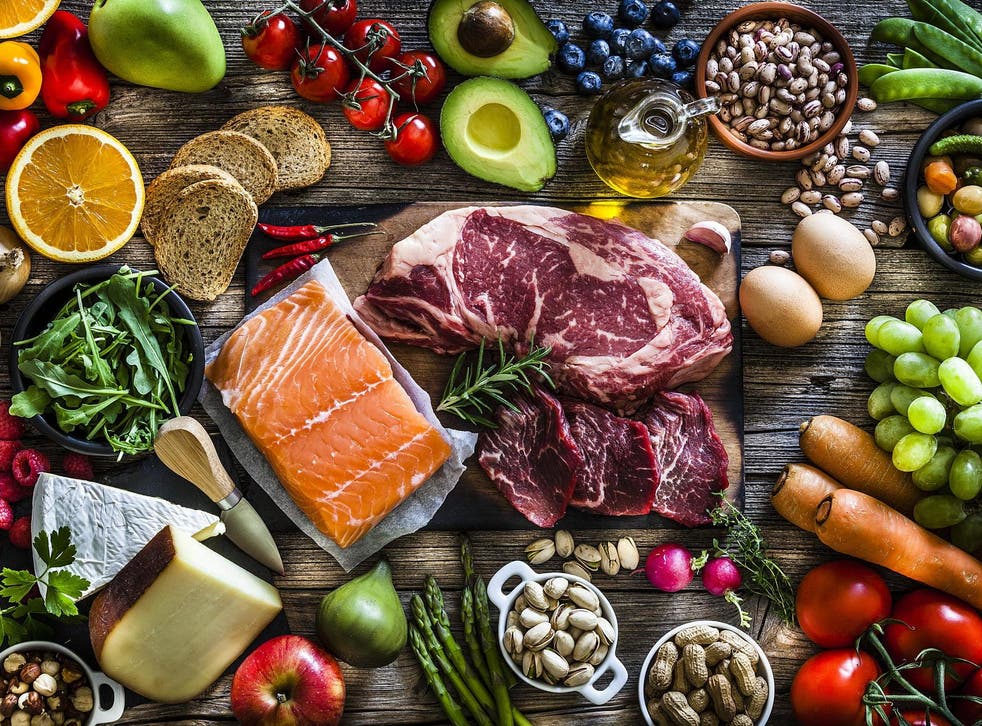 Coronavirus: How to eat healthily while in lockdown
The World Health Organisation says maintaining a healthy diet plays 'crucial role' in how well people recover from Covid-19 
Olivia Petter
Monday 20 April 2020 07:47 Comments
Leer en Español
The UK government is facing calls to launch a healthy eating campaign to educate the nation on how food can boost the immune system during lockdown.
Last week, a group of leading food policy experts including Tim Lang, professor of food policy at City University of London, wrote a letter to the environment secretary and Public Health England's chief executive, citing evidence that a healthy diet could help fight off infections.
However, the letter states that this "vital" information is not being shared with the public.
"In addition to current government measures, clear and well-informed public guidance is required from the government on what is nutritionally necessary and sufficient to maintain UK food security and nutritional appropriateness," the letter reads.
Meanwhile, the World Health Organisation (WHO) is also urging people to maintain a healthy lifestyle while on lockdown, saying it could boost their chances of a fast recovery should they contract Covid-19.
In addition to exercising regularly, quitting smoking and drinking, maintaining a healthy diet plays a "crucial role" in determining how well people recover from coronavirus, the WHO has said.
But what exactly does a health diet comprise of, and how can one ensure they are eating as well as they are stuck inside their homes all the time?
Read on for tips from nutrition experts on how to maintain a healthy diet while in lockdown.
Plan meals in advance
When trying to eat healthily, it's crucial to plan ahead, says Bridget Benelam, senior nutrition scientist at the British Nutrition Foundation.
"It's easy to run out of inspiration for what to prepare when you're having all your meals at home," she tells The Independent.
"Try planning out a few meals so you know what you need and don't have to face the 'what's for dinner' dilemma every night."
Planning meals in advance could also ensure you use up all of the ingredients you have before buying more, thus preventing waste.
Coronavirus culture from rooftops, windows and balconies

Show all 15
Ensure you're getting a wide range of nutrients
Variety is key to a healthy diet, says registered dietitian Nichola Ludlam-Raine, who suggests avoiding omitting any food groups while on lockdown unless you have an allergy.
"Three nutrients that you should definitely include (because they help to support your immune system) are vitamin A (found in sweet potato and spinach), vitamin C (found in berries, tomatoes & peppers) and zinc (found in meat, shellfish, dairy and bread)," Ludlam-Raine adds.
Keep healthy snacks around
Keeping healthy and nutritious snacks nearby will ensure you don't head straight to the biscuit tin at the slightest hunger pang.
Ludlam-Raine suggests preparing snacks around the "protein and produce" mantra, i.e. pairing a piece of protein with a piece of produce, which is almost always going to be a healthy combination.
"Think cheese and apple, yoghurt and berries, nuts and dried fruit or even hummus and carrots," she adds.
Take advantage of your freezer
Another way to reduce food waste is to make the most of your freezer.
Big one-pot dishes such as chilli, curries and stews will freeze particularly well, says Ludlam-Raine, and they are a quick and easy way to consume plenty of vegetables in one sitting. Fruits such as berries and bananas can also be easily frozen and used in smoothies for the mornings.
"Don't forget about the humble potato too," she adds. "You can freeze them and turn them into chips very easily".
Consume oily fish
Canned oily fish in particular is a really handy item to have in your cupboard while on lockdown, says Benelam. Not only is it cheap and has a long shelf life, but it is rich in omega-3, which studies say can improve mental wellbeing.
"Oily fish is also one of the few rich sources of vitamin D in the diet," Benelam adds, "something we all need to consider if we're staying at home and may not be getting much sun exposure, which is our main source of vitamin D.
"Vitamin D is also important for bone health and to support the immune system."
Make the most of nut butters
Another cupboard essential that will stand the test of time, nut butters are a useful item to have around because they are full of good fats and nutrients, says Benelam.
Words at the window: Social isolation and the Coronavirus

Show all 12
"Almond butters, peanut butters and others can provide nutrients like magnesium, potassium, iron, zinc, vitamin E and B vitamin," she says.
"Combine with wholegrain crackers for a healthy snack or add to Asian inspired noodles or curries."
Be sure to hydrate
"Drinking an adequate amount of fluid is essential in order for you to feel and function at your best," says Ludlam-Raine.
But it doesn't have to be just water, you can get your hydration via squash, tea, coffee and milk, she adds.
"It all counts towards the 8 glasses of fluid that we need, though you may need more if it's hot or you have just exercised.
"Keep any caffeinated drinks to a minimum and try not to drink them from mid-afternoon so they don't affect your sleep."
Make set meal times – and stick to them
When we're spending our days lolling about it home, it can be easy to let structures and schedules fall by the wayside.
But this can be crucial to maintaining a healthy diet and avoiding unnecessary snacking in between meals, says Ludlam-Raine.
"Try to structure your day by setting aside times for meals and snacks," she suggests.
Dynamo tells Instagram followers he has tested positive for coronavirus
That way, your body will adapt to a routine.
Allow yourself to indulge every so often
Remember to indulge every now and then, says Ludlam-Raine. Not only will this boost your mood and keep your spirits high, but it will prevent you from binging on sweet treats you might've forbidden yourself from eating.
"A little bit of what you fancy does you good," she adds.
"And now is certainly not the time for restriction, you will just end up craving what you ban from your diet more. Balance is key."
Register for free to continue reading
Registration is a free and easy way to support our truly independent journalism
By registering, you will also enjoy limited access to Premium articles, exclusive newsletters, commenting, and virtual events with our leading journalists
Already have an account? sign in
Register for free to continue reading
Registration is a free and easy way to support our truly independent journalism
By registering, you will also enjoy limited access to Premium articles, exclusive newsletters, commenting, and virtual events with our leading journalists
Already have an account? sign in
Join our new commenting forum
Join thought-provoking conversations, follow other Independent readers and see their replies