7 ways lockdown can improve our appearances
You finally have time to grow out over-tweezed eyebrows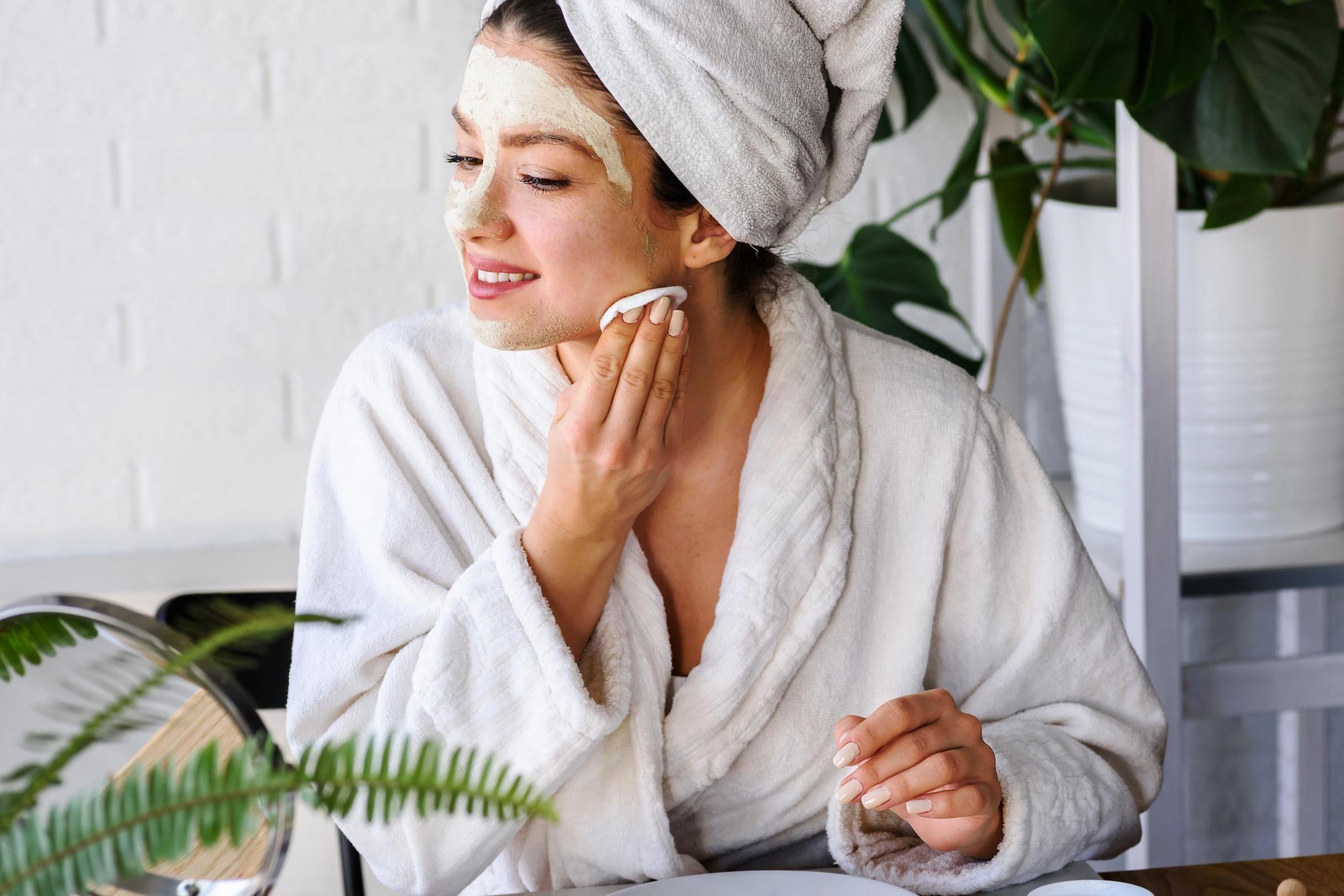 With hair appointments, eyebrow waxing, nail salons and other personal grooming appointments inaccessible as lockdown continues in much of the world, it isn't all bad news for our appearances.
In reality, this mandated break from grooming can actually benefit us in the long run, according to experts The Independent spoke to, who broke down what this time can do for our looks.
From healthier skin to stronger hair, this is how lockdown is working in your favour.
Less pollution means healthier skin
According to board-certified medical dermatologist and cosmetic surgeon Dr Melanie Palm, the "remarkable, visible improvement" in air quality in places around the world as a result of stay-at-home orders is "actually good for the skin".
"Generally speaking, shelter in place orders has decreased the amount of environmental pollution worldwide," Dr Palm told us. "All of this is actually good for the skin. Despite being indoors, outside environmental pollution still likely diffuses a portion indoors, either through ventilation systems, windows, doors, or other forms of air exchange."
Spending a lot of time indoors is also beneficial as "air quality is better indoors in a chemical-free and mould-free environment than outdoors in industrialised settings," Dr Palm continued, adding that this is especially the case "if HEPA filters or air filtration systems are in place".
"When the world is quiet, the air quality improves, both outdoors and indoors."
As for what this means for our skin, Dr Palm said that the reduced amount of oxidative stress and free radical production as a result of less environmental pollution and toxins has a "protective effect on the skin" - and can limit the possibility of skin irritation and other issues.
"When free radicals are high, this leads to enzyme production in the dermis that causes enzymes like MMP-1 to break down collagen in the skin," she explained. "Environmental stressors can lead to pigmentary problems, and even skin inflammation, which can manifest in many ways such as redness, irritation, even acne-like breakouts."
Wearing less makeup can also be beneficial for skin
With millions of people around the globe self-isolating at home, makeup products have found themselves relatively untouched apart from for the occasional Zoom call or FaceTime date.
According to dermatologists, the break from wearing a full face of makeup isn't a bad thing.
"Just because your makeup may be labelled as long-wear does not mean you should keep it on all day," Dr Joshua Zeichner, board-certified dermatologist and director of Cosmetic and Clinical Research in Dermatology at Mount Sinai Hospital in New York City, told us. "Makeup can block the pores and promote acne and potentially disrupt the outer skin layer, leading to dryness and irritation.
"Taking a makeup holiday can let your skin repair itself, improve hydration, reduce inflammation, and even improve acne breakouts."
The 5 best skincare products for spots
Show all 5
Dr Palm agreed, adding that "increased humidity under your mask from exhalation can cause rashes such as perioral dermatitis or acne breakouts," when wearing makeup.
However, she acknowledged that many makeup brands are now beneficial for the skin, as they "contain zinc oxide or titanium dioxide for physical sunscreen protection and also things like vitamin C, E, or polyphenols that help protect against environmental damage, high energy visible light (like blue light from smart devices), and UV light" - so taking a complete break from makeup isn't necessary if you don't want to.
But, as both dermatologists reiterated, there is one daily skincare routine that should not be skipped in lockdown - applying sunscreen.
"Staying inside means less exposure to UV light from the sun. However, you are not off the hook in wearing sunscreen, as UVA light can penetrate right through window glass," Dr Zeichner reminded us.
"Definitely don't forget the sunscreen, as a full 15-20 per cent of our light-related damage to the skin comes from visible light and infrared light," Dr Palm said, adding that those who follow a daily skincare routine should also continue.
"Our skin is often used to our routines, so make sure you are still using a great moisturiser and topical antioxidants or anti-ageing formulations to keep a rhythm to your skin routine," she said.
Too-thin eyebrows can finally grow back
If you've ever over-tweezed your eyebrows, you'll know that the growing-out period can be a nightmare - especially if you're trying to achieve a former, fuller brow shape without colleagues noticing numerous errant hairs.
But, with eyebrow waxing and threading salons closed in much of the US, and around the world, as a result of the coronavirus pandemic, the good news is those who want bushier eyebrows finally have the opportunity to attain them.
According to celebrity eyebrow specialist Elke Von Freudenberg, the rate of eyebrow growth varies by person, as it "depends a lot on the type of hair you have".
But, generally, "thicker and darker eyebrows can grow back within three to four weeks while thinner and lighter eyebrows can take two to three months," which means extended stay-at-home orders should be plenty of time to make significant progress in your eyebrow journey.
Von Freudenberg did inform us that those who tweeze frequently may have a harder time growing back their eyebrows as "the more you tweeze them, the more damage you are doing to the roots," however, there is hope as she said she has seen "severely damaged brows grow back in about a year" with a hands-off approach.
As for her advice to those quarantined at home and worried about their brow shape, Von Freudenberg said "just let them grow".
"If you are quarantined at home, to be honest, just let them grow. Nobody really sees it as much as you do," she said, adding: "A slightly messy brow is very in at the moment so you can look at it as you're on trend! If you need to cover up, try applying a skin coloured foundation or concealer or a shimmering brow highlight which will draw attention away from a messy brow but it usually works best on those with a thinner lighter brow."
For those who do want to keep some semblance of eyebrow shape during quarantine, Von Freudenberg recommends tweezing - but "only the very obvious stray hairs".
10 best tweezers
Show all 10
"Try not to go too close to the brow line as you can be taking off more than you think," she told us. "The best is to start at the furthest point and slowly tweeze your way up to the brow. Once you get about 1/2 rows from the brow; stop. If you do make a mistake, immediately stop. It's the continuing of trying to fix the brow that causes the biggest problems."
She also advises people to avoid the lure of at-home waxing kits because "you can do more damage than good".
Quarantine gives hair a chance to recover from dye, bleach and heat styling tools
Although roots or grey hairs may be plaguing much of the population, lockdown can provide processed hair a much-needed opportunity to regrow and become healthier.
Whether you're used to straightening your hair daily or book monthly appointments at the salon for colour touch-ups, the constant work on your hair can put a strain on it, leaving hair dry or damaged.
According to Andrew Karp, a head stylist at Aerea Salon in New York City, the "forceful break is a nice time to allow hair to recover".
"For people who have been trying to find their way back to healthier place with their hair but have struggled being patient and/or making more time in their busy lives to do more hair treatments at home and less styling, this is a good time to take advantage of that," Karp told us.
The first thing he recommends, which will have the biggest impact on hair health, is putting down the heat styling tools - including straighteners, blow dryers, and curling irons.
"Avoiding heat is going to make all the hair stronger as it will no longer compromise the bonds within the hair structure," he said, adding: "Most damage is usually caused by or very much catalysed by heat versus hair colour."
However, "the break from the hair colour is also going to put some ease on the hair and allow more natural regrowth," which will "provide a fresh palette for stylists to work with," when salons reopen.
To speed up and make the most out of this time of healing, Karp recommends using "treatment-oriented styling products to keep hair conditioned and elastic and that allow people to dry their hair naturally".
According to Karp, these include options such as a weekly hair mask, as well as at-home Olaplex treatments.
As for hairstyles to try that can cover any grown-out roots, Karp said simple braids can add style and texture while "diffusing harsh lines of demarcation".
Hair can be retrained to be less greasy by washing less frequently
According to Karp, lockdown can also benefit those who have fallen into a habit of washing their hair every day to beat grease - which actually causes sebaceous glands to start producing more oil.
"If people have felt like they have fallen into the cycle of having to wash their hair every day and have been having a hard time with oily scalp, it's also a great time to map out a hair-washing schedule to curb the daily washing and retrain their sebaceous glands," Karp explained.
To do so, he recommends washing hair every other day, cleansing only the scalp and conditioning the ends.
The 5 best hair thickening products
Show all 5
"On days in between, cleanse thoroughly with water only, using fingertips in round exfoliating motions, and (always conditioning the ends whenever the hair is wet)," he said, adding that after two weeks, a third day should be added, but that finding a routine that works is dependent on the individual.
According to Karp, figuring out a hair-washing schedule is about finding what works well with your lifestyle while also allowing appropriate distance between shampoos "so that you're not facilitating overactive sebaceous glands".
Less shaving means less trauma to skin
Whether you're growing out a quarantine beard or have stopped shaving your legs altogether, chances are you're shaving a lot less in lockdown than you usually would.
The break from hair removal isn't only saving you time - it's also helping your skin, according to dermatologist Dr David Bank, who told Bustle: "If you shave or wax too soon or frequently, you may irritate or traumatise the skin and that is painful.
"It's important not to shave too frequently as this can lead to stripping away the skin's outer protective barrier layer. If that happens, the skin is more vulnerable to irritation and infections."
Your eyelashes will be grateful for the break from extensions
As those with eyelash extensions will know, upkeep includes bi-weekly appointments to have the lashes filled in - meaning that at this point in quarantine, most customers have come face-to-face with their natural lashes.
The ten best false eyelashes
Show all 10
Fortunately, for those surprised by the compromised health of their own lashes after the weight of extensions, breaks are often recommended by lash technicians.
According to a senior technician at Lash Touch, a lash salon in New York City, breaks are "good for the quality of the lash".
However, the salon did add that having lash extensions glued on only by well-trained technicians should lessen the need for breaks in between fills.
To improve the health of natural lashes during lockdown, you can try taking Biotin, a vitamin B complex and eating a diet rich in proteins and vitamins, which can help hair grow.
Overall, as people adjust to the long period of time spent at home, looks may change - but that change may ultimately be for the better.
Join our commenting forum
Join thought-provoking conversations, follow other Independent readers and see their replies