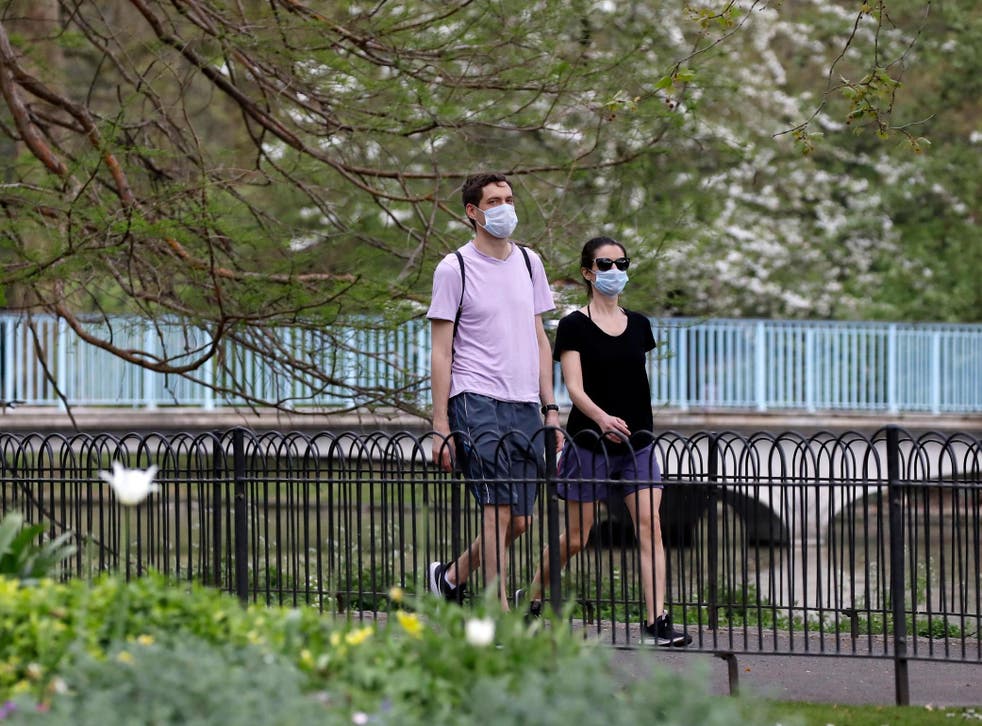 Cambridge University suggests one-way public spaces and using tongs while shopping when easing lockdown
'All activities will need to be considered individually, and phased back in carefully, depending on the risk they pose to spreading the virus,' university professor says
Sabrina Barr
Thursday 16 April 2020 12:13 Comments
Normalising walking clockwise in public spaces and using tongs when shopping could help reduce spread of the coronavirus when easing lockdown measures, a study has claimed.
When the UK was placed in lockdown on Monday 23 March, the government said it would conduct a review on the situation in three weeks' time.
Now that the three-week review period is over, it is expected that No 10 will announce an extension to the nationwide lockdown on Thursday 16 April.
It is currently uncertain when the lockdown will be removed or if this will be done so in stages, rather than simply assuming business as usual.
Researchers at Cambridge University have conducted a study to ascertain what measures could be put in place to reduce the spread of Covid-19 and thus ease the lockdown.
For the study, which was a collaboration between BioRISC (the Biosecurity Research Initiative at St Catharine's College, Cambridge), Conservation Evidence based in the Department of Zoology and the Centre for the Study of Existential Risk, used a method called "Solution Scanning" to "identify a range of options fo a given problem".
The researchers identified 275 measures that could be implemented that may help ease the lockdown without putting further people at risk of contracting the virus.
"Medical possibilities were not considered," the academics stated. "[The list] does not offer recommendations: a shortlist of the most appropriate options for specific regions and contexts should be considered in the context of their likely effectiveness, cost, practicality and fairness".
Professor William Sutherland, from the university's Department of Zoology and lead author of the study, added that when conducting a "process of decision-making or guidance-production, it's sensible to be aware of the range of possible options".
Coronavirus: London on lockdown

Show all 29
"Policy makers and practitioners must decide which strategies are appropriate to phase in at different stages of the transition from lockdown," Professor Sutherland stated.
The measures put forward to potentially help reduce the spread of the virus when lifting the lockdown include:
Having café owners open their outdoor areas, thoroughly wipe down their tables and ensure customers are sat a significant distance away from one another.
Make petrol stations completely contactless and allow customers to pay from the inside of their cars.
Allow access to parks for different age groups at different times of the day while asking members of the public to walk clockwise in large public areas.
Asking patients who are visiting doctors' surgeries to wait inside their car until they are called for their appointment.
Having school classes taught in smaller groups with teachers who only come for one week every three weeks.
Asking people to use tongs, and to bring their own, when shopping, while also providing "tool decontamination" at the entrances and exits for stores.
"It's basically about how to stop people hanging around together, and phasing in activities starting with the ones that are the safest," Professor Sutherland said.
"Making this happen will be up to the people responsible for every element of society."
The researchers added that "identifying, assessing and applying a wide range of options could enable some of the stricter lockdown conditions to be lifted earlier, and make the transition period shorter".
For Cambridge University's full list of 275 proposed measures, click here.
Register for free to continue reading
Registration is a free and easy way to support our truly independent journalism
By registering, you will also enjoy limited access to Premium articles, exclusive newsletters, commenting, and virtual events with our leading journalists
Already have an account? sign in
Join our new commenting forum
Join thought-provoking conversations, follow other Independent readers and see their replies