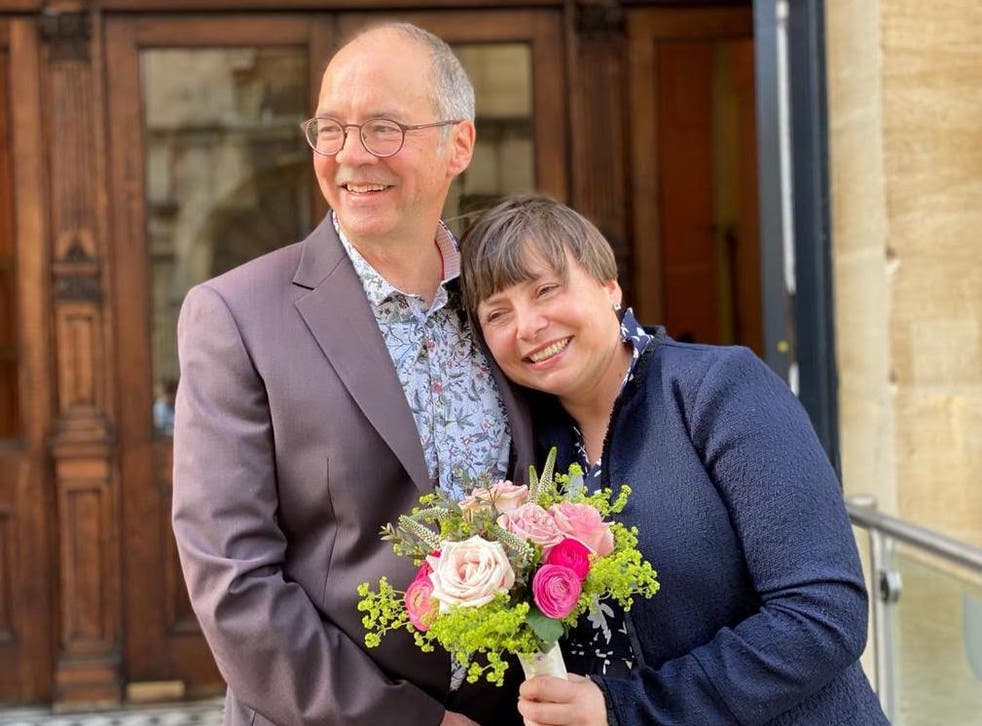 Coronavirus: Retired NHS doctor cancels dream wedding to return to work
Dominic Thompson and her husband Simon Bradley had planned a summer wedding in New Zealand 
A retired NHS doctor and her GP husband cancelled their dream wedding in New Zealand so they could stay on the front line and help tackle the coronavirus pandemic.
Dominic Thompson, 49 and her husband Simon Bradley, 63, had been together for 13 years and had planned to get married in the summer.
But following the Covid-19 outbreak, Ms Thompson, a former GP and mental health expert, was drafted back into the NHS to help as hospitals began to fill up with patients seeking treatment.
This, along with Simon's busy schedule as chair of his local GP federation, meant that the pair were forced to get married on 22 March.
Ms Thompson and Mr Bradley tied the knot at Bristol Register Office in one of the first ceremonies under new coronavirus restrictions.
Dominique, who is one of 65,000 retired medics who have been called back to action, said: "We thought this would be a great year to get married – our little boy was ecstatic.
"And we were supposed to go to New Zealand in July… waiting to see what happens, but for now the honeymoon involves homeschooling a 10-year-old.
"We just wanted to be married to each other, and we knew Jack would be devastated if we cancelled. We had to think – what will make me, Simon and the family smile?
"Life is for living, and we have got to focus on small, positive acts. Now we are doing what we can to help – trying to help the people we would normally be helping."
Newlywed Simon added: "We were really lucky – we could see things running out of control. But it's really simple to get some of that control back.
"The day was wonderful and lovely."
Last week the Church of England announced that weddings should be attended by no more than five people during the Covid-19 pandemic.
The Church advised that only a priest, the bride, groom and two witness – the legal mininum – should attend ceremonies.
It added that anyone else wishing to observe the wedding should do so from a distance that is compliant with the World Health Organisation's social distancing guidelines.
Announcing the move, the Bishop of Manchester, Dr David Walker, said: "Couples and parents, friends and families will have been planning for months, even years for their special moment, whether a wedding or a christening.
"Now it can go ahead – but with only the minimum required in attendance. You may need to cancel or postpone.
"Whatever decision is made, God's love and blessing will still surround all those who would have been there that day."
Join our new commenting forum
Join thought-provoking conversations, follow other Independent readers and see their replies