Environmentalist found 171 items of PPE in one hour while picking up litter in Cornwall
'This has been the first time I have been legitimately frightened by PPE pollution,' environmental campaigner states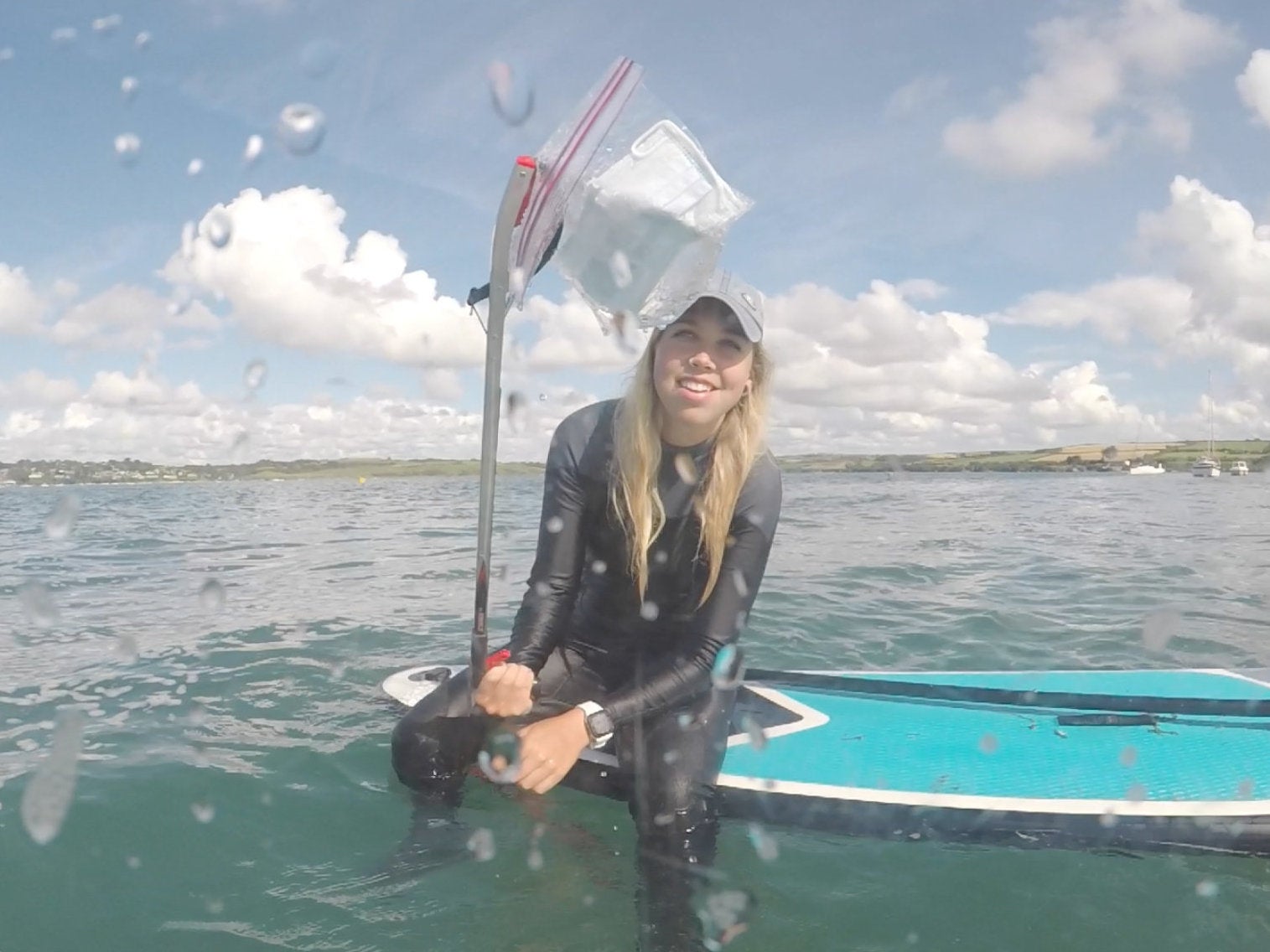 An environmentalist has issued a warning regarding the threat of plastic PPE to the environment, saying that evidence has been found "of PPE actually sinking below the ocean surface".
Emily Stevenson, a 23-year-old marine biologist, runs a project called Beach Guardian with her father, Rob.
Since launching the initiative in 2017, she and her father have organised more than 200 community litter-picks, with more than 6,000 volunteers taking part to help collect single-use plastic from the ocean.
In a recent video that Stevenson shared online, she was filmed collecting PPE, including face masks and gloves, from the ocean.
The environmental campaigner also revealed that during a recent one-hour litter pick in Cornwall, she found 171 pieces of PPE.
On a previous occasion when collecting litter on the same route, Stevenson found just six pieces of plastic litter.
"Though this may be a timely issue now, it's unfortunately not one that is going to go away any time soon either," she said.
"We've already found evidence of PPE actually sinking below the ocean surface. This means that there could be a totally unaccounted for concentration of PPE pollution on the seafloor, which can remain as dormant debris for centuries."
Stevenson explained that once PPE reaches the seafloor, "it smothers any biological structures such as important Sea Fran beds in the UK, or coral reefs further afield".
"Also, this debris entails a 'plasticising' effect when on the seafloor – potentially inhibiting gas exchange between the water column and sediment," she added.
The marine biologist said that during a recent litter-pick along the Camel Estuary in Cornwall, they discovered a face mask in the water within the first five minutes.
"This has been the first time I have been legitimately frightened by PPE pollution," she said.
"PPE is in all of our lives; we use it or see it every day. But it is for this very reason that we can all do something about it."
According to research cited by Stevenson, if every person in the UK were to wear a single-use face mask every day for a year, this would create an additional 57,000 tonnes of hard-to-recycle plastic and an extra 66,000 tonnes of contaminated PPE waste.
In July, researchers from Royal Holloway, University of London warned that the River Thames had become "severely polluted" with plastic, posing a threat to wildlife and the health of members of the public.
They expressed their concern that the "increased use of single-use plastic items, and the inappropriate disposal of such items, including masks and gloves, along with plastic-containing cleaning products, during the current Covid-19 pandemic, may well exacerbate this problem".
In April, conservationists warned that discarded face masks and gloves worn during the coronavirus pandemic were posing a rising threat to ocean life.
A month later, pieces of PPE found washed up off the French coast increased concerns over the detrimental impact of irresponsibly disposed PPE on the environment.
Join our commenting forum
Join thought-provoking conversations, follow other Independent readers and see their replies