LIFESTYLE OPINION
Face masks, class bubbles and social distancing: This is not how I imagined my final years at school
'There is little or no opportunity for social and emotional learning with the current restrictions,' writes 16-year-old Qais Hussain
Wednesday 02 September 2020 08:00
Comments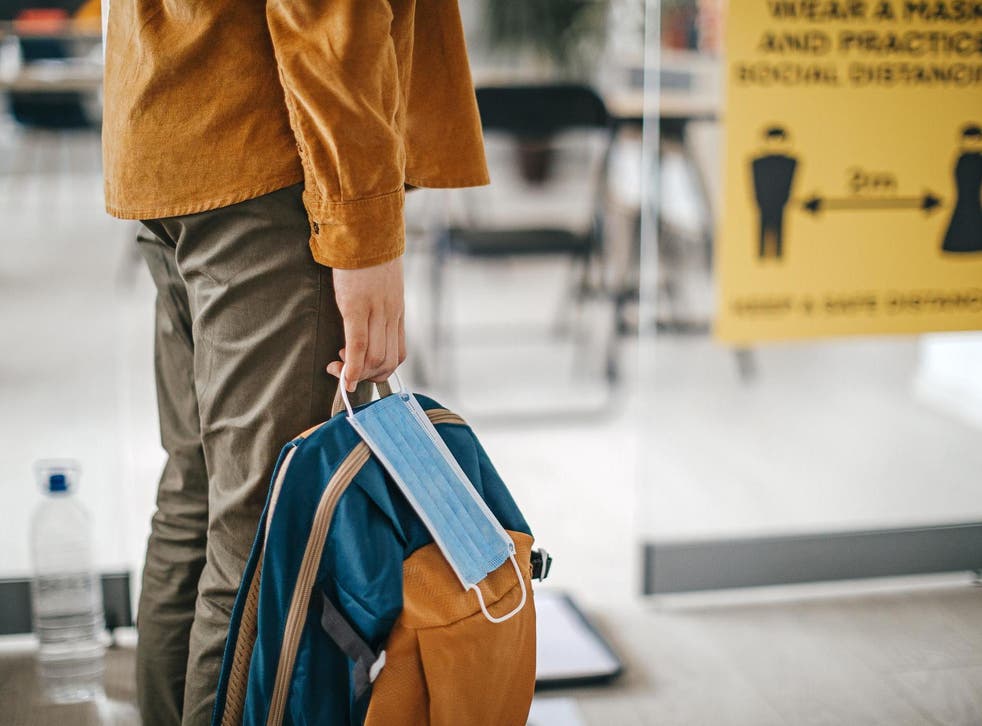 Six months ago, my life changed dramatically as did it for everyone else. On 20 March, schools across England shut their doors just weeks before the Easter holidays were due to begin, and three days before the whole nation went into lockdown. Now, as schools open their doors to welcome students back once again, and I return to begin sixth form, I'm asking myself what to expect from my final years there.
Life has been extremely overwhelming for millions of students across the UK, especially for those who were supposed to sit their exams this year – students like me. We have missed saying goodbye to friends, teachers and even our schoolyard foes; we have missed out on the experience of having a prom or a leaving do. Covid-19 has robbed us of many of the rites of passage of our promised "high school experience" that is sold to us as a gateway to adulthood.
For the past few months, I have been contemplating which sixth form college to attend for my final two years at school. I applied to nine colleges and after much rumination, I decided to be adventurous and accept an offer from a school out of town, where I don't know a single person.
I was excited at the prospect of a new start and about making new friends and discovering a new area. All this, of course, quickly dwindled the more I read about how schools would re-open. I was scared that I wouldn't be able to make friends or try new things, because of the social distancing rules in place. The protective bubble is stressful – it's the right thing to do, but being in a small bubble won't allow me to do all the normal things schoolchildren do, like mingle and make new friends – instead, it will could leave me isolated in a school which I know nothing about.
The response from the Government has been erratic; they are constantly changing their minds, which is very confusing for students and the thing I fear the most is getting the advice wrong and not following the correct rules. Students in year 12 become ambassadors for the school and role models for younger students – I feel if I don't follow the current procedures correctly that it will reflect badly on the school or it may encourage young people to copy me. It's a lot of pressure.
The recent U-turn on face coverings – meaning institutions can decide whether to implement the wearing of these in common areas – is welcomed by many students and teaching staff, however there remains, as with so many government rules these days, a lot of ambiguity surrounding it.
Next year's GCSE and A-Level exams delay decision will be made soon says schools minister
On social media a lot of students are questioning what face masks to buy: an ethical mask, a mask a celebrity has, or a mask that represents individuality? I fear that masks will be used as a tool to gain popularity and attention from other students, making uniform pointless and thus diverting students from education.
I'm also afraid that there is little or no opportunity for social and emotional learning with the current restrictions in schools. I can remember, last year, I would hug my friends when I was feeling low or stressed out, now I don't feel like I will get the invaluable emotional support and comfort of my school friends.
Throughout lockdown, and especially now as schools gradually begin to open, I have been feeling very nostalgic and I have been clinging on to my memories from last year. I loved how I felt that nothing was holding me back and the fact that I could try everything without their being any restrictions in place.
Before the pandemic came, I was really looking forward to year 12, because of all the incredible things you get to do, like Prom, activities, and especially the residentials – trips away with your school friends that teach bonding and life skills. However, I don't think any of them will be possible now due to the current situation. As coronavirus looms over the final years of my school education, the best I can hope for is that we are all safe and manage to make the best of an uncertain situation.
Register for free to continue reading
Registration is a free and easy way to support our truly independent journalism
By registering, you will also enjoy limited access to Premium articles, exclusive newsletters, commenting, and virtual events with our leading journalists
Already have an account? sign in
Register for free to continue reading
Registration is a free and easy way to support our truly independent journalism
By registering, you will also enjoy limited access to Premium articles, exclusive newsletters, commenting, and virtual events with our leading journalists
Already have an account? sign in
Join our new commenting forum
Join thought-provoking conversations, follow other Independent readers and see their replies