The Independent's journalism is supported by our readers. When you purchase through links on our site, we may earn commission.
LIFESTYLE FEATURES
Stranger danger: When can we stop being scared of other people in a pandemic?
Face masks and social distancing are a constant reminder of the invisible threat other people pose to us. Marisa Bate asks whether less than two metres will ever feel comfortable again
Saturday 05 September 2020 14:01 Comments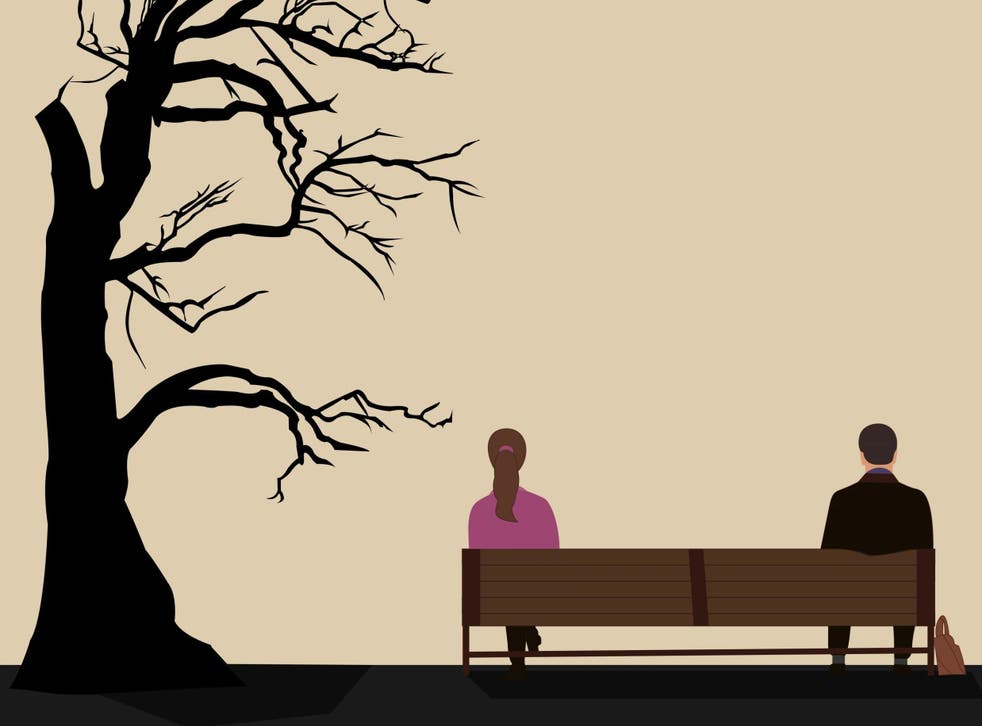 Jamie, 34, was in her local bakery, wearing a mask, as she queued to buy bread. A man joined the queue behind her, about a foot away, not wearing a mask. She stepped forward, eager to maintain social distancing. He stepped closer, assuming the line was moving. A man behind the counter intervened: "Hey mate, you need a mask". The man feigned ignorance: "A mask?"
Since lockdown began, Jamie has felt wary of strangers. "I would rather be as careful as I can. Everything is a risk at the moment," she tells The Independent. She has been out to dinner once but it was only because a friend was visiting so she felt she couldn't miss it. But pubs and supermarkets? "Absolutely not," she says. "I just don't think it's worth it."
One of the main concerns Jamie has is other people not keeping a two-metre distance. Many of the safety measures rely on an individual's compliance – wear a mask, sanitise your hands, keep your hands away from your face – but one of the rules requires cooperation with others. "People not observing social distancing measures makes me feel quite alarmed," Jamie says. "I try to get away from them as much as possible".
And she isn't the only one. Matt, 39, in Brighton says he feels similarly, despite the government easing lockdown measures and encouraging workers to return to the office, or visit restaurants under last month's Eat Out To Help Out scheme. "I'm staying in a lot," Matt says. "At least I know I can feel safe in my flat. I don't have to worry."
From childhood we are taught about stranger danger. In 1981, a film produced by the Home Office and shown across the UK called "Say No To Strangers" was designed to instil fear following a spate of high-profile abductions, including the Moors murders. Most adults today will either have seen that film themselves as a child or have a parent who did. We all know not to take sweets from strangers.
Over the coming decades this life-long caution of strangers was exacerbated by societal divisions. Now it wasn't strangers lurking in dark alleyways we were told to fear but otherness more generally – those who did not look, sound or vote like us. Leavers and remoaners, snowflakes and Karens, millennials and boomers; there were many ways to categorise the opposing team. And this wasn't just rhetoric: after the 2016 Brexit referendum, hate crime in England and Wales rocketed and a 2018 study found Britain was hugely divided.
But then Covid-19 arrived – the 2020 event we were told would be the "great equaliser". And we stood side-by-side on our doorsteps clapping for the NHS, as frontline workers fought to save those in need. People also volunteered to help their communities in record numbers. Perhaps a pandemic was what we all needed to remind us to love thy neighbour?
Things changed; it was easy to be endeared to strangers when we were all trapped at home. As lockdown easing began, Boris Johnson told us all to stay two metres apart from those outside our households. Even in the tightest of circumstances they would concede only a one-metre gap. Once again, we were taught to be wary of those we did not know, with masks and metres acting as signals that we are living with an invisible threat and the main source of that threat is other people.
Rankin unveils portraits of NHS workers on the coronavirus frontline

Show all 12
"The stranger on the street could [now], in theory, be deadly, even without deadly intentions," Jacek Dębiec, assistant professor of psychiatry at the University of Michigan tells me over Skype.
In Dębiec's state of Michigan, the cultural fear of other, which was exacerbated in President Trump's first race for the White House, has now blended explosively with politicised public health issues – like face masks. There have been hundreds of incidents of violence between strangers over the issue. In the US, masks not only symbolise the threat of Covid, but the threat of the political other, the person who will vote against what you consider right and necessary.
Dębiec had hoped the pandemic would be a time to "reset" some of these things but, says, if we look to the past, it's not promising. He points to how the Great Plague of Athens in 430 BC led to the fall, not strengthening, of Athenian democracy.
He believes these fears will deepen before they begin to dissipate: "We can't feed anger, hate and anxiety without consequences. Most of the time in history there is some sort of conflict in order to reset ... I think we have to get further away from each other in order to realise we depend on each other." He doesn't think we're there yet.
And this has the capacity to create long-term consequences for individuals. Harley Street phobia expert Adam Cox believes that many of the measures we're being asked to take have the potential to become a "sensitising event" – something that, triggered by a high level of anxiety, moves fear out of a specific context and into a broader setting, developing into a phobia. For example, how an encounter with one aggressive dog could lead to a fear of all dogs.
"You hear about the movie IT causing phobias of clowns or Jaws causing phobias of sharks," Cox says. "In a pandemic you've got people in highly anxious situations surrounded by things that could become generalised very quickly. It's a recipe for a mental health time bomb."
This is something we shouldn't underestimate, says Cox. "I work with people who have fear of clowns, masks or costumes, and for a lot of them, it all comes back to when they were four and forced to sit on Santa's lap," he says. "That was a single moment and it has lasted a lifetime. We have to be aware that there is going to be lots of those moments taking place, all over the world."
Trauma therapist Lucinda Gordon Lennox from The Recovery Centre thinks it doesn't help that British leadership has given conflicting advice on safety – with repeated government U-turns or, for example, Michael Gove saying just 12 hours before masks were made mandatory that they should not be made so. Furthermore, the devolved nations have all developed different roadmaps. Gordon Lennox says: "We need really clear guidelines from the government about what is safe and what is not safe. Without it... it is so illogical people are frightened."
For months, leaving the house or using public transport was deemed so unsafe that it was against the law. Now, without a vaccine in the interim, nor the eradication of the virus, we are told these activities are safe again. Dębiec says just like when we enter the world as a child, we are not hardwired to stranger danger, we have to be taught. And the government has successfully done this and is now trying to undo it. This conundrum even led statistician Professor David Spiegelhalter to claim the stay at home message had been "too successful".
Our physiological response to fear is brilliant for the right threat. Our hearts pump harder to send more blood to our muscles, we release glucose to give us energy. But this response might not be so helpful now. For starters, remaining hypervigilant is exhausting and can impact the immune system. Additionally, part of this response is to shut down our rational brain. Yet rational thinking is precisely what we need.
Gordon Lennox is keen that we move from "fear to caution", alleviating our bodies from this exhausting trauma response. Dębiec likens it to the plains of the Serengeti: "Zebras can see the lions are close but as long as the lions don't attack, they're not running away. If they're being attacked, they will run away and then stop. But they're not endlessly running. They know what the safe distance is. And that is something for us to learn, both physically and emotionally."
The experts say what we need, in lieu of this fear, is empathy and compassion. This itself is a route to feeling less fearful because if we humanise strangers, they become less threatening and we become less anxious.
Gordon Lennox recommends "trying one new thing a day. Know what feels safe enough. But be gentle with yourself, have self-compassion."
Dębiec agrees we should "know what feels safe" and try to set boundaries for ourselves and with other people – know who, what and where makes you feel safe. Dębiec says ironically it often isn't the objective danger of the situation that causes us fear, but more a concern that other people aren't on the same page as us or taking the situation seriously. Dębiec volunteered on a Covid ward at the start of the pandemic and says: "Paradoxically I felt safer there than anywhere else because I knew everyone would be taking precautions."
Managing fear in the coming months, Gordon Lennox says, fundamentally means "either we wait for the system to become safe again or some people [will have to] dig deep in themselves". Jamie, meanwhile, has decided to go with the former, waiting for a vaccine to be widely available before she enjoys spontaneous encounters with strangers again.
Register for free to continue reading
Registration is a free and easy way to support our truly independent journalism
By registering, you will also enjoy limited access to Premium articles, exclusive newsletters, commenting, and virtual events with our leading journalists
Already have an account? sign in
Join our new commenting forum
Join thought-provoking conversations, follow other Independent readers and see their replies