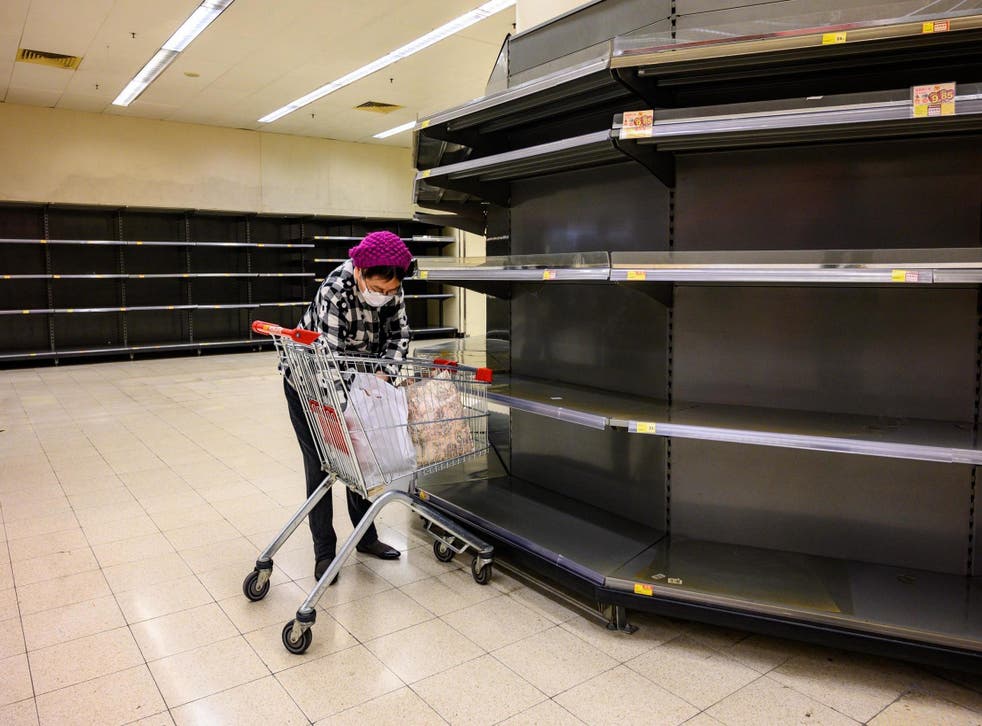 Coronavirus: People are 'doomsday' stockpiling - but should you be?
Photos posted to social media see empty supermarket shelves around the globe 
As the number of new coronavirus cases continues to rise, with more than 87,000 people infected worldwide, public concern has prompted people to begin preparing for the worst.
Recent photos and videos uploaded to social media have shown empty supermarket shelves across the globe as people panic buy food and cleaning supplies.
However, despite the Centers for Disease Control (CDC) announcing that the virus is likely to cause a pandemic, and that the potential public health threat posed by Covid-19 is "very high," the risk to the general American public is considered low.
This is what you need to know about stockpiling amid new coronavirus fears and whether you actually need to stock up on food and water.
Are people stockpiling for new coronavirus?
UK supermarkets are preparing for the likelihood that the public will begin stockpiling items amid new coronavirus fears, according to The Guardian.
In the US, superstores like Costco have already seen the impact of the virus on customers' shopping habits.
"Antiseptic wipes and Clorox disinfecting wipes are flying out of here," Thad Kleszcz, general manager of Costco in Atwater Village, California, told the Los Angeles Times. "We can't keep those in stock."
According to Kleszcz, the stockpiling has been slowly occurring over the last few weeks, but notably increased after it was announced that a Washington man was the first to die in the US from the virus. He also said that items like water, paper goods, grains and jarred foods are being purchased most frequently.
Is stockpiling necessary and do experts recommend it?
According to Ready.gov, the official website of the Department of Homeland Security, stockpiling can be useful in certain emergency situations, such as before a global health pandemic.
To prepare for a global health crisis, the website suggests stocking up on a two-week supply of water and food and periodically checking your regular prescription drugs to ensure a continuous supply in your home.
The site also advises the public to check that they have any nonprescription drugs or health supplies they need on hand.
Coronavirus: Cases soar of deadly new flu-like virus

Show all 154
According to the CDC, personal needs plans in case of emergency should mean having water, at least one gallon per day for each person, and nonperishable and ready-to-eat food, including "special foods - such as nutrition drinks and ready-to-feed formula - for infants, people with dietary restrictions, food sensitivities or allergies, and medical conditions".
The federal health organisation also recommends having medical supplies such as antibacterial wipes and hygiene items such as soap, hand sanitiser, toilet paper and garbage bags.
According to the American Public Health Association, which previously spoke to Captain Laura A McNally, a dietician officer in the US public Health Service and chair of the Emergency Preparedness Task Force for the American Dietetic Association, when it comes to stockpiling, the recommendation is typically for a three-day supply.
However, for an emergency such as pandemic flu where the public would be asked to shelter in place, McNally says it may be realistic that you would need to have food for at least a week.
As for what types of foods to stockpile in case of emergency, McNally suggests canned foods, such as canned fruits or vegetables, beans, or meats such as chicken or tuna.
She also recommends buying foods such as protein and fruit bars, dried fruits or trail mix, peanut butter, and low-sodium crackers.
According to McNally, those stockpiling should avoid soda, as it contains no nutrients, anything that requires refrigeration, and food items with high sodium such as crackers or chips.
The American Red Cross also recommends preparing for emergencies such as new coronavirus by having a supply of food staples and household supplies such as laundry detergent and bathroom items. In a statement, the organisation told The Independent: "There are things you can do right now to be ready for any emergency, and many of these same tips will help you prepare in case this new coronavirus risk level increases in the US. Have a supply of food staples and household supplies like laundry detergent and bathroom items, and diapers if you have small children.
"Check to make sure you have at least a 30-day supply of your prescription medications, and have other health supplies on hand, including pain relievers, stomach remedies, cough and cold medicines, fluids with electrolytes, and vitamins.
"Help family members and neighbours get prepared and share the safety messaging with those who may not have access to it."
Essentially, while the risk of contracting the new virus is generally low, it can be useful to have a supply of food, water and other staples just in case of emergency. However, those living in the US should not feel they have to panic buy anything, as CDC director Robert Redfield told a US congressional hearing that there is no need for healthy Americans to stock up on any supplies.
How else can you prepare for new coronavirus?
As concern grows over the virus, health officials are reminding people to employ basic cleanliness practises to avoid spreading germs and getting sick.
In addition to washing your hands thoroughly, you should avoid touching your eyes, mouth or nose, and disinfect surfaces that are commonly touched around your workplace or home.
Join our new commenting forum
Join thought-provoking conversations, follow other Independent readers and see their replies