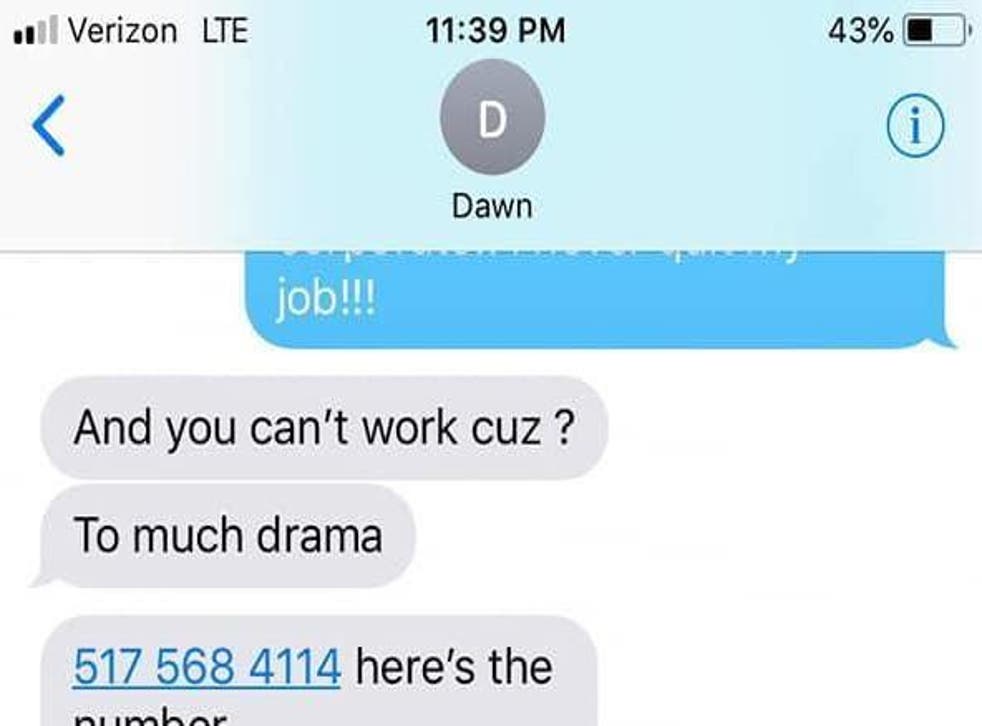 Boss fired after telling woman she could not take time off work to care for son on life support
The boss said 'end of conversation' and she will not 'tolerate drama' 
Chelsea Ritschel
in New York
Wednesday 04 July 2018 09:58 Comments
A Michigan mum almost lost her job after telling her boss that she would not be into work as she was in the hospital caring for her son - who was on life support.
When Crystal Reynolds Fisher took her 18-year-old son Jason to Oaklawn Hospital in Marshall, Michigan, with a 104-degree fever, work was not her main priority.
As she suffered from panic attacks over her son's worsening condition, Fisher's daughter called her mum's boss at PS Food Mart to explain the situation.
But instead of being understanding, Fisher overheard her boss tell her daughter over the phone: "This isn't the way we run things, your mother needs to be the one calling me," Fisher told Fox 17.
The situation escalated further when Fisher later texted her boss to request additional time off after Jason was transported to the University of Michigan, where he was put on life support for complications arising from a bacterial infection.
In the text exchange, she informed her boss that Jason was still on life support and she would let her know when he starts to get better so "I can return to work."
Her boss responded: "That isn't how we do things, so I'll accept that you're quitting."
Shocked and confused by the response, Fisher asked whether she was being fired - at which point her boss stated: "If you can't come to work that's you quitting," before informing Fisher that the situation was "too much drama" and she could contact management if she had an issue.
Fisher later uploaded the exchange to Facebook - where it has been shared more than 74,000 times.
In addition to garnering the attention of thousands of people, who shared Fisher's outrage and expressed their well-wishes for her son's speedy recovery, the exchange also reached Folk Oil Company corporate offices - the owners of PS Food Mart.
Fortunately, the company took Fisher's side - and assured her that she could take as much time as she needed. They also informed her that her boss was fired over the incident.
In statements released on Facebook, PS Food Mart and Folk Oil Company stated that they were in "complete agreement" that this was not acceptable and found that the situation was "handled improperly and without the compassion that we value as a company."
Grateful for her employer's support and the thousands of messages she's received, Fisher told Fox 17: "My concern is when my son does wake up and when he does open his eyes, he sees mommy there."
Register for free to continue reading
Registration is a free and easy way to support our truly independent journalism
By registering, you will also enjoy limited access to Premium articles, exclusive newsletters, commenting, and virtual events with our leading journalists
Already have an account? sign in
Join our new commenting forum
Join thought-provoking conversations, follow other Independent readers and see their replies