Father does ballet on stage alongside daughter after she gets stage fright
The father-of-three joined in after his daughter started to sob uncontrollably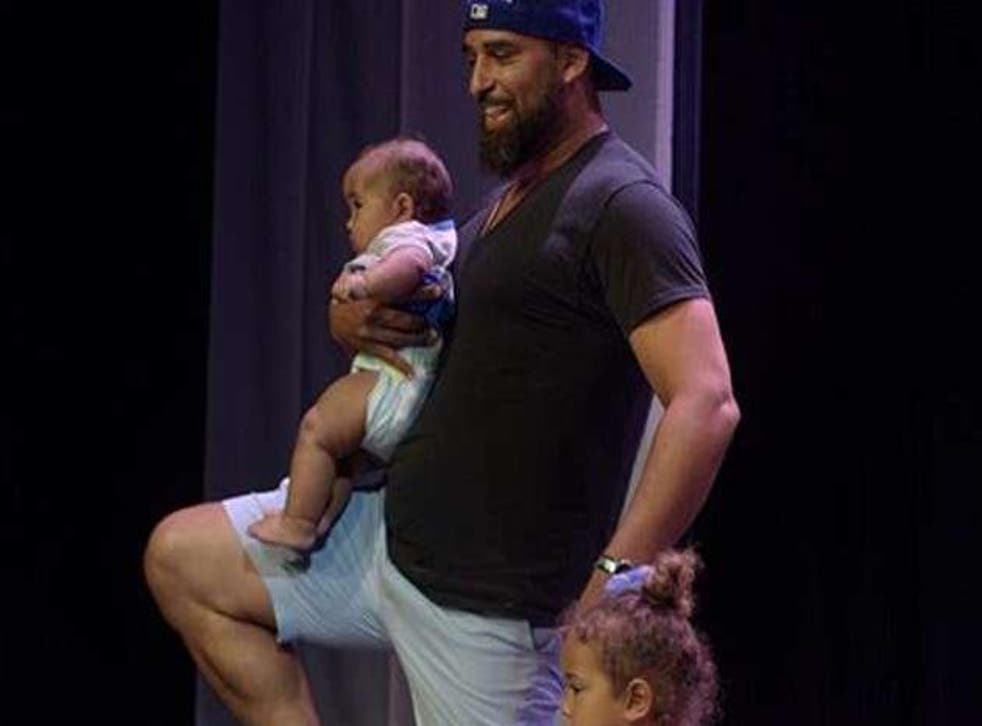 A father-of-three came to his young daughter's rescue after she suffered stage fright during a ballet performance.
The sweet moment, which was caught on camera, showed Marc Daniels dancing alongside his daughter Bella during a dress rehearsal for her first-ever dance recital at Hamilton City Hall in Bermuda.
Clutching another baby, Suri, to his chest, Daniels held two-year-old Bella's hand as he expertly twirled alongside her - pirouetting and curtseying as the crowd looked on.
The amusing performance showed off Daniels' balancing and multi-tasking abilities, as well as his superhero-dad skills.
But, according to Daniels, the rescue - and impressive moves - were just part of being a father to daughters.
"Bella was very emotional and needed hugs from her daddy," the barrister said of the moment Bella began to sob once she stepped on stage. "Despite having a tantrum, I can tell she wanted to stay on stage and I didn't want to discourage her before the big performance by making her be the only one to come off."
At first, Bella's father just wanted to offer some emotional support to his frightened daughter but when she nodded her approval, he decided to join in.
"I walked on holding Suri and stood next to her, trying to help build her confidence - I told her I loved her and that she's an amazing dancer," he said.
"I asked if she wanted to dance with daddy and she nodded, so I thought I'd join in."
Thankfully, this wasn't Daniels' first ballet performance - he'd practised the moves alongside his daughters at home before.
"I've practised with them at home on many occasions so it wasn't unfamiliar to me," the doting dad said.
As for the response to his surprising ballet prowess, Daniels' coworkers and colleagues have wasted no time acknowledging the video.
"Jurors, police officers and members of the prosecution have even been giving me twirls and plies as a token of appreciation for the video," he revealed. "Even in court the other day, one of the magistrates made a comment about my moves that prompted the court to erupt in laughter."
The Ten Best Ballet Pumps

Show all 10
And the dad-of-three isn't opposed to accepting a place at the In Motion School of Dance, where his daughter attends.
"Maybe it's never too late to become a ballerina!" he said.
Register for free to continue reading
Registration is a free and easy way to support our truly independent journalism
By registering, you will also enjoy limited access to Premium articles, exclusive newsletters, commenting, and virtual events with our leading journalists
Already have an account? sign in
Register for free to continue reading
Registration is a free and easy way to support our truly independent journalism
By registering, you will also enjoy limited access to Premium articles, exclusive newsletters, commenting, and virtual events with our leading journalists
Already have an account? sign in
Join our new commenting forum
Join thought-provoking conversations, follow other Independent readers and see their replies